Player Stock Ticker
Fantasy Football Stock Watch: Chiefs release Jeremy Maclin, but Tyreek Hill's WR1 upside is not new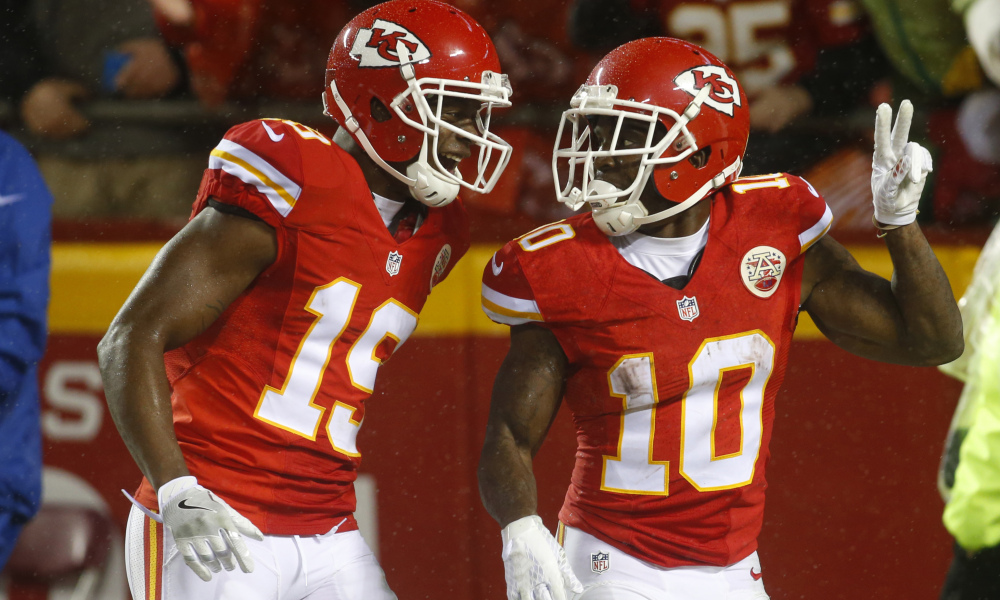 The Chiefs shockingly released Jeremy Maclin on Friday, giving a usage boost to all relevant pass catchers (Tyreek Hill, Travis Kelce, and Chris Conley)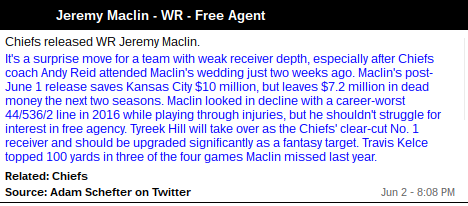 Wolf's Take
Welcome to the bandwagon, RotoWorld (and surely all other boneheaded experts like Matthew Berry, who had Hill down in the WR30 range). A little late to the party, but I guess that's better than never. See, this news doesn't mean all that much to me, seeing as I already had Hill up at WR17 in my "High Upside WR2" tier; thanks to even more touches, he'll jump a couple spots ahead of Alshon Jeffery and possibly Davante Adams too.
But really, Hill was already going to be their number one. Andy Reid has already talked extensively about making Hill a full-time player and manufacturing more ways to get his incredibly explosive playmaker the ball.  Perfect, because Alex Smith refuses to chuck the ball more than five yards. This was going to be a passing game that already funneled throw screens and bubble hitches to Hill — get him in space, and let him do his thing. Those who didn't realize this ahead of Maclin's release (re: pretty much everyone) should not be trusted.
So yes, the move does fully luck Hill into a starting role and will yield a few more targets his way. But to say he was a "risky WR3 / Flex" before the move is a complete misjudgment, and should leave you highly skeptical.
Meanwhile, Travis Kelce also sees a nice boost, and though he remains my TE3, last year's top scoring tight end inches closer to the "Gronkowski / Reed" tier.  Indeed, those two carry far higher ceilings, but Kelce is undoubtedly the highest floor option, having played in all 16 games over the past three years; RotoWorld does wisely note Kelce topped 100 yards in three of four games Maclin missed, and he should dominate the middle of the field. If no WRs or RBs are screaming to you in late round three, or definitely round four, Kelce is a great investment who'll give you a weekly edge on nearly all other seam-stretchers.
One name not mentioned by RotoWorld is Chris Conley.  Towering at 6'3″ and 205 pounds, Conley ran the fastest 40 (4.35 sec), posted the highest vertical (45 in.?) and broad jump (139 in.) in a class that included Amari Cooper. Indeed, none of this has translated to the field, likely due in equal measures to his lack of real usage and this offense's reluctance to go deep. Nonetheless, athleticism this freakish ascending into more targets is always worth noting; so keep Conley on your "Penny Stock" radar, even if his surrounding situation will likely render him useless.
We are the 'Watchers on the RotoWall,' and indeed, the RotoWorld Blurbs can be dark and full of terrors (re: nonsense on backup right guards and their contract disputes). Instead, bookmark our Fantasy Football Stock Watch, and let us sift through the nonsense to bring you the blurbs that actually matter, with the in-depth analysis we're known for.  A Fantasy Wolf doesn't miss a single stock market move, so don't be a sheep. Follow the Stock Watch.