Player Stock Ticker
Exposing Matthew Berry's 2017 Fantasy Football Rankings: Wide Receivers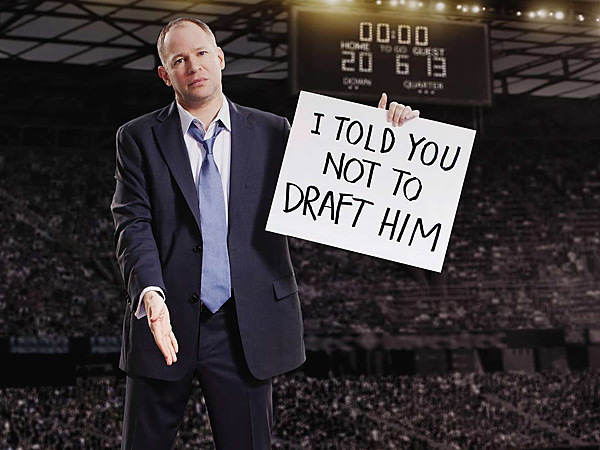 Dear Matthew J. Berry,
I've spent the last 15 minutes perusing your most recent 2017 Fantasy Football rankings (due to sheer addiction and boredom, never to actually learn a thing, of course). Needless to say, the lists are both laughable and puke-worthy in equal measure.  Digesting like a year old block of cheese, these rankings raise grave concerns for both your own mental health & any poor fantasy soul who believes in you.
Generously, in attempts to preserve your sanity, I've made a list of your borderline lunatic mistakes. In the process, I'm hoping you can either respond and illuminate something I'm completely missing, or consider cleaning up some of this spewing mess. Think of the fantasy seasons you could be destroying should you choose to ignore!
Desperate plea aside, we'll begin with your wide receivers, filled with some of your most egregious material of all.
Things don't start so bad. Along with the rest of the industry, our general top-nine are mostly aligned; your higher on Odell Beckham whereas I'm a Mike Evans fan, but to each his own. Really well-done sir, you nailed the obvious ones.
Hell, Alshon Jeffery at #10 isn't overly outrageous, even if he's my WR16; I can recognize the upside, even if the floor is cavernous with his health woes.  But I'm guessing you think that his 1-year, prove it deal will keep him on the field and motivated, so…OK.  Amari Cooper at #11 seems a bit rich for someone with less double-digit 1/2 PPR games than Rishard Matthews in 2016, but I recognize the talent and ceiling.  Given your general idiocy, I'm surprised chucks haven't been blown 11 names in.
No, not until #12 did I really need to swallow back vomit. Allen Robinson?! I mean, c'mon.  Yeah, I get that he can't be worse, and his size + leaping abilities are still dangerous… but did you see that 2016? Where he received the 8th most targets in the league, and could only turn this into the 31st most FPs (less than Pierre Garcon and his #172 price tag)?  Yeah, I get it, Blake Bortles sucked.  But Robinson also couldn't handle the tougher attention:
.@PFF Among all 116 WRs (over the past decade) to see at least 40 such targets, ARob's 0.76 PPR per target average ranks second-worst. (2/2)

— Scott Barrett (@ScottBarrettDFB) April 8, 2017
What suggests either suck less in 2017?
But, OK…if ALL things bounce Robinson's way, a huge if indeed, there is the chance a top-12 finish is pulled from deep within his ass. And so I swallowed back the puke…until  it came exploding out when I got to #18.  Emmanuel Sanders. Atrocious. #19, Julian Edelman.  Thanks for keeping the vomit stream steady.
There is simply no chance Sanders nor Edelman outscore the likes of Doug Baldwin (WR21) and/or Brandin Cooks (WR23). No chance. I'm a die hard Patriots fan, and couldn't love Jules any more, but he's not even 1/3 of the athlete Cooks is. Not only does Cooks bring a whole different gear & vertical route tree to the table, he is absolutely capable of eating into Edelman's inside slot work; outside maybe Odell Beckham, Cooks is among an elite group that can take an 8 yard slant to the house any second.  Bill Belichick, the smartest man alive, has praised Cooks every time the team's have met, and he didn't trade a first rounder to not maximize this dangerous skillset. Sure, I'm probably a little too high on the flashy new toy all the way as my WR10, and even a little too down on Edelman at WR28, but there's no scenario Edelman outscores Cooks this season. None.
Which brings us to Sanders versus Baldwin (and the aforementioned Cooks).  Yes, I love new OC Mike McCoy and his WR-screen game as much as the next expert, but he always funnels looks through the #1 target (re: Demaryius Thomas). Regardless of system, Trevor Siemian's #2 never belongs above Russel Wilson's #1, especially one who's put up bonafide WR1 numbers two straight seasons. Hysterical stuff, Berry.
All the while, I'm asking, did he simply forget Davante Adams (my WR12)? Oh no, he's just down at WR27. AWFUL. Do you realize he was the WR12 in 2017? What's so vastly different in his situation that will cause Adams to drop a drastic 15 spots? Can you not envision further ascension and upside, given he has Aaron Rodgers ' trust on the entire route tree? Or that Jordy Nelson is yet another year older? This is just HILARIOUS stuff, Berry. Maybe the most horrendous call on here.
Not to outdo yourself, only one name later you have Tyreek Hill at WR28. LOL! Berry, you need to get on tour, but instead of making horrendous jokes about your third cousin's dance recital, just spit out your rankings instead. Despite really only seeing meaningful time for half the year, Hill was the WR14 in 1/2 PPR leagues.  He finished the season with double digit FPs in 9 of 10 weeks, and even then he was only playing around 50% of the time.  Sure, Hill's efficiency was off the charts, and expecting regression is reasonable, but you may have missed Andy Reid's promises to "double" his workload — with Jamaal Charles gone and some backfield work up for grabs, there's certainly truth here. Please keep going after the ceiling-less Larry Fitzgerald and give me Adams and Hill.
With my body only producing bile to toss up at this point, I needed to stop reading the list.  In a blur, I may have seen Michael Crabtree at WR30 and Willie Snead at WR34, ensuring I continued to quiver in the fetal.  And finally, before passing out in a pool of vomit, my body gave one last pathetic hurl at Pierre Garcon down all the way at WR39, below Corey Coleman. Just embarrassing for Kyle Shanahan's X-Receiver and the target showers he'll receive. Did you forget that Garcon led the league in both targets (181) and receptions (113), ultimately churning out 1,346 yards, and 5 TDs, the last time he played under Shanahan?
When I look at Matthew Berry's 2017 rankings…
Mr. Berry, I sincerely hope you can correct or justify the above madness.  Otherwise, the fantasy straight jackets need to be brought out and your knowledge-less carcass carted away for good. #FantasyLivesMatter.
With deep concern,
The Wolf