Player Stock Ticker
2017 NFL Free Agency and Trade Market: Running Backs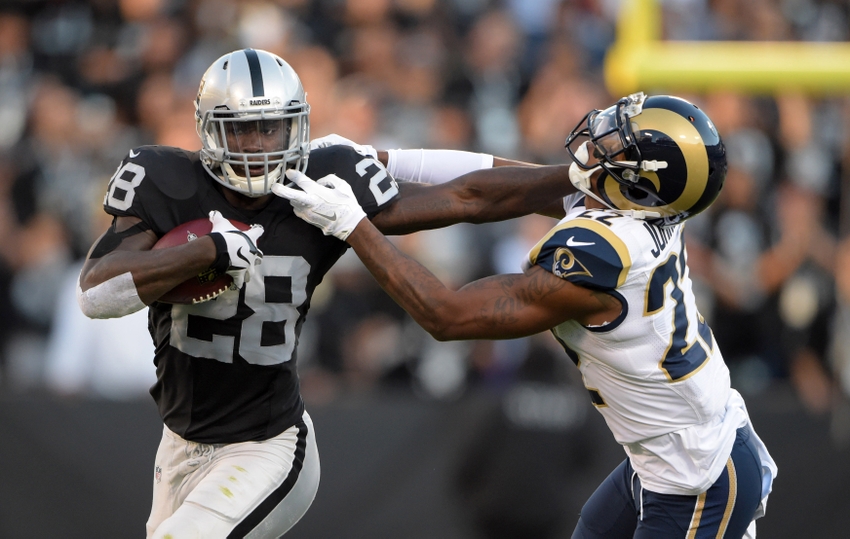 With players being released at a rapid rate — some surprising and some not so much — and free agency looming, the rumors of potential landing spots are all over the place. We gave you our 2017 free agent and trade market quarterback predictions and now we breakdown the 2017 NFL free agent running backs and their most realistic and/or best landing spots.
From a fantasy perspective, this group is garbage. It's full of running backs who will make some impact for their future employers, but they'll hardly be a blip on the fantasy radar. Sure, Adrian Peterson and Jamaal Charles will most likely be enshrined in Canton, but their question marks and Father Time will scare you away in August. Eddie Lacy is one pupu platter away from being out of the league, while a handful of these guys have never been starting running backs in the league.
Here are the top 17 2017 NFL free agent running backs:
Tier 1: Emily Ratajkowski
No need to describe this tier. 
Le'Veon Bell (Franchise Tag)
Grade: 9.75/10
2016 NFL Team: Pittsburgh Steelers
2017 Projection: Pittsburgh Steelers
The Steelers slapped the franchise tag on their superstar running back, but there's still a (very, very, very) slim chance that Bell could demand a trade or hold out — especially since his boy Antonio Brown was given the richest contract at his respective position. I sneaky wish the Steelers let him get to free agency, just to spice things up come March 9th at 4:00 p.m. Although Bell is arguably the most physically gifted and best overall running back in the league, his love of weed and tendency to miss games knocked him off the perfect ten spot. Nonetheless, he's a top-two fantasy back and should be getting a big pay day from the Rooney's very soon.
Tier 2: Pretty Hot and She Flirts, but has a Boyfriend
This is not a strong free agent class at this position. Crowell is the only young three-down back who is somewhat available.
Isaiah Crowell (Restricted Free Agent)
Grade: 7.25/10
2016 NFL Team: Cleveland Browns
2017 Projection: Cleveland Browns
It would be nice to see the talented young back move on from football's purgatory, but the Browns have offered a second-round tender on the 24-year old. Crowell is extremely talented and should only get better as Hue Jackson attempts to build a competitive football team in Cleveland. Jackson called Crowell "a key to our future" meaning they won't let him get away. He is young and talented, but don't expect any team to give the Browns a second rounder, especially with this running back-heavy draft.
Tier 3: Every-Down "Boston Sixes"
I'm from there so I can say it. The majority of this group is decent looking, but they have some baggage.
Adrian Peterson (Free Agent)
Grade: 6.75/10
2016 NFL Team: Minnesota Vikings
2017 Prediction: Green Bay Packers
Lets face it, the Vikings had to cut Peterson. He was due $18 million next season and he was coming off a season where he only played sparingly in three games due to a meniscus tear. Also, he will be 32 in March, which is equal to 40 in running back years. Personally, I'm not the biggest AP fan — I think he's kinda overrated and isn't a true PPR back — but leaving Minnesota and having the right to choose where he wants to play will give him a boost for 2017. We all know he will workout like a mad-man and try to 'prove the doubters wrong,' so he could have a decent fantasy season in the right situation.
There are a few teams that could be in the mix, such as the Oakland Raiders, Tampa Bay Buccaneers, New England Patriots, New York Giants, and basically every contender, but let's go with the dream-scenario and divisional rival Green Bay Packers. Green Bay doesn't typically pay big money for free agents, but they could sway Peterson with the chance to be the main back and the chance at a Super Bowl ring. He would be the opposite of Brett Favre, going from Minnesota to Green Bay, but with a much bigger package.
Eddie Lacy (Free Agent)
Grade: 6.5/10
2016 NFL Team: Green Bay Packers
2017 Prediction: Minnesota Vikings
Eddie Lacy might be the most annoying player in the NFL. He's talented, yet overrated at the same time. He's also sometimes in shape, yet fat the majority of the time. He does P90X, yet he is addicted to "China food." Lacy actually had a decent 2016 season — where he averaged 5.07 yards per carry — before an ankle injury prematurely ended his season.
Enter Adrian Peterson's former team, who averaged a league-worst 3.2 yards per carry as a whole. Lacy would be an upgrade for a team that leaned on Sam Bradford's noodle arm and a bevy of average running backs in 2016. Keep Lacy away from the buffet, and good things could happen.
Latavius Murray (Free Agent)
Grade: 6.25/10
2016 NFL Team: Oakland Raiders
2017 Prediction: New York Giants
The Giants are always looking for someone to pound the rock and even though Murray did not have as strong of a season as us at the RSJ thought he would — especially behind that mammoth offensive line — he would still be an upgrade for the G-Men. Murray, much like LeGarrette Blount, managed to score more touchdowns than he should have (12), but he still had a meh rushing average (4.0 ypc) for his situation. The early-down bruiser will compliment Paul Perkins and Shane Vereen nicely.
Mike Gillislee (Free Agent)
Grade: 6/10
2016 NFL Team: Buffalo Bills
2017 Prediction: Buffalo Bills
As of right now, LeSean McCoy is the highest paid running back in the league. It's not a smart position to overpay — even with McCoy's great 2016 campaign — but the Bills will continue to do Bills things. Gillislee has earned a chance to compete for a starting job in the NFL and he can still do so in Buffalo with Shady's injury history. His style seems to fit new head coach Sean McDermott's style a little more than McCoy's style, meaning Shady's time could be ticking in Buffalo. It won't happen this year, but don't be surprised if Gillislee takes over by 2018.
Tier 4: Pass-Catching "Boston Sixes"
Same as above, but these guys have just one positive feature.
Chris Thompson (Restricted Free Agent)
Grade: 6.5/10
2016 NFL Team: Washington Redskins
2017 Prediction: Washington Redskins
Chris Thompson is not the hottest name in the streets, but he is a sneaky, solid pass-catching back for Kirk Cousins. Thompson caught 49 passes last season and should receive more targets with DeSean Jackson and Pierre Garcon (most likely) on their way out. Jay Gruden is a huge fan of Thompson and they will most likely put a tender on their third-down back. This should be a lock.
Jamaal Charles (Free Agent)
Grade: 6.25/10
2016 NFL Team: Kansas City Chiefs
2017 Prediction: Philadelphia Eagles
With the emergence of Spencer Ware, plus Jamaal Charles' age and injury history, it was not surprising that he was let go on Tuesday. There are a few teams that would be ideal fits for the future Fantasy Football Hall of Famer, and the Eagles top that list. Doug Pederson was Charles' former offensive coordinator in Kansas City — when Charles flourished — before the Eagles hired him in 2016. Ryan Mathews is softer than Charmin, while Charles would still get early-down carries over Darren Sproles and Wendell Smallwood. If Pederson is still obsessed with his lackluster triumvirate, the Steelers and the Saints could kick the tires and move on from their own aging backup running backs. Imagine Charles with Drew Brees in New Orleans or behind Bell in Pittsburgh's offense? Both would be extremely fun to watch.
Danny Woodhead (Free Agent)
Grade: 6/10
2016 NFL Team: San Diego Chargers
2017 Prediction: Green Bay Packers
This might be my favorite prediction on this list. If the Packers can secure a legitimate every-down back such as Adrian Peterson, imagine Little Danny Woodhead scooting out of the backfield on third down and in passing situations for Aaron Rodgers? Woodhead makes quarterbacks better around him (that was weird to say) and he would still secure his fantasy-relevancy — even at age 32. Of course there are injury question marks with Woody, but he is just a smart, gritty, student of the game, pro's pro and every other white athlete adjective out there.
Tier 5: Side Pieces
They'll never be the lead back, but they're serviceable.
Jacquizz Rodgers (Free Agent)
Grade: 5.75/10
2016 NFL Team: Tampa Bay Buccaneers
2017 Prediction: Carolina Panthers
Jacquizz Rodgers looks like the odd-man out in Tampa. He filled in pretty nicely over a few game stretch last season, but with big money tied up into Doug Martin, and Charles Sims looking like the future, it would be best for Rodgers to get a little clearer role for his last decent contract. Rodgers would fit in well in Carolina, as they need a dynamic pass catcher out of the backfield, and someone who is a change of pace from Jonathan Stewart. If you slide Rodgers in on third down, it would make Cam Newton a happier quarterback.
Rex Burkhead (Free Agent)
Grade: 5/10
2016 NFL Team: Cincinnati Bengals
2017 Prediction: Indianapolis Colts
Wait, what? Yes, Rex Burkhead has been a role player during his time in Cincinnati, but when Gio Bernard went down, the former Cornhusker stepped up just in time to showcase himself for free agency. He averaged a team-best 4.6 yards per carry and even racked up 26.4 fantasy points in Week 17. He can run the ball, catch the ball and lineup in a bunch of different spots. Burkhead would fit well as Andrew Luck's little gadget toy.
Tier 6: Cougars with Baggage
These ones still look good on the outside, but man, they have a lot of tread on their tires.
DeAngelo Williams (Free Agent)
Grade: 5.25/10
2016 NFL Team: Pittsburgh Steelers
2017 Prediction: Pittsburgh Steelers or Arizona Cardinals
Although Williams led the league in rushing with Le'Veon Bell out of the lineup, running backs tend to age VERY quickly… and then they fall off the cliff. Williams is in the perfect situation in Pittsburgh. But lets say they draft a younger back to play behind Bell, and then DeAngelo loses a step — he would be in big trouble. He definitely cannot be a lead back at age 34 and he would have to be in the right situation behind a bell-cow, meaning his options are limited. The Cardinals could be a darkhorse with both Chris Johnson and Andre Ellington set to be free agents.
LeGarrette Blount (Free Agent)
Grade: 5.25/10
2016 NFL Team: New England Patriots
2017 Prediction: New England Patriots
I am a Patriots fan (humble brag) and I cannot stand LeGarrette Blount. I do not care if he rushed for over 1,000 yards and led the league with 18 touchdowns on the ground, he still averaged less than 4 yards per carry and he looks like he's running in sand against top defenses.  Also, 99-percent of those 18 touchdowns were from inside the 3-yard line it seemed. If he is re-signed by the Patriots, it would not surprise me if he gets cut at some point and then bounces around from bad team to bad team before fading out of the league.
Tim Hightower (Free Agent)
Grade: 5.25/10
2016 NFL Team: New Orleans Saints
2017 Prediction: New Orleans Saints
Even after sitting out three seasons, Hightower was one of the better handcuff options in the league last season. Expect the Saints to retain him at cheap money to backup the oft-injured Mark Ingram.
Darren McFadden (Free Agent)
Grade: 5.25/10
2016 NFL Team: Dallas Cowboys
2017 Prediction: Los Angeles Rams
McFadden was stuck in shitty Oakland (when they were shitty) for seven long seasons before reviving his career behind the league's best offensive line in Dallas — where he rushed for over 1,000 yards for only the second time in his career. The Rams are no good on offense outside of Todd Gurley, but why not give D-Mac a low-pressured role in a city that doesn't care about football?
Tier 7: Late-Night Backpage
Oh god.
Christine Michael (Free Agent)
Christine looks very good on the outside, but she's been through some shit and has massive baggage. The league's bicycle will probably end up back in Seattle at some point. Or Dallas, or Green Bay, or Buffalo, or New York, or Tampa Bay, or Indianapolis, or San Francisco, or any other team in the league.
Rashad Jennings (Dancing With the Stars)
Here at the RSJ, Jennings was one of our biggest swings and misses of our inaugural season. He is now saying he will be appearing in 'Dancing With the Stars.' Sorry guys.
Check back Thursday for our wide receiver free agent and trade target rankings. Also, be sure to follow us on Twitter, Facebook and Instagram throughout  2017 NFL free agency.