Player Stock Ticker
MMFQB: Week 7 Edition
Happy Monday, fantasy football fans. Every Monday this will be the place to be for the most comprehensive wrap-up of the week's most enticing fantasy football headlines. We'll also fill you in with the things we know we saw. Be sure to follow us on Twitter and subscribe to the Fantasy Stock Report podcast on iTunes!
Headlines
Rex Ryan really screwed over LeSean McCoy and his fantasy owners
LeSean McCoy was in the midst of an excellent fantasy season, accumulating 130 PPR points through six weeks. He dodged a bullet last Sunday during his masterful performance against  the 49ers, when it looked like he suffered a bad knee injury, but it was just a scare. Then on Wednesday afternoon, McCoy injured his hamstring at practice.
There were numerous conflicting reports, saying McCoy would be fine, then he would be out Sunday and miss a few weeks, then he would be a game-time decision and he would most likely play. It was then reported that Rex Ryan and the staff were pushing their star running back to play through the pain and he would be active. Flash forward to Sunday morning. Schefty reported that he would indeed play, but would be on a 25-35 play limit. RapSheet then said he would be completely normal and should be 100-percent.
At around 12:00 PM, fantasy owners scrambled to get their RB1 back into their lineup. McCoy played the majority of the snaps in the first half, but did not look his explosive self. McCoy then re-aggravated his hamstring and exited the game in the third quarter — after only putting up a measly 1.10 PPR points.
So not only did Ryan clearly force their star player into the lineup and not get anything out of him on Sunday, but now he could be out for their Week 8 showdown against the Patriots. If they just rolled with Mike Gillislee, they would have done much better on the ground and fantasy owners would be much happier.
Screw you, Rex.
Big-time quarterbacks have a big-time Week 7
Very quietly, Andrew Luck is having a great season. Yesterday, he put up 353 yards and 3 touchdowns, en-route to a 27.82 point game. Right now, Luck has put together the second best fantasy season for a quarterback — without Donte Moncrief — with 153.86 total points. Moncrief should be on his way back soon, which will only help out Luck and make him a top-three fantasy quarterback moving forward.
Drew Brees was one of our Week 7 winners, tearing up Kansas City's defense on the road to the tune of 25.68 points. Brees spread the ball around to his supporting cast and allowed his guys to make plays. Our guy Nat stated that Brees would be the No. 1 fantasy quarterback moving forward, and it's tough to disagree there. He'll get a chance to light up the shitty NFC South defenses in the second half of the season, which should only pad his stats.
We hope everyone "relaxed" when it came to Aaron Rodgers. The gunslinger shredded the Bears on Thursday night, and fed the ball to guys like Davante Adams and Ty Montgomery. It was a vintage Rodgers performance on Thursday and hopefully he starts to put up the numbers we all expected.
Things I know I saw
Melvin Gordon added three scores on Sunday and now leads the NFL with 10 total touchdowns. The former rookie bust only has 461 rushing yards, but keeps finding paydirt. As of right now, he's the third best PPR back, only behind David Johnson and DeMarco Murray. What a bounceback sophomore season for Gordon.
MG x 3! ???@MelvinGordon25 was a touchdown machine Sunday. #Chargers https://t.co/byvgyqjpIf

— NFL (@NFL) October 24, 2016
Our guy Jack Doyle caught 9-of-10 targets for 78 yards and a score. If you listen to our podcast (of course you do) you know our thoughts on the mystery man that is Jack Doyle. If you have a connection with Doyle, hook us up.
Saints rookie WR Mike Thomas (#Shh) is tied with Brandin Cooks for the most targets on the Saints with 47 and on Sunday he grabbed 10 of 13 targets for 130 yards. Thomas was a stud at Ohio State and now leads NFL rookie WRs in a bunch of categories. Good for you if you took a late-round flier on the rook.
What the hell is going on with Allen Robinson? He caught two-of-eight targets for 9 yards against the Raiders' trash secondary. Blake Bortles stunk (surprise, surprise) and continues to be a fantasy disaster, but #CmonMan.
Jerick McKinnon paid homage to Harambe. #RIP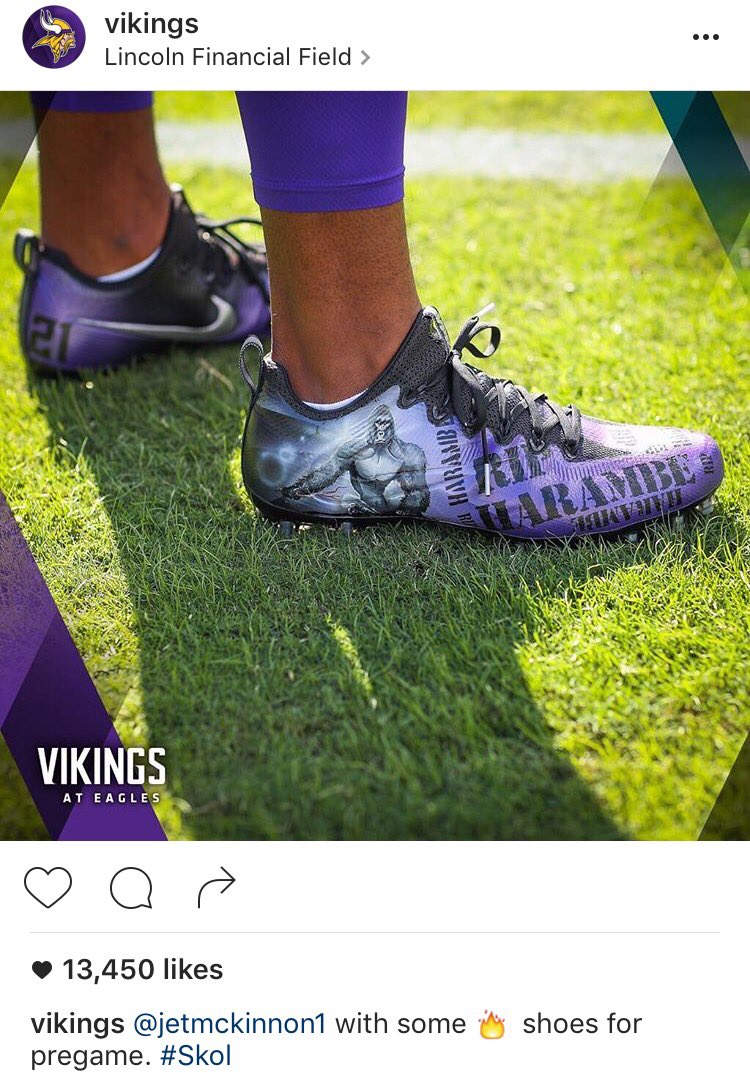 This animal will be tearing up NFL defenses next year and he might be worth a first or second round fantasy selection. Here's Leonard Fournette steam rolling a poor Ole Miss defender.
Leonard Fournette steam rolling chumps into the Earth's core BACK https://t.co/p2tXGWEo2k

— Barstool Sports (@barstooltweetss) October 23, 2016
Rob Gronkowski tallied his 68th touchdown of his career against the Steelers. Of course he had to make jokes about his next touchdown — which happens to be his favorite number.
— Barstool Sports (@barstooltweetss) October 24, 2016