Player Stock Ticker
Monday Morning Fantasy Quarterback: Week 5 Edition
Happy Monday fantasy football fans. Every Monday this will be the place to be for the most comprehensive wrap-up of the week's most enticing fantasy football headlines. We'll also fill you in with the things we know we saw. Enjoy.
Headlines
Tom Brady and friends are fantasy monsters
One of the headlines of last week's MMFQB was to "buy-low on Brady's weapons." I hope you listened.
Let's begin with Tom Brady and his return. All TB12 did was throw for 406 yards and 3 touchdowns, which resulted in 29.64 fantasy points. What makes his day look even better, is that he completed passes to seven different receivers, which shows the trust he has in his teammates.
It was nice to see Rob Gronkowski back (played 65/80 snaps), as he looked like his old self, when he rumbled through about six would-be tacklers on a 37-yard gain. Gronk finished with 109 yards on 5 grabs (15.9 PPR points). He balled the first four games, but it was legitimately arousing to see Brady and Martellus Bennett on the same page. With defenses keying on Gronkowski and Edelman, Bennett was able to feast on single coverage to the tune of 3 touchdown receptions on 6 catches (30.70 PPR points) — two of which were pretty much wide-open. If you were able to buy-low on either of these two beasts, kudos.
I'm guessing The Wolf will have Chris Hogan near the top of his Waiver Wire Watch, and rightfully so. Hogan was targeted five times and caught four of those for 114 yards (15.60 PPR points). Hogan is a true deep-ball threat and should put up solid yardage and touchdown numbers on a fair share of targets. He won't see the ball as much as Julian Edelman, Gronkowski or Bennett, but his targets will come downfield, in the red zone or when he's open. All high-percentage targets.
Just wait until Dion Lewis returns (add him).
Brady to Marty B.
Brady to Marty B.
Brady to Marty B.

All. Day. Long. #Patriots #NEvsCLE https://t.co/WpQTl8kkV7

— NFL (@NFL) October 9, 2016
RB1 performances by the big-time running backs
Week 5 was a great week for the top backs in the game.
David Johnson — our preseason No.1 RB — stole the show on Thursday night, putting the Cardinals on his back against the 49ers. He touched the ball 30 (!) times, which resulted it 185 total yards and 3 touchdowns (33.50 ppr points). Even though Carson Palmer was out, the Cardinals should feed DJ and run their offense through him.
David.
Johnson.
Is.
A.
Baller. #BeRedSeeRed https://t.co/Eb1DxLsrL7

— NFL (@NFL) October 7, 2016
Ezekiel Elliott gashed the Bengals' defense and extended his league-leading rushing total to 546 yards through five games. On Sunday, Zeke rushed for 134 yards and found the end zone twice against the Bungles — racking up 32.10 PPR points. The Cowboys' dominant offensive line, mixed with Zeke's vision and athleticism, make him borderline unstoppable — which is why we were so high on him in the first place.
ZEKE TO THE HOUSE!

SEE YA ? #DallasCowboys https://t.co/0RhtwNuQd0

— NFL (@NFL) October 9, 2016
For the second consecutive week, Le'Veon Bell proved why he is known as a PPR monster, scoring 24.40 PPR points. He has yet to find the end zone, but he's still finding ways to put up huge PPR numbers. He was targeted 11 times in the passing game and caught 9 of those for 88 yards. Bell also chipped in with 66 yards on 20 carries. Don't worry about the touchdowns, they'll come eventually.
DeMarco Murray, LeSean McCoy, Devonta Freeman and Todd Gurley also put up RB1 numbers, as they all scored 17-plus PPR points on the day. They all touched the ball at least 20 times, and Murray led the three with 32 total touches. It was nice to see Gurley find the end zone and some rushing room against the Bills, so hopefully that continues. Barring health, expect consistency from the other three as the season progresses.
Surprising receivers rule Week 5
TY Hilton shouldn't be a surprise anymore, considering he's now the second-ranked PPR wideout. On Sunday against the Bears though, he accumulated a position-leading 33.10 PPR points, by putting up 171 yards and a touchdown on 10 receptions. What's most impressive, is that Hilton is doing this with the defense completely keying on him. He will lose a few targets once Donte Moncrief comes back, but Hilton should find even more holes in opposing secondaries.
Hello TY!
Hello TD!#ForTheShoe #CHIvsIND https://t.co/94MGs988ub

— NFL (@NFL) October 9, 2016
Steelers WR Sammie Coates was second in PPR points this week, as he put 31.90 PPR points on the board. Coates — who has never had his head screwed on straight, but has always possessed talent — burnt the Revis'less secondary to the tune of 139 yards and 2 touchdowns. As of right now, Ben Roethlisberger's second option on the perimeter, is available in 63-percent of Yahoo! leagues.
JoJo LaFell (26.80 points) led the way for the Bengals and found the end zone twice on the day. Then a couple of disgusting vultures Cameron Meredith (26.60 points) and Adam Thielen (25.70 points) went over 120 yards receiving and both touched paydirt. Then Jeremy Kerley — who is only owned in 9-percent of Yahoo! leagues and currently ranks above DeAndre Hopkins in targets, receptions and PPR points — added 24.40 PPR points to his resume. He might be worth a flier this week.
Things I know I saw
#ThoughtsAndPrayers to the Browns. We all know they suck and have terrible luck with the quarterback position, but it hit a new low on Sunday.
After Cody Kessler got destroyed by Dont'a Hightower — which resulted in a safety — he was forced to leave the game.
The Browns' sad social media account was then forced to tweet this:
Terrelle Pryor is in at QB.

— Cleveland Browns (@Browns) October 9, 2016
Charlie Whitehurst is in at QB.

— Cleveland Browns (@Browns) October 9, 2016
Terrelle Pryor is in at QB.#NEvsCLE

— Cleveland Browns (@Browns) October 9, 2016
UPDATE: Charlie Whitehurst's return is probable (knee)

— Cleveland Browns (@Browns) October 9, 2016
Charlie Whitehurst is in at QB.#NEvsCLE

— Cleveland Browns (@Browns) October 9, 2016
Brock Osweiler sucks and he's ruining our lives. I already mentioned that DeAndre Hopkins currently has less fantasy points than Jeremy Kerley — which is inexcusible. Then, the one guy who Osweiler loves, Will Fuller, was held to 1 catch on 6 targets for 4 measly yards against the Vikings. The most disappointing — which is most likely due to play calling — is that our guy, Lamar Miller, has yet to find the end zone this season. I repeat, the Texans have zero rushing touchdowns through five weeks. This offense is loaded with talent, but the quarterback sucks and they can't find their way out of a wet paper bag.
Tyrod Taylor made a little miscue, when he lined up behind the offensive guard in shotgun, nbd.
Tyrod Taylor just lined up behind his guard instead of the center and snapped the ball… pic.twitter.com/LyyUMBbE0X

— NFL Memes (@NFL_Memes) October 9, 2016
Odell Beckham Jr. didn't exactly blowup like we thought he would, but he still recorded 16.60 PPR points. After he scored a touchdown, he decided to forgive the kicking net that gave him a boo boo a few weeks ago, by giving it a smooch.
When we talked to Atlanta Falcons' beat writer, Jeanna Thomas, last week (listen here), she was pretty high on the Falcons as an offense, but she wanted them to prove it against the league's best defense. The Falcons two-headed monster at running back tore up the Broncos. We told you about Freeman, but Tevin Coleman put together the third best RB PPR point total of Week 5 (26.30 points) and is currently fifth in scoring out of running backs, above guys like Melvin Gordon, CJ Anderson, Isaiah Crowell and Matt Forte. Not bad. Matt Ryan proved his legitimacy by racking up 267 yards and a touchdown against arguably the toughest secondary and the toughest place to play in the league. These guys should put up a sick amount of fantasy points, especially since they play in a division where the secondaries absolutely suck.
The No Fun League told Antonio Brown that they would eject him if he wore these sweet Muhammad Ali cleats, so he was forced to go and change them during the first quarter. He took his frustrations out on the Jets secondary.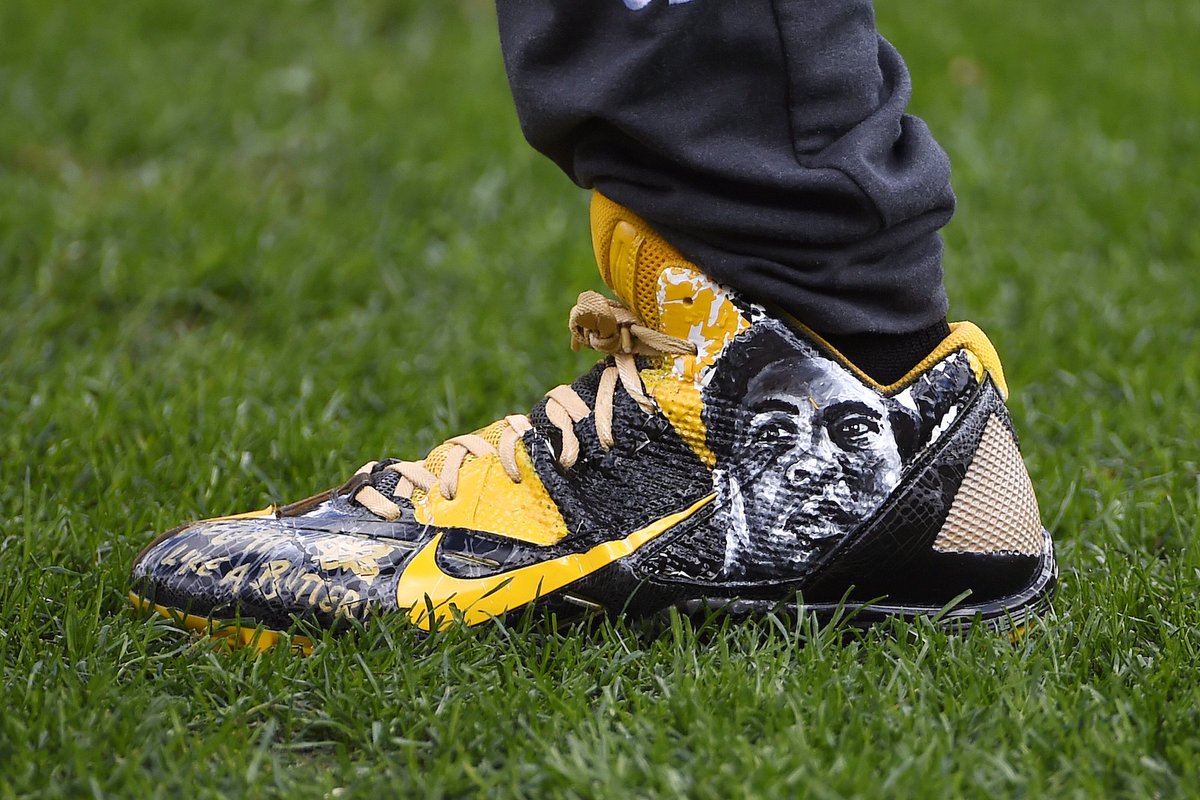 Let's close out Week 5 with a look at Rob Gronkowski's beastly run, through the Browns' poor, poor defense:
How would you name @RobGronkowski's tackle-breaking run?

Let us know using #NTPGronkowski! https://t.co/lKcSRJNGKQ

— NFL (@NFL) October 10, 2016
See ya'll next Monday. In the meantime, stay up-to-date by following us @RotoStreetJ on Twitter and subscribing to our funny and knowledgeable podcast, The Fantasy Stock Report.