Player Stock Ticker
Monday Morning Fantasy Quarterback: Week 3 Edition
Happy Monday fantasy football fans. Every Monday this will be the place to be for the most comprehensive wrap-up of the week's most enticing fantasy football headlines. We'll also fill you in with the things we know we saw. Enjoy.
Headlines
Let us boast a bit
Here at Roto Street Journal, we will be the first ones to tell you when we suck — just listen to the Fantasy Stock Report podcast. So now, I'm going to tell you that we couldn't have been more right about Marvin Jones Jr., Doug Baldwin, Jarvis Landry and Mike Evans. Did those guys ball out on Sunday, or what?
Lets start off with our man Marvin — who you all should have been taking very seriously. All Jones did against the Packers' defense was put up the most PPR points (38.5) on the day, registering 205 yards and 2 touchdowns on 6 receptions. He's Matt Stafford's clear No.1 target and if you didn't take our advice last week, he's going to be nearly impossible to acquire now. Jones leads all receivers in PPR points through three weeks.
"GET. OFF. ME." –@marvinjonesjr, probably.

73 yards. See ya. #OnePride #DETvsGB https://t.co/Wqb9XEjPN1

— NFL (@NFL) September 25, 2016
Dougie Baldwin also did the damn thing — putting up 30 PPR points — recording 164 yards and a touchdown on 8 receptions. He was questionable coming into the game with a knee injury, but he showed zero signs of being injured. Our fearless leader — The Wolf — was borderline obsessed with Baldwin heading into this season and he has been 100-percent correct on him. Even when Russell Wilson went out with a sprained MCL, Baldwin caught his lone touchdown on the day from backup QB Trevone Boykin. He also came down with this circus catch: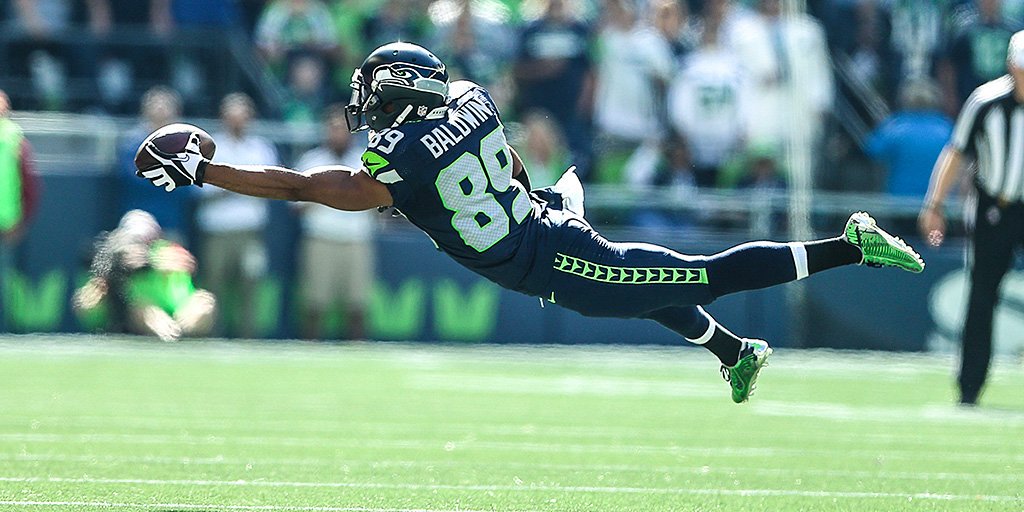 After bouncing back in Week 2 from a sub-par Week 1 performance, Jarvis Landry and Ryan Tannehill continued with their unbelievable chemistry. On 12 targets, Landry caught 7 balls for 120 yards and a touchdown, which resulted in 26.60 PPR points. We labeled him "The Next DeAndre Hopkins" in the preseason, and he has made us look smart — outscoring the Texan through three weeks.
During the preseason, The Wolf was much higher on Jameis Winston than most, and Mike Evans was one of the main reasons. Evans had a "down year" last year, mostly due to drops, but the targets were always there. Winston's No. 1 target is a physical specimen and one of the most beastly red zone targets in the league. He owned the Rams' secondary, by putting up 10 receptions, 132 yards and a touchdown, on 12 targets.
Okay, okay. Enough about us.
Dominating Defenses
We haven't given defenses much publicity here, but there has been one surprising and dominating defense that has been consistent in all three weeks — the Minnesota Vikings. It's clear to see why the Vikings felt it was necessary to trade for Sam Bradford, since they are clearly in win-now mode. This defense is dominant. Through three weeks, they have put up a whopping 59 fantasy points, including 26 against Cam Newton's Carolina Panthers. Let's not forget they put up those points against two legit offenses, the Packers and those Panthers. Also, they held Kelvin Benjamin to ZERO fantasy points.
The Kansas City Chiefs put up a fantasy day for the goddamn ages. They picked off Ryan Fitzpatrick SIX TIMES, recovered two fumbles and scored twice. Unbelievable. Those eight turnovers and two touchdowns resulted in 35 fantasy points, which was the second highest fantasy point total — behind Marvin Jones — of the week.
One not-so-dominating defense that has been feasted on so far, would be the Green Bay Packers. Through three weeks, they have allowed the most yards per carry and are 29th in passing yards per attempt. If you own a player playing against the Packers, expect them to light up the scoreboard and also target that defense in DFS.
Surprising Rookie(ish) Quarterbacks
Three of the most impressive and surprising fantasy quarterbacks have been Carson Wentz, Dak Prescott and Trevor Siemian (he's not a rookie but he basically is). All three ranked in the top-six of Week 3 QB fantasy points — Siemian with 28.98, Prescott 23.52 and Wentz with 21.04.
If you listen to our Sunday morning pregame show on Facebook Live, you would know that I was so down on Wentz, and I couldn't have been more wrong. He's yet to throw an interception and looks extremely comfortable playing against NFL talent, even though he jumped from a FCS program. Prescott is another who has yet to throw an interception and he looked in the zone on Sunday night. If I were Jerry Jones, I would try to ship Tony Romo to a contender who's missing a quarterback, and get a couple of draft picks in return. Siemian tore up the Bengals' secondary to the tune of 312 yards and 4 touchdowns. He peppered Emmanuel Sanders with targets and has made John Elway look like a genius.
All three of these guys are legit streamer options on a weekly basis.
Things I know I saw
The Seattle Seahawks' offense looked great. I mentioned Baldwin earlier, but Christine Michael (20-106-2) might have taken Thomas Rawls' job with his performance, and some tight end named Jimmy Graham put up 20 PPR points and hit 100 receiving yards. Let's pray that Wilson's knee injury doesn't keep him out too long.
LeSean McCoy looked great under new OC Anthony Lynn. He was featured against the stout Arizona Cardinals' defense and responded with a RB-leading 26.60 PPR points. He carried the ball 17 times for 110 yards and 2 touchdowns. Maybe Lynn will look to get Sammy Watkins' involved, once he gets back on the field.
A backfield that got extremely interesting and possibly messy, would be the Philadelphia Eagles. Darren Sproles didn't look like a 33-year old running back, as he put up 128 yards and a touchdown on 6 receptions. Wendell Smallwood also looked great and was used in the red zone — he carried the rock 17 times for 79 yards and a touchdown. Ryan Mathews owners should be concerned about a possible injury or the potential for a timeshare. He only touched the ball on two of the team's 30 total rushes. If Sproles does more things like this, it will be tough to keep him off the field:
Darren Sproles in the open field is like a Madden cheat code pic.twitter.com/YlVrpCaQ1y

— Pick Six Previews (@PickSixPreviews) September 25, 2016
Two guys who proved their legitimacy on Sunday were Melvin Gordon and Jeremy Hill. Gordon did everything for the Chargers, scoring a goal line touchdown and catching 4 balls, finishing with 78 total yards on the day. Hill was most likely benched by most of his owners — including me —  after a disappointing start to the season,  when he faced off against the vaunted Denver defense. Hill rushed for 97 yards and two touchdowns on 17 carries. Feel comfortable riding these guys for the rest of the season.
One of the funnier moments of the night came on a Jordan Howard run, when a Cowboys' defender barreled into a poor old man on the sidelines. The man's face when he got up was hilarious:
This poor man's face is priceless. #CHIvsDAL #cowboys #bears https://t.co/vQX6HcZHyq

— Roto Street Journal (@RotoStJournal) September 26, 2016
Steve Smith Sr. went at rookie Jalen Ramsey, who had a bunch of shit to talk after the game. Ramsey has been phenomenal, but crossed the line with Smith when he said he "didn't respect him as a man." Smith is known as one of the best trash talkers in the league. Ice up, rook.
I gave U every opportunity to speak face to face . But you found your voice safely behind closed doors. Young man I don't need ur respect! https://t.co/kaGDEhTkIF

— Steve Smith Sr (@89SteveSmith) September 25, 2016
Odell Beckham Jr. is one of the premiere wide receivers in all of football, but boy is he an absolute headcase. He dominated Josh Norman in the second half, yet he was seen doing this:
which then resulted in this:
which then led to this:
Those nets are tricky.

— Washington Redskins (@Redskins) September 25, 2016
His respect around the league was already dwindling, and he did himself no favors on Sunday afternoon.
See ya'll next Monday and be sure to follow us on Twitter at @RotoStreetJ, subscribe to our weekly podcast and join us on our Facebook Live pregame show at 12 o'clock, every Sunday.