Player Stock Ticker
Fantasy Football Week 15: Stream Team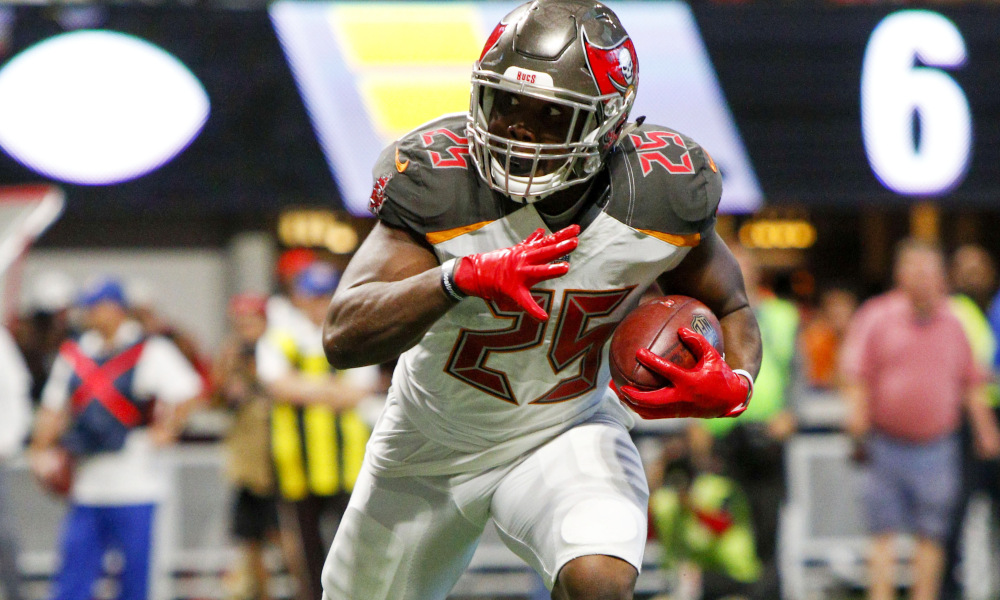 Welcome back to the Stream Team where we assemble an entire fantasy football starting lineup from spare parts owned in under 50% of leagues. The Stream Team enjoyed one of its best weeks of the season in Week 14,  right in time to help you escape the Quarterfinals of your fantasy football playoffs. Lead by the stellar play of Theo Riddick (24.30), Dede Westbrook (16.60), and Marquise Goodwin (13.60) the Stream Team scored over 90 points once again, showing that diligent research and long hours in the fantasy football laboratory can help you eat that W. So hopefully you streamed well and made it to the Semifinals. With a plethora of key injuries in Week 14, the doors are open for the streamers below to have a great impact on your fantasy lives. So let's get crackin' as we delve into the Week 15 picks.
Quarterback
QB: Blake Bortles, QB, Jacksonville Jaguars (49% Yahoo ownership)
Oh boy. Resting your playoff chances on the arm of Blake Bortles sounds terrifying. There is no couching it. However, we have stats to make you (somewhat) confident in this selection. Houston has allowed the second most fantasy points to opposing quarterbacks this season, having allowed less than 16 fantasy points just once in the Texans previous seven games. Also, Bortles has recorded at least 16.3 fantasy points in 6 of his previous 7 starts. How ironic! 16 is the magic number it appears, giving Bortles a solid floor and a potential back end QB1 designation. Let's just hope we don't get Bad Blake on Sunday.
Running Back
RB1: Peyton Barber, RB, Tampa Bay Buccaneers (35% Yahoo ownership)
I have officially softened my stance on the Doug Martin / Peyton Barber conundrum. Initially I thought Martin had the inside track on the job for the remainder of the season, and the Bucs would merely sprinkle a little Barber as needed. Well, after unimpressively rushing 10 times for 26 yards, Martin's second quarter fumble earned him a spot on the bench for the remaining 33 minutes of Sunday's game against the Lions. Barber picked up where he left off Week 13, rushing 12 times for 58 yards, even adding one reception. I see Martin glued to the bench Week 15 and fully expect Barber to receive the lion's share of the carries on Sunday. His stellar played has earned him lead running back playing time.
RB2: Mike Davis, RB, Seattle Seahawks (38% Yahoo ownership)
Even with a touch matchup against Jacksonville in Week 14, Mike Davis continued to impress running 15 times for 66 yards, adding one reception. Davis got shook up in the third quarter, and never returned to game action thereafter, so this is a situation worth monitoring (J.D. McKissic will be the preferred option if Davis misses Week 15). Provided he plays, Davis squares off against a Rams defense allowing the third most points to opposing running backs, the fifth most rushing yards per game, and the sixth most rushing touchdowns. Seemingly locked into the lead RB role for Seattle, Davis looks primed for 20+ total touches each week, making him a backend RB2 option.
Wide Receiver
WR1: Dede Westbrook, WR, Jacksonville Jaguars (30% Yahoo ownership)
I need all of you to stop what you are doing and listen. CANNONBALLLLL! I said it last week. And the week before. And the week before. Currently RSJ's #1 waiver wire add Week 15, Dede Westbrook needs to be owned in every league. In Week 14, Westbrook lead the Jaguars in targets and receptions, posting a 5/81/1 touchdown breakout line that gives me all the right feels in all the wrong places. Houston has really struggled with speedy receivers this year, and Westbrook will look to exploit those same recurring problem areas Week 15. For the fourth week in a row, fire up Dede and go win yourself a fantasy playoff game.
WR2: Trent Taylor, WR, San Francisco 49ers (28% Yahoo ownership)
The real deal Jimmy Garoppolo continues to dazzle in his young NFL career, this time leading the 49ers to a 26-16 victory backed by his 334 passing yards. And while his connection with Marquise Goodwin continues to thrive, I am focusing on someone different Week 15. Trent Taylor broke out onto the scene Week 13 after catching all 6 of his targets for 92 yards. Some people even wondered if this was the beginning of a Tom Brady–Julian Edelman relationship. Not quite yet everyone. In Week 14 Taylor caught just 2 of his 3 targets for 11 yards, disappointing fantasy nerds abound. Luckily the 49ers get a Titans defense allowing the 8th most fantasy points to opposing wide receivers, so Taylor will have ample opportunities to sift and shift through a beatable defense.
Tight End
TE: Ricky Seals-Jones, TE, Arizona Cardinals (43% Yahoo ownership)
Oh how you disappointed me so. Ricky Seals-Jones caught just one 20 yard pass after scoring 3 touchdowns in his previous 3 games. Not quite the Rob Gronkowski replacement we were looking for. However, he has a great chance to turn his fortunes around Week 15 against a Washington Redskin defense allowing the fifth most points to opposing tight ends. With Josh Norman blanketing Larry Fitzgerald look for Blaine Gabbert to target his security blanket more Week 15.
Flex
Flex: Theo Riddick, RB, Detroit Lions (41% Yahoo ownership)
Theo Riddick's recent performance has earned him more touches even when Ameer Abdullah returns to the starting lineup (and who knows when that will be). Sure he will be relegated more to a third down back type role, but he still should amass enough receptions and get enough goal line looks to warrant flex consideration. And while the Bears defend the run reasonably well, three down runner Giovani Bernard just torched Chicago for 130 all purpose yards. Given his steady usage and rising performance, I like Riddick as a safe floor play.
Kicker
K: Dan Bailey, K, Dallas Cowboys (30% Yahoo ownership)
Dan Bailey could've had a monster Sunday, but he failed to convert either of his 50 yard attempts Week 14, leaving us with a lowly 6 fantasy points. However, he still owns one of the biggest and most accurate boots in the league and should have ample opportunities to pile on the points Week 15 against a putrid Raiders defense allowing field goals in bunches this year.
Defense
New Orleans Saints DST (37% Yahoo ownership)
The recently scuffling New Orleans Saints DST finds itself in prime position Week 15 at home as they welcome a New York Jets team that will be manned by Bryce Petty. Petty is a career 54% passer with 3 touchdowns and 7 interceptions, good for a 57.9 QB Rating. Not good. Expect Petty to stumble early and often Sunday as the Saints blitz this inexperienced quarterback.
And that's a wrap for Week 15 of the Fantasy Football Streamers. Be sure to check back every Tuesday to see where to turn to next and get the early leg up on your opponent. Until next time, good luck and godspeed, and may the fantasy football gods forever be in your favor.
To contact me with any questions or general fantasy football discussion, please email me at [email protected] or tweet me ‪@AJGamballer‪.