Player Stock Ticker
Fantasy Football 2017: IDP Week 14 Rankings and Players to Avoid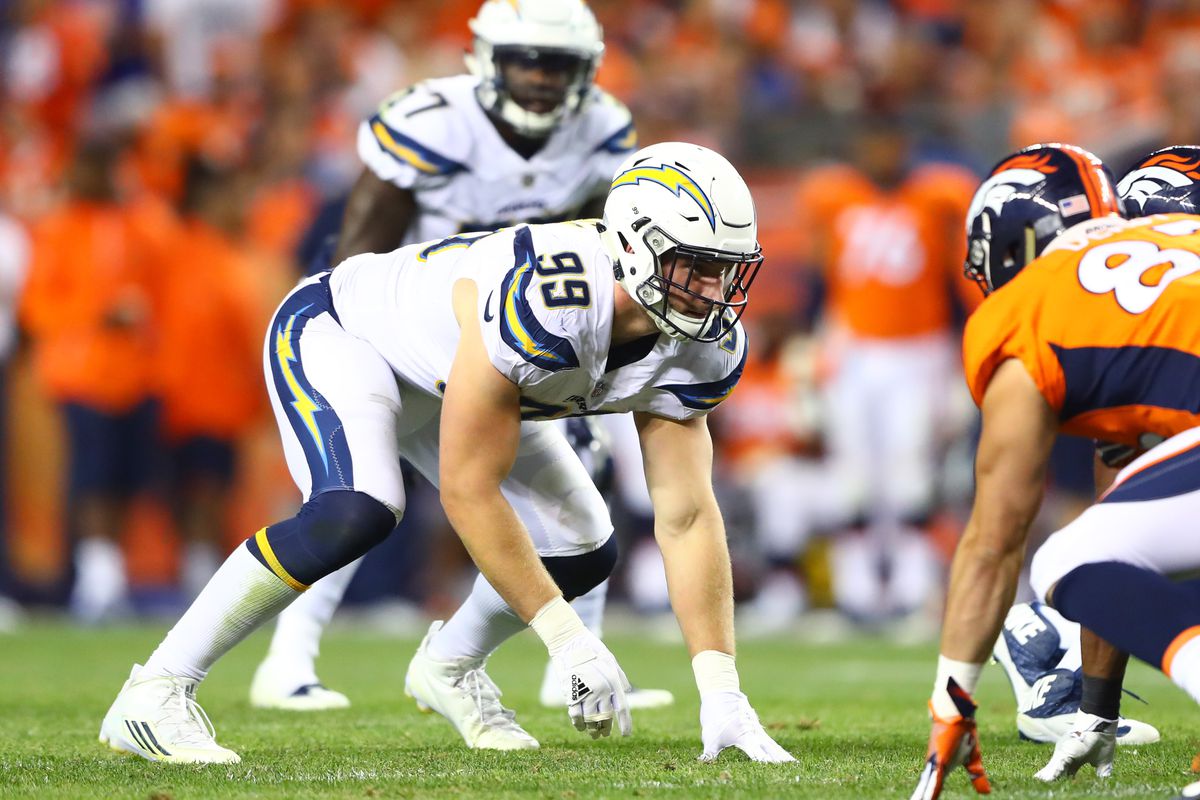 Playoff time is upon us and every move can be crucial to the life of your season. Should I move on from a household name who's been underperforming, or do I continue to reminisce about the past? Let's face it. It's been 13 weeks and if one of your defensive "studs" has yet to show up this season, it's probably time to cut the line. That doesn't mean it's going to be easy to find a viable replacement, but this list should help you find the best available options.
Week 14 Top 10 Positional Rankings
Scoring system:
Solo Tackle 1, Assisted Tackle 0.5, Sack 3, INT 4, Fumble Force 2, Fumble Recovery 2, DEF TD 6, Safety 5, Pass Defended 2, Blocked Kick 4, Tackle for a Loss 0.25, Turnover Return Yards 0.1, Extra Point Return 2.
Defensive Backs
Reshad Jones, MIA vs NE – Brady loves the short game and Jones is playing like 2015 when he was the #1 IDP player overall. Expect Jones to amass tackles against the team giving up the second most points to DBs this season.
Kevin Byard TEN @ ARI – Byard is the #1 DB thus far and he's going up against the team giving up the most points to DBs this year.
Eric Weddle, BAL @ PIT – Top 10 guy each of the last 2 years. He's been excellent over the last month so expect him to lead the charge for BAL as they fight for their playoff lives.
Landon Collins, NYG vs DAL – Collins could make the case to be #1, as he's accumulated the most points out of any defensive player over the last 2 seasons, but he has a weak matchup against Dak Prescott who doesn't throw downfield.
Keanu Neal, ATL vs NO – Neal should have his hands full with Brees spreading the ball all over the field, while trying to keep up with some extra Alvin Kamara this week.
Micah Hyde, BUF vs IND – The Buffalo Bills have 3 of the top 7 players eligible at DB this season. With Tre'Davious White in concussion protocol, expect Hyde and Jordan Poyer to step up their game.
Jordan Poyer, BUF vs IND – see Micah Hyde (above).
Casey Hayward, LAC vs WAS – Last year's #2 DB has been hot as of late scoring the 6th most among the position in the last 4 weeks.
A. J. Bouye, JAX @ SEA – Bouye has been very reliable this season. He has scored at least 6 points in every game and faces a Seattle offense allowing the 5th most points per game to DBs.
Harrison Smith, MIN @ CAR – Smith hasn't been as good as advertised this season, but he's got a great matchup this week against some very underwhelming receivers.
Defensive Line
Joey Bosa, LAC vs WAS – Great matchup. The Washington o-line is bad and they're thin at RB so Kirk Cousins should be throwing a lot. Bosa & Ingram should feed off each other in this one.
Melvin Ingram LAC vs WAS – See Joey Bosa (above).
Khalil Mack, OAK @ KC – 2016's #1 DL with a good matchup against the Chiefs. He was held in check when KC last visited Oakland, so he's due.
Demarcus Lawrence, DAL @ NYG – Good matchup against a bad divisional opponent. Expect Eli to drop back a lot and Lawrence to see sack opportunities.
Cameron Jordan, NO @ ATL – Jordan has been the #1 DL thus far in IDP. It's a middle of the road matchup, but I expect Matt Ryan to be playing from behind, giving Jordan some opportunities.
Everson Griffin, MIN @ CAR – Good matchup against a QB that enjoys having the ball in his hands.
Jadeveon Clowney, HOU vs SF – Clowney has been quiet lately. He's facing an average matchup and Jimmy Garoppolo is mobile.
Jason Pierre-Paul, NYG vs DAL – Dak can move, but without Ezekiel Elliott, expect some extra opportunities for JPP.
Carlos Dunlap, CIN vs CHI – Dunlap hasn't been great, but the Bears play short with a lot of yards coming through Jordan Howard and Tarik Cohen. Expect Dunlap to have some opportunities in the Bears backfield.
Calais Campbell, JAX vs SEA – He's been excellent (3rd DL in scoring) but Russell Wilson has been amongst the best against the rush. This is not the most favorable road matchup.
Linebackers
Bobby Wagner, SEA @ JAX – He's the #1 LB by far, facing a bad offense giving up the second most points to LBs.
C. J. Mosley, BAL @ PIT – Top 5 LB in solo tackles, 3rd in total points in 2017. Mosley will be firing on all cylinders versus Pittsburgh on Sunday night.
Telvin Smith, JAX vs SEA – Top 10 each of the last 3 years. If he gets out of concussion protocol, start him.
Zach Brown, WAS @ LAC – Expect to see Brown eating up Philip Rivers' short game this week. Washington has expressed their desire to extend him this offseason, so his effort should be at its max.
Luke Kuechly, CAR vs MIN – Should be higher on the list but there's too much injury concern.
Joe Schobert, CLE vs GB – Who? you ask… don't worry about it. He's been excellent for Cleveland this season. Since week 6, he's averaging 12 points per week. Roll him out if he's available.
Alec Ogletree, LAR vs PHI – Good matchup, most points by a LB over the last 4 weeks but left last weeks game early after scoring a TD.
Blake Martinez, GB @ CLE – Martinez has been feeding off Clay Matthews and the matchup vs Cleveland has a lot of upside – especially if Kizer forces the ball to Gordon and Martinez doubles on him.
Demario Davis, NYJ @ DEN – Ranks 5th is solo tackles and 9th in LB scoring on the year. No injury concern and playing a Denver team that will spend a lot of time in the middle of the field.
Sean Lee, DAL @ NYG – He's a tackle machine and looks ready to roll against the Giants. Expect him to be all over whoever Eli Manning is throwing to this week.
Players to target
Most of the top ranked guys are expected to be unavailable in 10-plus team leagues, so you may need to dig a little deeper depending on the depth of your league. At this point in the season, some known commodities, as well as lesser-knowns have been providing exceptional production over the last few weeks.
Defensive Backs
Bubba Baker, ARI vs TEN – This kid has amassed the third most tackles in the NFL over the last 4 weeks.
Dre Kirkpatrick, CIN vs CHI – He is the #1 IDP player over the last 4 weeks and is highly available. Keep an eye on his status because he exited early Monday night.
Devin McCourty, NE @ MIA – McCourty is fourth in solo tackles among all DBs and has a good matchup against a team that will likely be playing from behind all night.
Defensive Line
Adrian Clayborn, ATL vs NO – Clayborn has been extremely inconsistent this season, but he is the #1 defensive lineman this month. Atlanta plays at home in their dome on Thursday, and all of Clayborn's biggest games have come inside of a dome.
Aaron Donald, LAR vs PHI – The matchup is good, and Donald has been great as of late. He's made the top 5 in DL scoring over the last 4 weeks.
Cameron Heyward, PIT vs BAL – The two-time DPOW this season has 6 sacks in his last 6 games and is 12th in DL scoring. Expect Pittsburgh to be amped against Baltimore.
Linebackers
Mark Barron, LAR vs PHI – Barron was a top 10 LB last season and has a chance to repeat this year. If Ogletree misses this week, start Barron confidently with top 5 potential.
Paul Posluszny, JAX vs SEA – He looked great last week in a return to the starting lineup. If Telvin Smith sits again, expect Posluszny to pick up where he left off against Indy.
Lavonte David/Kwon Alexander, TB vs DET – David and Alexander each were the #1 LB in 2015 and 2016, respectively. These guys have been solid when they're on the field and picked up their games when the other was out. If for any reason one of them can't go on Sunday, get the other one in your lineup.
Players to avoid
I would avoid these players for various reasons. We've seen an uptick of injuries, suspensions and fights as of late, so risk is on the rise. Some players have also quit, which should begin to show as teams fall out of the playoff mix. Some other players also seek to avoid injury in an effort to max out their money if they're an impending free agent. Make sure to note the issues with these players before you take a chance on them.
Defensive Backs
Josh Norman, WAS @ LAC – Norman is a fantastic player, but his ability to take targets away from his opponent also leaves him with little to show for his efforts in fantasy. He has not topped 10 points in any one week this season.
Marcus Peters, KC vs OAK – Peters was already having a down year before last week's outburst, and KC has suspended him for at least Week 14. His production is down and his tantrums are up, so seek alternative options for the duration of 2017.
Aqib Talib, DEN vs NYJ – Though he is an excellent defender, Talib's value is INT dependent. We've seen him quit on the Patriots twice at the end of the year in the past, and with Denver as bad as they are, expect him to play conservatively to preserve his health in hopes of an extension or a new contract.
Defensive Linemen
Ezekiel Ansah, DET @ TB – After improving in each of his first 3 seasons in the NFL, Ansah got hurt last season and has not returned to form. There may be lingering injury so I would write him off until 2018.
Dontari Poe, ATL vs NO – After two Pro Bowl seasons in KC, he got paid and has become invisible. The high expectations of 2016 and 2017 are officially underachievements. Poe belongs in free agency in your league.
Ndamukong Suh, MIA vs NE – Unless your league scoring is bullish on sacks, Suh has no value. He has not topped 6 points yet this season. The Patriots are on a roll and the game could get out of hand, resulting in Suh losing his temper and finishing the game from the locker room.
Linebackers
Vontaze Burfict, CIN vs CHI – Tends to be a loose cannon and could be ejected at any moment. Last week he took a hit and left on a backboard. Do not risk your season on this guy.
Von Miller, DEN vs NYJ – Miller may be the most overrated fantasy defensive player. What Von does on the field does not translate to fantasy scoring. Find someone that scores points more consistently.
Ryan Shazier, PIT vs BAL – He's an animal, but a wounded one. Avoid this start. He's got a spinal injury, plus Pittsburgh isn't playing until Sunday night.
There are many unique scoring systems when playing IDP fantasy football. Be sure to review your scoring settings before you add anyone on these lists to be sure that they are going to help you win. In case you missed it, at the top of the article I listed the scoring settings that I used when assessing these players.
Good luck this playoff season. If you're not into IDP yet, think back to any time your defense's score went down because their QB threw a pick six.