Player Stock Ticker
PlayDraft NFL Week 12: Lineups, Rankings and Strategy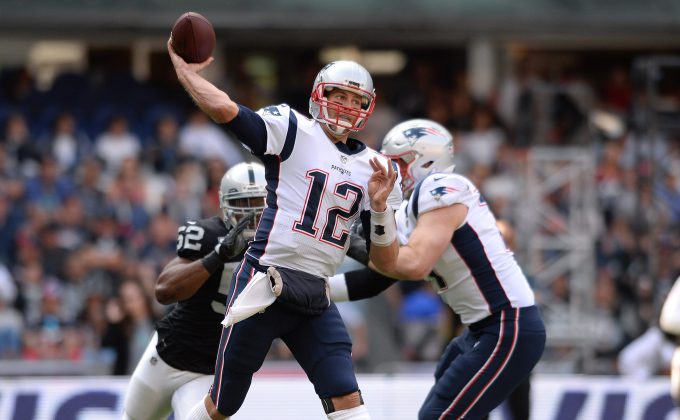 Hi everybody, welcome to Week 12 of PlayDraft DFS Strategy. The bye weeks are over and we have some Thursday games to work with here. It's been a while since we've had so many choices so hopefully the extra options will lead to more mistakes from our unprepared opponents this week.
QB Rankings
Tom Brady
Cam Newton
Russell Wilson
Carson Wentz
Drew Brees
Marcus Mariota
Philip Rivers
Matt Ryan
Kirk Cousins
Alex Smith
RB Rankings
Le'Veon Bell
LeSean McCoy
Todd Gurley
Melvin Gordon
Mark Ingram
Kareem Hunt
Devonta Freeman
Leonard Fournette
Lamar Miller
DeMarco Murray
Jordan Howard
Danny Woodhead
Carlos Hyde
Joe Mixon
Alvin Kamara
Orleans Darkwa
Christian McCaffrey
Isaiah Crowell
CJ Anderson
Alfred Morris
WR/TE Rankings
AJ Green
Julio Jones
Antonio Brown
Mike Evans
Rob Gronkowski
DeAndre Hopkins
DeMaryius Thomas
Adam Thielen
Michael Thomas
Brandin Cooks
Doug Baldwin
Jarvis Landry
Sterling Shepard
Tyreek Hill
TY Hilton
Keenan Allen
Alshon Jeffery
Corey Coleman
Devin Funchess
Stefon Diggs
3 Team Strategy
I feel like we're looking at another week of really anything goes at 3 team. Still, I like the consistency with Tom Brady and I want the top end RB here. I don't think there's a huge gap at the top end of WR and really they're all so variable anyways. I think I'd lean towards QB-RB-RB-WR-WR unless you can take LeVeon Bell in the first, then I'd go with Brady in the second or wait until the final round for my QB if Brady was gone.
6 Team Strategy
I really don't like what starts happening towards the bottom of the top 12 at RB this week while I'm perfectly fine with rolling the dice at WR on a guy like Jarvis Landry or DeMaryius Thomas in decent matchups. Realistically, I'm also probably fine with any of the top 6 QB although I do lean towards wanting Brady again if possible. If Brady is available in round 2, I'm taking him, otherwise I'm waiting until the final round for my QB and loading up at RB early. I'd go RB-RB-WR-WR-QB (if no Brady, otherwise move rounds 2-4 down one round and take Brady in round 2).
10 Team Strategy
I'm really not enthused about the second half options for any of the positions in the ten team leagues. That being said, I'm predictably more comfortable taking a risk with my WR corps than I am with the bottom half of the RB and QB pools. I'd still love Brady but based on my trepidation to wait too long on RB, I'm leaning towards taking both RB very early then filling in the other positions. So I'd look to go RB-RB-QB-WR-WR.
That's it for this week! Get out there and win some drafts! Also, as usual, please don't be shy about asking questions or commenting in the area below!