Player Stock Ticker
Fantasy Football Strategy: Buy Low, Sell High Week 12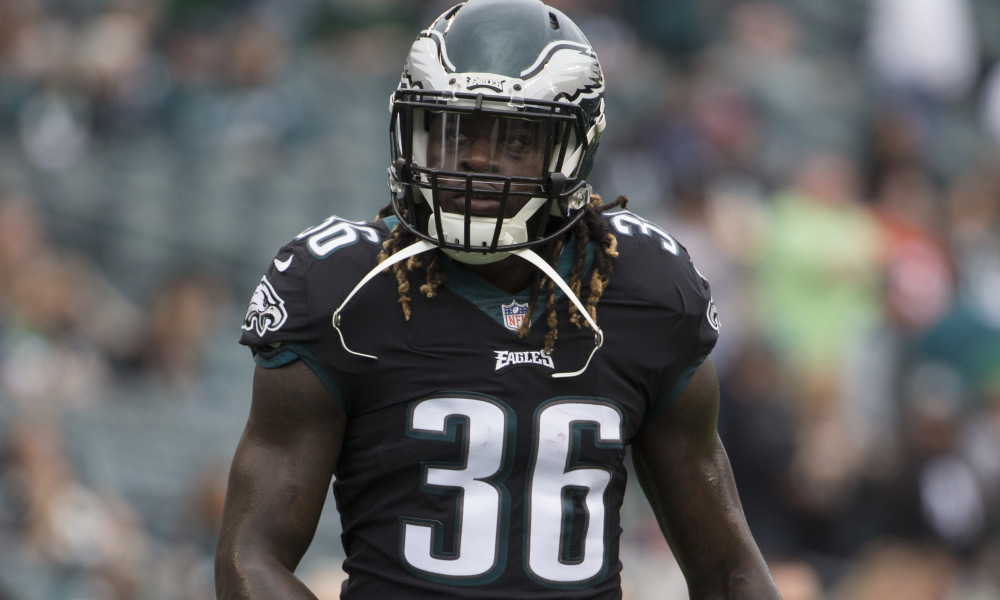 Hi everybody, welcome back to Buy Low, Sell High for Week 12 of the fantasy season. We're finally through the byes and we're up against the trade deadline for those of you whose deadline hasn't already passed. Most of my takeaways for this week are going to focus not only on gaining value in your trade targets but also in recognizing that we're in the homestretch for the season. I will be back next week for the final article of this season, as it makes no sense to keep going during the fantasy playoffs since trading is usually not allowed at that point and every week will eliminate half of the owners anyways.
Players to Sell
Just a reiteration of last week here but if you have CJ Anderson or DeMaryius Thomas – now may be your last chance to sell. This team is going nowhere and just fired their OC. It's only a matter of time before Paxton Lynch takes over and that's not going to help this offense. Cut bait now and take advantage of any owners who haven't seen the clear writing on the wall in Denver.
We haven't heard from Tarik Cohen in a while. He was everybody's fantasy darling the first week or two of the season (when I told you to steer clear) and he's been mostly bad since then. Anytime a player like this has a solid week like he just did, look to move him and play off of his early season love. You can't consistently start this guy and feel good about it.
Speaking of consistency… my man Marvin Jones is just one of those guys. Some weeks he looks absolutely amazing and other weeks he just disappears. Players like him can be fine to own and if you guess the correct weeks to start him, you'll love him. I just don't like relying on players like this and I'd much rather trade Casper the Friendly Jones to somebody else for a steady player than ride this roller coaster. Side note – if you want an awful song stuck in your head for days, give the Casper theme song a listen.
Jay Cutler sucks. That's all I had to say here… In all seriousness though, Jay Cutler does suck. On the positive though, he likes to target the hell out of my man Devante Parker. However, Cutler finds a way to get hurt regularly which leads to Matt Moore who always seems to want to hook up with Kenny Stills. Cutler is in the concussion protocol but he's already been named the starter when healthy which means we should go back to Cutler and his steady dose of Parker to the detriment of Kenny Stills. If you have Stills, now is the time to send him packing.
Another random Latavius Murray blow up week. That means it's time to sell Murray before other owners realize that for every one good week you get out of him, you can expect an equally mediocre next 3 weeks.
I know I mentioned this before but the Saints are way too content to roll strong with their running game this year which has hurt the production from Drew Brees. Even this week in a game where the Saints desperately needed to come from behind all game, Brees ended up with decent numbers but nothing quite like the old days. He just doesn't get the TDs that he used to so by default he can't be relied upon as the high end stud that he used to be. He's still good and he's still useful in the current QB climate, but if anybody is buying at vintage Brees prices – oblige them with a sale.
Another QB I'd like to move on from is Kirk Cousins. He's been a fine player but he doesn't seem to be overly confident with any of his receivers and he just lost Chris Thompson for the season. He also plays against the Chargers, Cardinals and Broncos during the playoffs which theoretically represents some tough secondaries to throw at. Frankly, I don't really want anything to do with the Redskins going forward in any capacity. That includes Samaje Perine who looked good this week but has been a total stinker up until this point. He'll get the lead back duties but don't fall into the trap of thinking that lead back duties will equal great production.
Keenan Allen had a huge week with a couple of nice TDs. However, Philip Rivers just has too many options and this one big game doesn't erase the fact that Allen has been middling for most of the season. This is one of those players that others are always enamored with but I've never understood the fascination. If you're an Allen guy, this week probably did nothing to change your mind but if you just happen to have him and aren't in love with him – find someone who is in love and move him.
So it's been a bit but I'll remind those of you who have been reading this article from the start of the season that I was a big proponent of moving Kareem Hunt early in the season after his huge first couple of weeks because he was breaking off huge runs at an unsustainable pace and most of his production was coming from those runs. This is not actually about Hunt as I think he's been unlucky lately (along with poor usage from Andy Reid) and I'm okay with buying him low. However, I'm drawing a parallel between why I didn't believe in the early Hunt production and Jay Ajayi. The poster children for Ajayi will point to this week and say that Ajayi got 101 all purpose yards (91 rushing) and that they were right about how great he is and will be in Philly. I vehemently disagree with this view (as I have since he got traded). Ajayi has only gotten 15 carries combined in the two games he's played since being on the Eagles. The reason Ajayi had such value coming into the year was the expected workhorse role he was going to have in Miami, which clearly hasn't been the situation in Philadelphia. There are just too many mouths to feed. Even in a blowout game, Ajayi couldn't manage more than 8 carries. Additionally, Ajayi has 168 yards over those 15 carries but 117 of those yards have come on two carries. Taking out two huge runs (which again, can't be counted on much like Hunt from early in the season) we have 13 carries for 51 yards which is fine but the usage just isn't there for you to expect great numbers here. I know I stand alone against many of my colleagues here when I say that you should sell the shit out of Ajayi. It is certainly possible that the Eagles start using him more but I'd rather let somebody else have that risk, especially with his unsustainable long runs being the only saving graces of his past two games. All set with that!
Players to Buy
I like Joe Mixon as a trade target right now. It kind of went under the radar that Jeremy Hill went on IR and while Gio Bernard has a role for the Bengals, it appears that Mixon is rightfully their guy. He wasn't so great this week but the Broncos have been good at shutting down the run this year so that was to be expected. I think good days are coming here.
The Browns are trash, clearly. They've already been relocated once and we honestly might be at the point where flat out contracting the team makes the most sense. How long can we let a team just float around as an automatic bye for opponents? Either way, as long as they're a team this year and they have limited talent, they'll have to air the ball out. This benefits the newly returning Corey Coleman, who I think offers some real talent. He won't score often because the Browns don't score, but you could do worse for your 3rd WR.
Another returning player this week was Danny Woodhead. While he may have slightly underwhelmed, you have to keep in perspective that the Ravens were ahead the entire game and it was more of an Alex Collins day. There will be games where Woodhead is leaned on to catch 7+ balls and he will PPR gold. Grab him if you can.
This week wasn't a Stefon Diggs week. That's okay, they won't all be Stefon Diggs weeks. Take advantage of that fact and grab him now. The Vikings are itching to get Teddy Bridgewater in there and when they eventually do, I think he will have a bit more rapport with Diggs than Adam Thielen because Thielen wasn't really a thing last time Bridgewater was healthy while Diggs has some game time with Teddy.
I mentioned Kareem Hunt in the Jay Ajayi sell piece but basically, I think he's due for some better luck in the scoring department (assuming they stop using Charcandrick West). His price should be sufficiently depressed at this point to take a shot on him.
I've been a staunch Lamar Miller hater this year. This stemmed from having been burned by him last year (I had him rated as my #2 RB going into last year) and my man crush on D'Onta Foreman. Well, Miller hasn't been that bad this year and Foreman is out of the picture with a heel injury. Just from a volume perspective alone, it would seem that Miller finds himself in a decent position. It's possible that an owner saw Foreman go off this week and isn't aware that he pulled up lame during his second touchdown run. If so, take advantage and steal Miller away from them.
I feel like a broken record here, but I still believe in Dez Bryant. This will be the last week that I advocate for this either way, but if you still can, try to buy low here!
Trade Analysis
This week was another huge trade week for me with 5 trades in preparation of the trade deadline:
Rob Gronkowski for Julio Jones
I acquired Julio for Gronk. I view them as fairly even but I love the upside for Julio and I've been advocating for picking him up for weeks so it only made sense to pull the trigger here.
DeVante Parker and Kenyan Drake for Jimmy Graham, Alex Collins and Matt Stafford
This is the same league as the above trade and without Gronk I needed a tight end. Graham has been solid all year and Stafford was needed to cover a bye week for Cam Newton on my team. I think Parker for Graham is very fair and I prefer Collins over Drake even though both are in a time share on their respective teams.
Adam Thielen and Rod Smith for Kelvin Benjamin and Joe Mixon
I suggested moving Thielen after his big week (albeit a week too soon apparently) but I felt like I was getting a solid WR in Benjamin and a RB on the rise in Mixon. I moved Benjamin later that day in the following deal.
Kelvin Benjamin, Isaiah Crowell and CJ Anderson for Julio Jones, Tyler Lockett and Andre Ellington
Realistically, this was a trade that I made just to acquire Julio as I dropped both Lockett and Ellington already. I liked Julio much better than Benjamin (and obviously with the injury to Benjamin this week, it's a huge win for me) and I told you all last week to move Crowell and Anderson if you could. They were both bench options for me anyways and netted me a hopeful big time player in Julio.
Marshawn Lynch and Corey Coleman for Dez Bryant
I like Coleman but as I've been saying – I expect big things from Dez!
That's all for this week! Get out there and make some last minute moves to put your team on top for the homestretch! As always, holler at me in the comments section below!