Player Stock Ticker
Fantasy Football Trade Deadline: Playoff Trade Targets Based on Strength of Schedule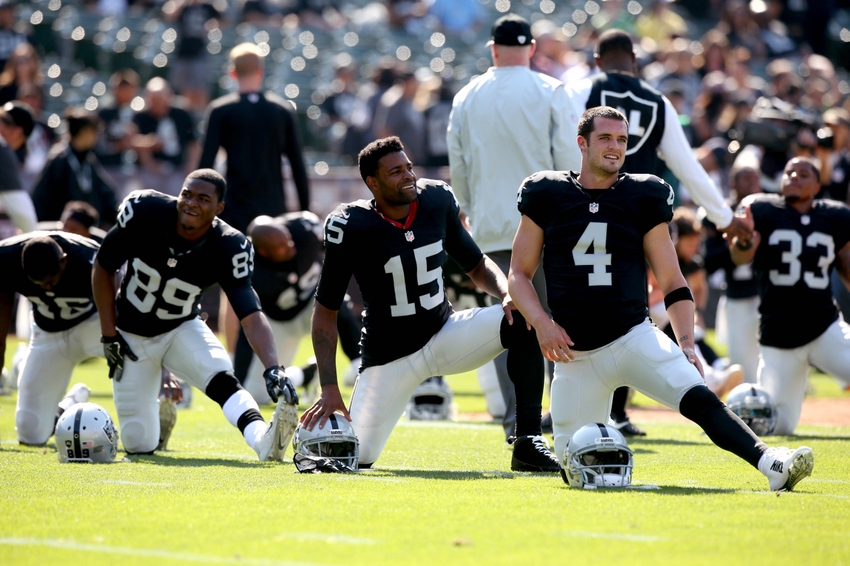 With the trade deadline about to expire, we're here to help you dominate this crucial portion of the fantasy football schedule. We talked about it at length on The Fantasy Fullback Dive (stream below), but we wanted to break it down for you slacking cube monkeys at work who don't have access to the podcast, but want to improve your squad before the deadline passes.
As always, if you have specific questions, hit up The Wolf on Twitter or Snapchat (rotostreetwolf), shoot us an email or join us during our weekly Sit/Start show on Facebook Live at 11:30 AM EST.
For audio-based listeners, tune into our LOADED trade deadline breakdown. It's a must-listen!

(H/T to Fantasy Toolbox for these great strength of schedule charts)
Quarterbacks
     
Target:
Philip Rivers is a guy who you could target right now at a relatively cheap price with a very favorable playoff schedule. With Rivers facing the lockdown Jags' secondary this week, followed by the 6th toughest secondary (Bills), owners could be looking to deal Rivers. Take advantage of those short-sighted owners who might need those next two wins, while you ride Rivers and his 100 children through the playoffs towards a fantasy title.
Derek Carr is another great example of a player you can get relatively cheap for the rest of the season and the playoffs. Following this week's bye, Carr has a cake schedule coming up. If the Patriots beat the Broncos this week, it could cause the Broncos to give up on the season, which could make his one matchup a bit easier. While the Raiders are on their bye week, this is the perfect time to target their quarterback.
The Giants, Dolphins and Cardinals all have shitty quarterbacks who should be on your waiver wire, but Eli Manning and Jay Cutler have streaming potential if your starter is facing a a tough defense. For instance, Manning faces off against the 49ers abysmal secondary this week.
Look to [possibly] sell:
RELAX! We aren't telling you to sell off Tom Brady or Russell Wilson for pennies on the dollar. However, the two have brutal and inconvenient playoff matchups that you could avoid. If you own a Jared Goff or a Philip Rivers who have favorable rest of season schedules it wouldn't be wild to deal Brady or Wilson if you can get a legit RB1 or WR1 in return. If you've locked up a playoff spot or have a solid backup, it's not crazy to put those two on the trading block if you can significantly upgrade your skill positions.
Running Backs
Target:
The Titans backfield faces a very favorable playoff schedule, but it's not guaranteed success with the constant and obnoxious RBBC that's taking place in Tennessee. DeMarco Murray is the guy there, yet he bows out of every game due to injury, then proceeds to get healthy prior to the next game. Anyone with a brain can see that Murray is terrified to lose his job to Derrick Henry — and we don't blame him. If you're buying low, Henry is the guy you should target. If you can get him for a low-end flex guy, then you potentially have a RB1 if/when Murray finally lands on the shelf.
BUY JAY AJAYI! If you have a disgruntled Ajayi owner who wanted to give up on him while he was in Miami, and then benched him last week during his blowup debut in Philly, look to acquire him now. Ajayi will be the RB1 in that explosive Eagles' offense and he'll carve it up behind that great offensive line. He had reached the end zone more during his eight carries with Philly, than he did in his prior eight games with the Dolphins. Add in the bye week and you have a refreshed, pissed off running back — with an easy schedule — who wants to prove the Dolphins' wrong. That's a recipe for fantasy success.
With Deshaun Watson done for the season and Tom Savage doing his best quarterback impersonation, the Texans could lean on Lamar Miller and the running game — especially with their positive schedule.
Devonta Freeman is someone who has fallen off a bit from his preseason hype and should be targeted at the deadline. Freeman is still the guy in Atlanta and is definitely a legit RB2 upgrade from what you most likely have at the moment. Target Freeman and sell the touchdown-dependent Tevin Coleman, who doesn't possess tremendous standalone upside this season without Kyle Shanahan.
Look to [possibly] sell:
Barring Todd Gurley on the list of negative schedules, all of those guys could be sold to make your team better.
SELL Marshawn Lynch after his two-touchdown outlier on Sunday Night Football.
SELL Orleans Darkwa (although he should perform well this week) for a player with higher playoff upside. The Giants have quit as a team and hate their coach. Not a great recipe for playoff success.
Carlos Hyde is currently in an intriguing situation. As our guy Grant Cohn told us, Hyde is trying to prove to Shanahan that he's a dependable RB1 in San Francisco and has been peppered with targets since Pierre Garcon went down. I would personally hold onto Hyde, but be sure to handcuff him with Matt Breida.
SELL Aaron Jones after he was out-snapped by Ty Montgomery against the Lions and after TyMont was named the third down back. This backfield had so much potential, but like the rest of the offense it's a goddamn dumpster fire. SELL THIS WHOLE TEAM!
Wide Receivers
Target:
As seen above in regards to Derek Carr, the Raiders receivers should be on your radar. You can get Amari Cooper from a disgruntled owner for cheap, while Michael Crabtree has also cooled down a bit and could be had at his lowest price right now. The Raiders triumvirate is on the clearance racks right now, so throw out some low-ball offers to their owners.
As noted on the podcast (stream above), DeVante Parker is a guy who has been quietly consistent this season — when he's been on the field. In the four complete games that he's played in, Parker has reached 12 points or more in each game (.5 PPR scoring). You won't be able to pry Jarvis Landry from anyone, but target Parker and you'll have a solid WR2/3.
Devin Funchess and Sterling Shepard are two players who have a favorable playoff schedule and are really their team's only options on the perimeter. Funchess losses some targets to Christian McCaffrey, while Shepard loses targets to Evan Engram, but these two should see 8-to-10 targets per game from here on out. If you can buy Shep now, he faces an incredible matchup right away against the horrific 49ers slot defenders. If you can steal Kelvin Benjamin from a brainless owner, shoot your shot.
Look to [possibly] sell:
I talked about this above, but sell the Packers offense. Sell everything. Brett Hundley stinks and he has completely destroyed all of their fantasy options. It's borderline impossible to trust any of their receivers on a weekly basis, so cutting bait with them is ideal. If you could package Devante Adams and a back for a guy like Funchess, that would be ideal.
The Wolf and his HUGE brain tweeted this out before T.Y. Hilton's eruption against the Texans… which just shows why we are one step ahead of the entire industry. Hilton is the definition of a sell high candidate:
Bold Prediction 2: TY Hilton also explodes, but (unlike Watkins), I'd sell high immediately after — his RoS Sched is BRUTAL

— Wolf of Roto Street (@RotoStreetWolf) November 5, 2017
The Texans receivers are in a tough situation. Will Fuller is fantasy-dead; however, DeAndre Hopkins has been targeted by Tom Savage 16 and 17 times in his two starts. Hopkins falls a bit due to the grossness of those targets, but for what you would get in return, you might as well hang onto him. He's now in the AJ Green area of Wolf's Big Board.
Tight Ends
There's no one really worth targeting for the playoffs from this position, but you could always stream if you don't have one of Rob Gronkowski, Zach Ertz or Travis Kelce.
You might want to relax if you have a G-Reg in your pants, as Greg Olsen and the Panthers face the toughest schedule against tight ends. If you stashed Olsen, hang onto your other tight end as the playoffs get closer.
Kyle Rudolph is an interesting name to deal. He's not going to excite anyone, but he could be a nice name to add in a trade that would entice another owner. For example: If you own Jack Doyle and Rudolph, keep Doyle and trade Rudolph in a package.
As noted above, hit us up if you have any particular trade deadline questions.