Player Stock Ticker
Fantasy Football Strategy: Buy Low, Sell High Week 10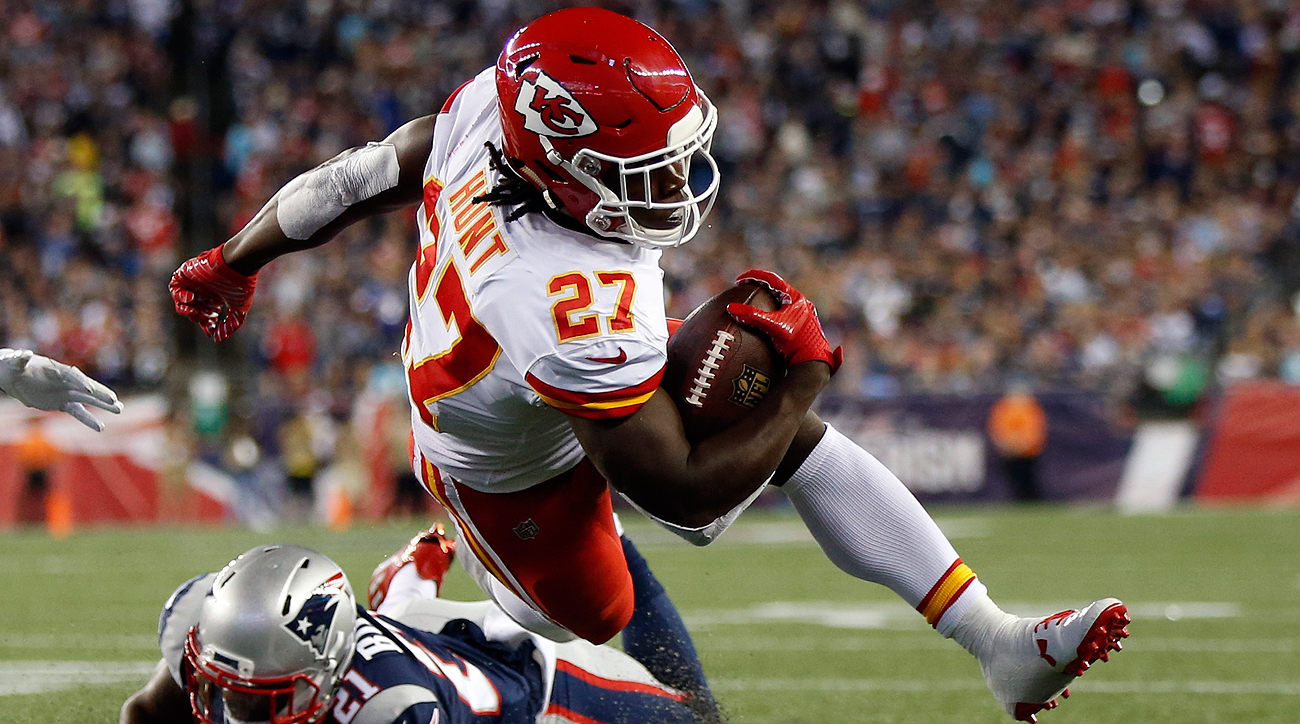 Hi everybody, welcome back to Buy Low, Sell High for Week 10 of the fantasy season. Another wild week and even more unpredictable performances. This season might easily be the hardest in recent memory to plan for week to week with such wild variations throughout the year. That being the case, there are still always going to be constants for us to focus our attack on. A great player with legitimate football skills isn't going to suddenly lose all abilities. His situation might change (surrounding cast, game flow, etc.) and we need to be mindful of that, but targeting skilled players that others don't have the patience to wait on is where we can get an advantage and there are a number of those players we will highlight today.
For audio-based listeners, tune into our Week 9 recap & big board breakdown
Players to Sell
Let's start with good old Matt Forte. For some reason the Jets haven't given up on their season yet. This is the worst kind of place to be as a fan of a team. You'd rather have your team totally suck and put yourself in a position to get a high end draft pick or have your team play well enough to move you into the playoffs. Anything in between is a bit of a waste, really. Either way, Matt Forte is the running back of the past but the Jets keep using him to the detriment of Bilal Powell and Elijah McGuire. I still maintain that this narrative will change at some point over the next few weeks (and perhaps a few more losses) and you'll see Forte take the backseat. You may not be able to get much for Forte but I suspect that whatever you can get for him right now will be better than his value in a few weeks.
Some people think that Jay Ajayi is going to flourish now that he's with the Eagles. I am not one of those people. Ajayi has never been a "good" player. He had a few huge games last year sandwiched by mostly mediocre performances. The reason that he was a top pick this year (and why I supported that to some degree) was because he was going to be the workhorse for Miami and get 20+ carries per game. I don't know exactly what he did to piss off his coach, but clearly that's what he did because they turned from giving him workhorse carries to dealing him away for nothing the next week. Either way, he's on the Eagles now who have end zone vulture LeGarrette Blount and seem to also want to get Corey Clement involved. While team context does matter, and going from the crapfest that is the Dolphins to the nominal best team in the NFL makes a difference, so does the fact that he's going from workhorse to a guy hoping for 10+ carries a game. He had a big game this week against a tough D (theoretically) but most of that was based off of one breakout run and I don't have high hopes for a repeat performance. Take advantage of the the touchdown, and talk up how great Ajayi looks on the Eagles, and let him become somebody else's problem. Also, don't expect to see this kind of production from Alshon Jeffery again. He was the beneficiary of Zach Ertz being out but we've seen through his usage all season that this is more of an anomaly. Move him while he's hot.
So TY Hilton is the definition of a tweener between buy and sell. What that means is that Hilton is very league dependent. In some leagues, Hilton is a big sell right now because he had a huge game and you can take advantage of that big game to sell him for a higher price than he's worth. In other leagues, the opposite is true. There's a weird phenomenon that sometimes occurs when a player follows up three awful weeks with one huge blowup. In some cases you can actually buy Hilton cheaper this week than you could last week. I know it doesn't make sense but an owner will have a guy, like Hilton, and sit through the crap weeks and want to trade him but won't entertain offers because he knows he's going to get ripped off with Hilton playing so badly. Then, Hilton has a big week and now the owner, who still wants to move him and remembers the bad weeks, is willing to sell on Hilton because he had the unsustainable huge week. The reality is that Hilton's actual value is somewhere between his crap weeks and his big weeks and if you can use him as your WR3/Flex then you aren't relying on him but will win some weeks just because of him. In this case, you may find an owner who is looking to sell but undervalues Hilton because he struggled through the bad weeks of him. Either way, Hilton is a guy you should be doing something with this week, just figure out what type of league you're in (and whether you own him) and act accordingly.
Shockingly a two fumble week for Mark Ingram last week led to a huge game for Alvin Kamara. Sean Payton is vindictive and this is what he does. Still, Ingram always finds his way out of the doghouse. Kamara is going to be very hit or miss because this is still Ingram's job. Try to convince somebody that Kamara is the new top dog and sell on him.
Another big week for Adrian Peterson but the dude is not going to get 30+ carries in a normal game. He had a ton of carries and a big running game against the 49ers (and who the hell doesn't) but realistically the Cardinals aren't going to win many more games and AP needs a positive game script to have value. Use the fact that two out of his last three games have been solid and move him.
Marshawn Lynch finally had a big game but this isn't going to be a regular thing… move him now.
Players to Buy
You remember the past two weeks when I told you to sell on LeSean McCoy? Well he had a total stinker out of nowhere and sometimes that presents a buying opportunity. I still don't love the Bills situation going forward for the year and I don't expect McCoy to be quite what he was drafted as but he also won't be as bad as he was last week. In the world of buy and sell things move fast and it's worth a few low ball offers for McCoy if you keep your rest of the year expectations for him in check.
It's been a few lackluster weeks from Devonta Freeman but he's still a stud and he has a solid playoff schedule if we're looking that far ahead. If an owner is willing to consider moving him to you, jump on it.
AJ Green has been struggling lately and the Bengals have been pretty awful. This week Green got himself into a scrap and got ejected after doing nothing. AJ Green has immense talent and this is the kind of player that I was talking about in the intro. While this season is unpredictable, talent usually finds a way to win out and I don't think Green will be an exception. The Bengals always eventually find a way to get him the ball. If you can separate him from his owner, you should do so.
I don't think anybody is selling Leonard Fournette after the ankle injury and one week suspension but obviously you should kick the tires here and see if there's an opening to get him. I've been vocal about him slowing down for the end of the season and I'm still wary of that possibility, but there's still a quality player here so any time you can get a guy like him for less than market value you should try.
What the hell happened with the Buccaneers? I swear Hard Knocks is a curse. Either way, I think this is a better team than they've shown so far. Jameis Winston is out for a few weeks but Ryan Fitzpatrick is a capable enough backup so it shouldn't change their outlook too much. Mike Evans and Doug Martin have both been playing below their ability (especially Evans) and I'm fine with trying to pick up either or both now in a move if you can. I still expect positive weeks to eventually hit.
Michael Thomas has been fairly steady through most of the year but there's a running narrative that he's been bad this season. He's actually in line to have a fine year based on year to date numbers and all it will take is one or two big weeks to make him a solid top 10 wide receiver. If you can take advantage of the thought that he's been underperforming, there's no reason not to do so.
Dez Bryant was fine this week but not amazing and as the Ezekiel Elliott saga continues to play out, there's still a very good chance that the Cowboys are going to have to lean heavily on their passing game soon. Buy into Dez now while you still can before the big weeks come.
Kareem Hunt has been okay but not great over the past month. After having a ridiculous first month that was impossible to replicate, it should have been expected for Hunt to slow down. That being said, Hunt is going to have much better days than this past week and he's definitely a player I'm targeting in trades this week as it seems that a lot of owners are ready to write off his fast start as if it didn't ever happen. He's not as good as he was the first few weeks but he'll still get loose for a few big runs before the season is over.
Trade Analysis
This week was a busy trade week for me with 3 trades to speak of:
Jay Ajayi and Amari Cooper for Ezekiel Elliott and Dez Bryant
I told you that I wanted to get rid of Jay Ajayi after the Eagles trade and I spoke last week about moving on from Amari, I also mentioned that I like Dez going forward. The big question mark piece to this trade is Ezekiel Elliott but I was already set at RB and my goal was to grab Elliott and stash him until the playoffs, that plan changed this week with the delaying of his suspension and now all I can do is hope that his suspension gets postponed until next year or delayed one more week, otherwise my plan backfired a little bit since he won't be eligible to return until championship week (which I may not even make it to) if his suspension starts this week.
Antonio Brown for LeSean McCoy and Jordan Howard
It has to be noted that this trade occurred before McCoy's wretched week this past week but I did it because Brown was on bye and getting two top RB for one top WR seemed like a great deal to me. I also had good WR depth which made this much easier to commit to.
Doug Baldwin and Derrick Henry for TY Hilton and Marshawn Lynch
Sometimes you just have a gut feeling and that was the case for this trade. I love Baldwin and support trading for him but I'm at the point where I'm just moving on from the Titans running game. I obviously got lucky and Hilton and Lynch both had big games for me and I'll now look to sell both if I can after their hot games.
That's all for this week! Remember, target the talent, it almost always rises to where it belongs! As always, holler at me in the comments below!