Player Stock Ticker
Fantasy Football Strategy: Buy Low, Sell High Week 8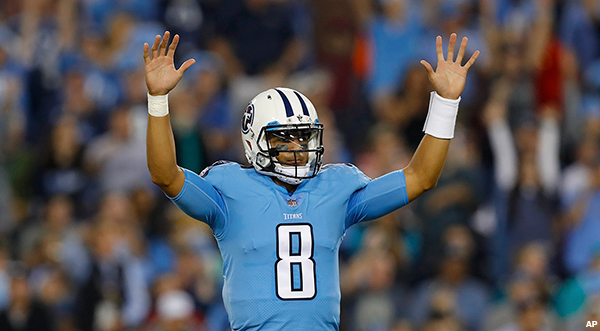 Hi everybody, welcome back to Buy Low, Sell High for Week 8 of the fantasy season. Yet another week has gone by and we had more of the same unpredictability that this season has become known for. A few huge performances and a lot of ho-hum from most everybody else. If you were paying attention last week, somebody might have tipped you off to buy Amari Cooper, Jameis Winston and Latavius Murray – I wonder who…
Let's look to match last week's success with our targets for this coming week!
Players to Sell
After screaming from the rooftops that you should buy Amari Cooper over the past few weeks, it's only logical that I'm now saying the opposite. Any time a player has such a huge performance, you already know that it isn't sustainable which makes them an obvious sell. I still think Cooper plays out as a solid WR2 the rest of the way (which is what we were trying to buy in the first place) and really it should be near impossible to sell him high anyways because everybody should recognize that he over performed. However, if you happen to have that one donkey in your league who is now convinced that Cooper is top 5-10 at the position the rest of the way (he isn't, more like 15-20…maybe) then feel free to move on from him and bank the great week he had. Otherwise, don't feel too bad about hanging on to him.
A frequent sell candidate of mine is LeSean McCoy. Any time he has a big game, I'm going to remind you that you should move him for top dollar if you can. The fact remains that while Buffalo has a good defense this year, they really don't have any other offensive pieces to take heat off of McCoy. Add in the fact that Shady is getting older and over worked and isn't exactly a beacon of health, and the reasons to move on from him are there. He hadn't scored a TD until this week which may look to some like he's turning a corner, to me it doesn't change his outlook. Again, I'm not giving McCoy away because he does have great value even if he's not scoring TD regularly, but I'm bearish on him staying healthy and being a top scorer so I'd rather have a younger asset on a better team if possible.
This is obvious after the Aaron Rodgers debacle from last week but you should be moving on from the entire Cardinals offense at this point after the Carson Palmer injury. Last week I suggested that you should sell Larry Fitzgerald and Adrian Peterson and I hope you did. If not, you will have a tougher time selling this week for sure. I'd look at Larry as a WR3/Flex going forward because he can be fine with Drew Stanton but he won't be what he was with Palmer and he was already a sell candidate because of his historic second half numbers over the past few years. If you can get similar value for him, sell, just don't give him away. As for Peterson, I don't think he's as bad as he was last week nor as good as he was the week before. However, the biggest issue that Peterson is going to face is that opposing teams have no reason to respect the rest of the offense and the O line was never any good anyways so Peterson is going to be getting hit in the backfield a lot. The team is also likely to be behind a lot which means under 15 carries for Peterson on most weeks. He still may be a flex option but not much more because of consistency. If somebody is willing to still bite on him in a deal, don't be afraid to move him before he drops another stinker.
Similar to the Cardinals situation, I'm looking to move on from most of the Miami offense as well. The Jay Cutler injury is not a long-term thing and I'm not so sure that Cutler is much better than Matt Moore (or any better) anyways so that shouldn't hurt the Miami offensive players. I'm just looking to sell Jarvis Landry and Kenny Stills more because they had a hot week and I don't believe that they're likely to remain hot. Devante Parker is coming back eventually (I keep thinking this is the week, maybe finally it is…) and while there's no telling if Moore will lock onto Parker like Cutler has, there's at least a solid possibility of it. Landry and Stills won't be the main targets forever. With Jay Ajayi, I go back and forth on how I feel about him. He's a workhorse and he's going to keep getting tons of carries but they aren't going to him at the goal line (they're throwing instead) and they don't score a ton to begin with. Ajayi is a top end RB2 who hasn't really had a "hot" game so he's more of a hold than a sell unless somebody is willing to pay based on name brand.
Let's go with one more obvious sell here – Ezekiel Elliott. I'm actually going with a buy or sell on Zeke depending on your situation. What I mean is, if you are in a rough position in your league where your record is bad and you're in hail Mary mode to even make the playoffs – you should buy Zeke. Trade whatever assets you have and get Zeke and hope that he gets cleared to play all season. What do you have to lose? If you are in a solid position with a decent record in your league and you can sell Zeke for a few less risky assets then that might be the right move for you. It's all about perspective and standings. This won't work in every league. In many leagues the teams at the bottom are there because their owners don't pay enough attention or aren't savvy fantasy players and in those cases, you won't be able to convince an oblivious owner that taking on Zeke is a smart play. You need to be in a league where a good owner has had bad luck and is more likely to understand the ramifications of taking on a risky but potential winning player in Zeke. Either way, assess where you stand and act accordingly.
For audio-based listeners, check out our LOADED Week 8 Preview (subscribe here)

Players to Buy
Okay, a big week from Amari Cooper means a lackluster week from Michael Crabtree. This is essentially how it's always been with these two. If one goes off, the other doesn't. This was Cooper's week, Crabtree will get his. If the Crabtree owner is worried that Cooper is for real, maybe you can snag Crabtree for less than his real value.
Doug Martin is the workhorse for the Buccaneers. He hasn't been "bad" since coming back from suspension but he also hasn't been amazing yet either. I think Martin will get stronger as the season progresses which I think the entire team will do along with him. If somebody is willing to part with Martin I think better games are definitely ahead for him.
Marcus Mariota was supposed to go off against the Cleveland Browns. He got into the red zone a number of times but was unable to seal the deal. That's a very rare case for Mariota as his hallmark is that of a player who always produces in the red zone. Every week he's removed from his hamstring injury should also get him more room to produce in the running game. I still believe big things can happen for Mariota over the second half of the season and I'd buy in now if an owner is bailing.
Another mediocre performance from Drew Brees means you have another buying opportunity. The Saints defense has been solid the past couple of weeks so Brees hasn't had to do much. However, they also had some fluky luck against the Lions and got to play against Brett Hundley in his first career start. This team is still going to let up a lot of points and when they do, Brees will be called upon to save them with his arm. If the Brees owner has another decent QB on their bench, they might be inclined to sell him off after his past two weeks. Don't be afraid to buy in!
Two soft buys at wide receiver are Jordy Nelson and TY Hilton. They have both been sells for me in recent weeks but they also both aren't nearly as bad as they played this past week. Long-term Nelson and Hilton don't have real QBs throwing to them so don't get carried away when trading for them but they both should be able to produce at a WR3 level at least going forward. If somebody is willing to throw in the towel on either at less than their value, be reasonable about what you expect from them but don't shy away.
It's possible that the Carlos Hyde owner is still falling for the rhetoric that the 49ers are splitting his carries. Hyde is the best running back on this roster and he's the guy to own (as much as you want to own a running back on a shitty team). Don't go too crazy going after Hyde but again, if his owner is panicking at all, he's worth acquiring as a RB2 for your team.
The Broncos suck right now. It hurts me to say this as a big Broncos fan. However, the Broncos won't always be this bad. They're somewhere between where they were over the first month and where they've been over the past two weeks. DeMaryius Thomas and CJ Anderson, in particular, should improve and both are worthy targets for low ball offers.
It was only bad game and it was expected so I know nobody is selling on Melvin Gordon but still, if they are…
Trade Analysis
Only one trade this week for my teams but it was a big one:
Evan Engram for Amari Cooper
I had both Zach Ertz and Evan Engram in one league and while I had both Engram and Cooper on the buy list last week, I preferred having Cooper because I wasn't going to use Engram over Ertz in my lineup anyways. Obviously, I picked a good week to acquire Cooper (and I hope you all did the same). That being said, don't be afraid to trade away a good buy list player if you are dealing from a strength to help a weakness.
For audio-based listeners, check out our Week 7 Ultimate Recap below!
That's all for this week! Keep flipping players and taking advantage of big weeks for your guys and crap weeks for otherwise talented players. As always, holler at me in the comments below!