Player Stock Ticker
Fantasy Football Strategy: Buy Low, Sell High Week 7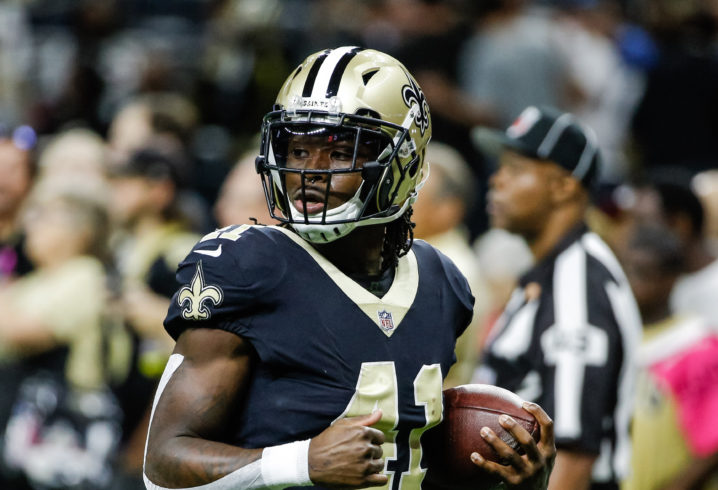 Hi everybody, welcome back to Buy Low, Sell High for Week 7 of the fantasy season. A month ago if I told you that a Week 6 lineup featuring Austin Seferian-Jenkins, Adrian Peterson, Marvin Jones and Josh McCown would not only win, but dominate, you would have laughed at me. Well, that escalated quickly! On the other side of the spectrum, many had been riding high with Aaron Rodgers all season and their future looks more dim. This is fantasy football, unexpected shit happens and when it does, we need to be ready to take advantage of the ups and downs.
Let's get right into it!
Players to Sell
I mentioned DeVante Parker as a buy last week (definitely thought the ankle injury was less serious) and I'd consider him an even better buy this week. This section isn't about buys though, it's about sells. I think it's time to sell on Jarvis Landry. He's been questioned by the league on domestic violence charges and while I don't expect anything to come from it — it's Goodell, so who knows. He's also coming off of a hot week mostly because Parker wasn't playing. This offense just isn't good enough to support two quality wide receivers and Parker is my guy. If you can get something decent for Landry, now is the time to strike.
Does anybody really believe that Will Fuller is for real? To be clear, he will definitely have games where he will get a big TD catch, but otherwise, he doesn't get a ton of targets. He has 5 TD in the past 3 weeks, there's no way that kind of pace continues. Try to frame him as a big TD threat and see if you can find a believer.
I hate to state the obvious here, but you should move any and all Green Bay Packers pass catchers. Jordy Nelson, Davante Adams and Randall Cobb all just got hit with fantasy equivalent of an ugly stick. I'm sure Brett Hundley is a nice guy (actually I'm not sure, I don't know the dude, he may be a prick for all I know) but you should expect him to be about half of what Aaron Rodgers was, which means about half the production for the wideouts going forward. If you can still convince somebody that Jordy is Jordy no matter who throws to him, do it now. Otherwise, you may just have to eat the other two since I doubt there are a lot of buyers on a guy like Cobb even before the Rodgers injury.
Just like a Tootsie Roll Pop — how many weeks of featured back work does it take before Jerrick McKinnon gets hurt? I'm guessing one…two…ah…three! Like the owl, I think McKinnon gets the bite before too long based on his size and injury history. After two huge weeks, I'd be looking to take my profits and cash in here.
I think it goes without saying that Adrian Peterson is not likely to repeat what he did this week for the rest of the season (or ever again in his career). That being said, he does seem a bit rejuvenated and I wouldn't be surprised if he does a decent job for the Cardinals. However, there is a good chance that David Johnson may be back for the fantasy playoffs and render Peterson useless. If somebody in your league thinks that Peterson is back to vintage levels — move him now! Larry Fitzgerald is also a big time sell at this point. He's shown over the past few years that he starts strong and ends the season on a rough note. Moving him before the second half slide would be advisable.
This week it's a rolled ankle for Leonard Fournette, next week it may be more. Obviously that's true for anybody but I'm staying firm with my concerns that Fournette has an injury history and is being overworked by the Jaguars…
Players to Buy
Based on my feelings about Jerrick McKinnon — I think Latavius Murray will be the main beneficiary in the event of an injury. I'm not even sure that Murray would do anything with the opportunity since he's already been getting double digit carries and doing dick all with it. Still, a potential featured back is hard to come by nowadays and volume usually begets some kind of reward. If you can get Murray for a bench scrub, it may be worth a trade and stash.
Last week Alvin Kamara had all of the hype after the Peterson trade. Of course Mark Ingram came out and went nuts while Kamara took a backseat. I still think it's only a matter of time before Ingram ends up in Sean Payton's doghouse as he's seemed to live there in the past. Even splitting carries, I like what Kamara can do. If his owner soured some after Ingram's big game, he's well worth going after. Also on the Saints, Michael Thomas is a good buy after a low performance. The game was bizarre and the Saints were more focused on running out the clock rather than passing. Thomas will have great days again soon — don't be afraid to make an offer or two for him.
It's now or never for Terrelle Pryor. I'd still be happy to acquire him for a lowball offer but be aware that he's going to be a very volatile player to own and that he's likely to have big ups and downs. As a WR3 he should be okay going forward and his owner may be sick enough of him to let him go for less.
Jameis Winston is injured. However, it seems that the injury isn't a big one or a long-term one. I liked making a move for Winston last week for those in need of a QB. I like it even better now with the minor injury scare. Especially if you lost Rodgers and need help here, you should be able to get Winston for a minimal investment.
Okay, this is the last week I'll say this, I promise, but Amari Cooper… He had basically no yardage but he did at least get 5 receptions. Again, he's obviously not going to put up top 10 WR numbers but this is a guy who has immense talent. I'm still betting he eventually turns his season around to some degree and he couldn't be cheaper to acquire.
I don't know what the hell happened with the Broncos this week. They clearly overlooked the Giants. They were behind basically from the jump and had to abandon the run. CJ Anderson will absolutely have better days and you shouldn't hesitate to grab him if you can get him cheaper than usual this week.
Trade Analysis
As usual I've got a couple of trades to share with you from this past week on my teams:
Larry Fitzgerald and Eddie Lacy for DeSean Jackson and Marshawn Lynch
Clearly I moved Fitzgerald one week too soon but I was desperate for RB help. I'm hoping Lynch can be relied on for more TD going forward now that Derek Carr is back. I gave up the best player but I needed the volume for this particular league.
DeSean Jackson and Seattle D for DeVante Parker and Evan Engram
In the same league I turned around and moved Jackson and Seattle D (I had just picked them off waivers and didn't particularly need them) for Parker and Engram. I like Parker more than DeSean going forward for the year so I was excited for that swap and with tight end being so useless all season – I think Engram has top 5 potential at the position this year. Definitely feeling pretty good about adding strength to my team with this move.
That's all for this week! Hopefully you've been lucky enough to avoid the big injuries so far. Either way, remember we always want to be a week early rather than a week late. Action is preferred over reaction when it comes to trading. As always, holler at me in the comments below!
For audio-based listeners, check out our Week 7 preview below: