Player Stock Ticker
Fantasy Football Strategy: Who to Target at Wide Receiver Based on Strength of Schedule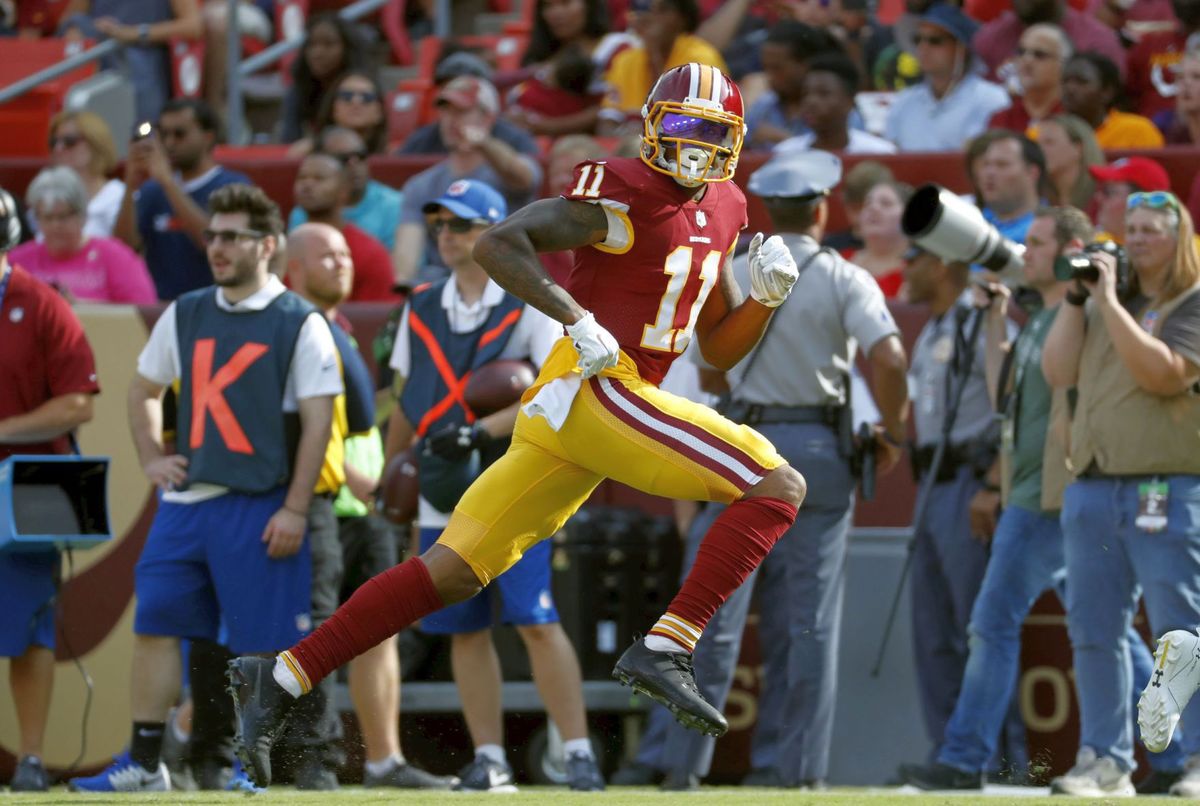 We've now reached the quarter point in the season, and it's time to take another look at strength of schedule (which will henceforth be referred to as ''SoS"). When looking at SoS before the season in preparing for drafts, findings needed to be taken with a grain of salt since we were only basing our information and research on how defenses played LAST year. We could only guess and try to predict how defenses would change for better or worse after acquiring or losing players in free agency and the draft. Now, however, we have seen four games (from most teams), and we can apply what we've seen so far to adjust our strength of schedule rankings.
Things have not played out the way we would have guessed. The Patriots were supposed to have a better than average – if not "shut-down" – defense, but they've given up more yards than any other team in the league. The Broncos were supposed to be a no fly zone for quarterbacks and wide receivers while giving up liberal chunks of yardage on the ground. Through four games though, they've given up THE fewest amount of fantasy points to running backs (the likes of Marshawn Lynch, LeSean McCoy, Melvin Gordon, and Ezekiel Elliott), but are exactly in the middle of the pack for receivers, ranking 17th in fantasy points given up to the WR position.
I'd like to take a look at how the SoS plays out for the rest of the season. Who should you be starting, sitting, buying, selling, or streaming? And then most importantly, which players have easy paths through the fantasy playoffs.
Wide Receiver Report
Julio Jones
Julio owners cannot be thrilled right now. Through four weeks, he's the WR 28 and still hasn't found the end zone. I believe, however, that he only goes up from here. For the remainder of his schedule, the toughest defense Julio has to face is Carolina, who have given up the 15th most points to the WR position. He has five games left against bottom 10 defenses against WRs, and those do NOT include two games against the Saints, who have given up the 13th most points to WRs and get burned by the Falcons twice every season.
Amari Cooper
This guy has had it rough so far, and it doesn't get much easier. The only category he leads receivers in is drops. He was totally shut down by both the Redskins and the Broncos, he was left out when Derek Carr threw all of his touchdowns to Michael Crabtree against the Jets, and on top the fact the Carr is set to miss some time with a broken bone in his back, he as the 9th toughest remaining schedule for WRs according to Fantasy Football Toolbox.
Larry Fitzgerald
Now might be the time to sell your shares of Fitzmagic. In both of the past two years, he's completely disappeared in the second half of the season, and his remaining schedule isn't going to make things any easier. He's got a favorable game this week against a Tampa Bay defense that has given up the most fantasy points to wide receivers so far this season, but starting in Week 11 the Cardinals face top 10 defenses against WRs in six of their last seven games.
Washington Redskins receivers
After a disappointing first four fantasy weeks from this receiving corps that was supposed to light it up, I'm sure most owners are thinking sell or cut, but looking forward, the Redskins have THE easiest WR schedule for the remainder of the season. They play seven bottom 10 defenses (in terms of giving up points to WRs) in the second half of their season including the Eagles (most points given up to WR) and Cowboys (4th most points given up to WR). They also play the Giants twice, and while right now their defense has given up the third fewest points to WRs, things may go downhill fast for the entire organization after losing their top two biggest offensive threats. Kirk Cousins had a deep bomb to Josh Doctson in Week 3 and then another one to Terrelle Pryor in Week 4 – that offense might finally be clicking.
Sterling Shepard
This is a guy you need to own and start for the remainder of the season. Aside from the obvious Odell Beckham and Brandon Marshall injury implications, the Giants have the 7th easiest schedule for WRs. Shepard has a dream scenario for the fantasy playoffs playing the Cowboys, Eagles, and Cardinals in Weeks 14, 15, and 16. Those teams have given up the 4th, 1st, and 3rd most fantasy points to the wide receiver position. Shepard will be targeted early and often against weak secondaries. He's going to feast.
T.Y. Hilton and Donte Moncrief
Hilton has managed to play well with Jacoby Brissett against weak defenses and Moncrief may be a popular add/stash for when Andrew Luck finally makes his debut, but their schedule is absolutely brutal. After an easy matchup this week with the Titans who have given up the second most points to WRs, they have a four game stretch against Jacksonville, Cincinnati, Houston, and Pittsburgh who rank as the 3rd, 5th, 7th, and 1st best defenses against WRs. Things let up slightly after when they face the Titans again, but they'll play Houston and Jacksonville again as well, plus Baltimore in Week 16 who have the 6th best defense against WRs.
Possible streamers with "easy" remaining schedule: Zay Jones, Mohamed Sanu, Taylor Gabriel, Robby Anderson, Jermaine Kearse, Kenny Stills, JuJu Smith-Schuster, Cooper Kupp, Tavon Austin
Possible streamers with "difficult" remaining schedule: Donte Moncrief, Brandon Lafell, Albert Wilson, Nelson Agholor, Torrey Smith, Will Fuller, John Brown, J.J. Nelson, Cole Beasley, Terrance Williams, Willie Snead, Ted Ginn