Player Stock Ticker
DRAFT NFL Week 5: Lineups, Strategy and Rankings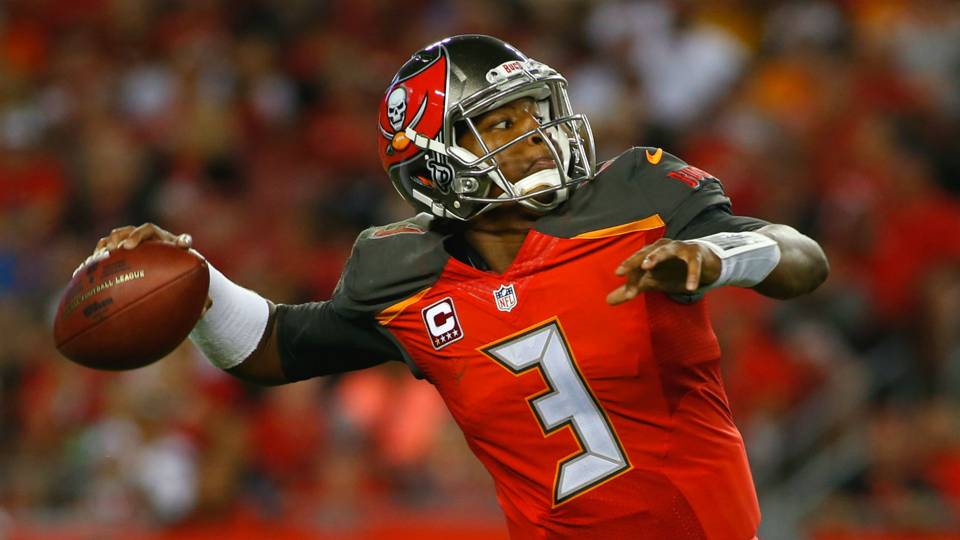 Hi everybody, welcome to week 5 of PlayDraft DFS Strategy. This week brings the start of the bye weeks which means we're going to have to start relying on some less than ideal options for the deeper drafts. Still, anybody can draft a stud, we're going to leverage our insight to draft winning teams!
QB Rankings
Aaron Rodgers
Tom Brady
Jameis Winston
Eli Manning
Dak Prescott
Marcus Mariota
Ben Roethlisberger
Sam Bradford
Tyrod Taylor
Russell Wilson
Philip Rivers
DeShaun Watson
RB Rankings
LeSean McCoy
LeVeon Bell
Ezekiel Elliott
Todd Gurley
Kareem Hunt
Leonard Fournette
Carlos Hyde
Melvin Gordon
Jordan Howard
Jay Ajayi
DeMarco Murray
Lamar Miller
Frank Gore
Bilal Powell
Ty Montgomery
Doug Martin
Ameer Abdullah
Isaiah Crowell
Latavius Murray
Mike Gillislee
Joe Mixon
Marshawn Lynch
WR/TE Rankings
Mike Evans
Odell Beckham
Jordy Nelson
Antonio Brown
AJ Green
Brandin Cooks
DeAndre Hopkins
Dez Bryant
Stefon Diggs
Rob Gronkowski
Kelvin Benjamin
Larry Fitzgerald
Alshon Jeffery
Doug Baldwin
Golden Tate
Pierre Garcon
Devante Parker
Sammy Watkins
Tyreek Hill
DeSean Jackson
TY Hilton
Keenan Allen
Adam Thielen
3 Team Strategy
Really, there's quite a bit of parity at the top for 3 team options this week. I do think I put the least priority on WR though because I'm expecting a bounce back effort from Brandin Cooks and he's the worst of the WR options you can take here. I would probably try to grab either Aaron Rodgers or Tom Brady because of their consistency but Jameis Winston should be poised to put up big numbers against the Patriots cover nothing defense. There's no appreciable drop off at RB in the top 6. Ideally I'd go RB-WR-QB-RB-WR here.
6 Team Strategy
Realistically, I want a top 2 or 3 option at QB and I'm willing to pay up to get it this week because of all of the injuries and bye week players. If I can't get a top 3 option, then I'm waiting until the final round and taking Marcus Mariota. If he plays, he gets a very beatable Dolphins D. If he doesn't play, then you will get notified before game time and get to pick from any undrafted QB which allows you to take advantage of any late week news or last minute feelings. There's a noticeable difference in quality and consistency between the top half of the RB and WR lists and the second half for 6 team drafts. That being said, I still think there's a bigger gap at QB and I'm okay with taking players from the second tier at the other positions. I want balance for my 6 team rosters this week. I'd go RB-QB-WR-WR-RB.
10 Team Strategy
The biggest drop off for me this week happens at RB once you get past the first 12 or so. The exception to that is at QB if Marcus Mariota and Sam Bradford both don't play at which point I really don't want to fish at the bottom of the QB barrel this week. I feel okay riding with some of the lower end WR talent (or at least more than the other positions). I'd suggest getting your RB and QB options early and filling in WR later. I'd either do RB-QB-RB-WR-WR or RB-RB-QB-WR-WR with my 10 team selections than any other combo.
That's it for this week! Get out there and win some drafts! Also, as usual, please don't be shy about asking questions or commenting in the area below!