Player Stock Ticker
Fantasy Football Week 5: Stream Team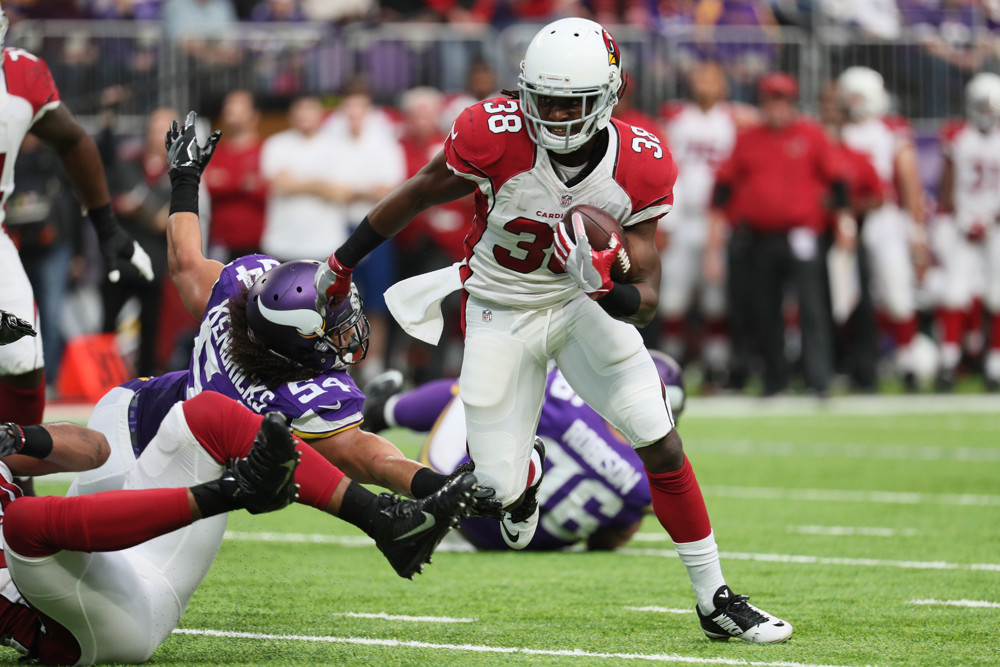 Welcome back to the Stream Team where we create a weekly rag-tag roster of under 50% owned streamers and field a dominant team that can help you win your week. Week 4 was a banner day for the Stream Team, something I am very proud of for a product in its early stages of development. This is how I imagine parenthood being when I see my child take his first steps or talk his first words. Last week's team provided a total of 108.78 half point PPR points, highlighted by many plus performances and excellent matchup plays that I found through arduous research and extensive due diligence. Alvin Kamara (somehow still only 45% owned!) led the charge with 20.60, seeing a whopping 15 total touches and catching all 10 of his targets. But the success did not end there. Wendell Smallwood and Cameron Brate both took advantage of soft matchups as the Chargers and Giants appear to be incapable of defending running backs and tight ends, respectively. And who says special teams and kickers do not matter in fantasy? Not I! Both the Jacksonville Jaguars DST and Stephen Hauschka provided 15 fantasy points, showing that a little extra film study on these two positions can help provide those critical points of separation. So let's piggyback on this great success and scour the wire for the best plays this upcoming Week 5.
Quarterback
QB: Joe Flacco, QB, Baltimore Ravens (18% Yahoo ownership)
Joe Flacco has not looked like a starting quarterback all year, never mind a starting fantasy quarterback. He has the lowest yards per attempt in the NFL, fewest yards per game, second most interceptions and second worst QB rating. His offensive weapons are mediocre at best and he is supported by no run game. Please explain this mind boggling choice RedSocker. OK, let me try. Oakland currently ranks in the bottom half of the league in yards allowed per game and ranks 4th worst in opponents QB rating, currently at an eye-popping 108.4. Also, the Radiers have yet to record an interception, so at least the turnover prone Flacco has that going for him. And while quarterback Derek Carr will be shelved for this one, I expect the Baltimore Ravens to make a statement against a poor pass defense and use this as an opportunity to get their season back on track. On a one week streaming deal, give me the quarterback with the big arm and nothing to lose (except maybe your fantasy week and sanity).
Running Back
RB1: Andre Ellington, RB, Arizona Cardinals (23% Yahoo ownership)
On the road in a game in which Vegas projects the Cardinals as a 6.5 point underdog, the rejuvenated Carson Palmer (3 straight 325+ yards passing games) should throw early and often to keep pace with Philadelphia Eagles. So then why suggest the Cardinals running back? And why not Chris Johnson? Well friends allow me to explain. Sure Johnson is the "starting" running back and should lead the Cardinals in carries each week. But over the past two weeks no Cardinal has received more targets than Andre Ellington's 22 and only Larry Fitzgerald's 17 receptions tops Ellington's 14. Playing against an Eagles team allowing the third most passing yards per game, expect the Cardinals to rely more on Ellington this week to exploit a beatable Philadelphia secondary, and watch Andre 3800 rack up the half point reception points.
RB2: Latavius Murray, RB, Minnesota Vikings (16% Yahoo ownership)
While fantasy owners mourn the loss of rookie stud Dalvin Cook (hope to see you back soon, better than ever), we must march on. When Latavius Murray signed his 3 year, $15 million deal back in March with the Vikings I do not think anyone saw the forthcoming events that would eventually lead to his start as a Viking, but here we are. Murray expects to be the lead back, receiving the lion share of the carries and ceding third down work to pass-catcher extraordinaire Jerick McKinnon. HOWEVER McKinnon left Week 4 with an ankle injury as well. McKinnon still expects to play this upcoming Week 5, but even if he does questions will remain as to true effectiveness. Murray appears to be the only legitimate, healthy and capable running back for Minnesota's Week 5 division showdown with the rival Bears. Chicago profiles as one of the better run defense, but based on volume alone (which should be quite high), Murray deserves RB2 consideration in all leagues and should be started with confidence.
Wide Receiver
WR1: Jaron Brown, WR, Arizona Cardinals (5% Yahoo ownership)
Did I mention the Cardinals would be passing all game Week 5? The Cardinal hierarchy now seems clear: the obvious WR1, the aforementioned Larry Fitzgerald, and the originally-not-so-obvious-but-now-obvious Jaron Brown as the WR2. In Week 4 Jaron Brown played 82 of 86 snaps, considerably outpacing and outsnapping both John Brown (53 snaps) and J.J. Nelson (25 snaps). Jaron Brown has now seen double digit targets in 2 of his last three week, last week setting season high's in targets (12), receptions (8) and yards (105). If the game goes to script, Palmer should throw the ball 45+ times and Jaron Brown should make for a nice high floor play with his recent surge up the Cardinals wide receiver depth chart.
WR2: Adam Humphries, WR, Tampa Bay Buccaneers (0% Yahoo ownership)
A landmark moment for the stream team right here. And one that may not even be duplicated again (unless we perennially see an NFL defense as atrocious as my beloved Patriots defense). Here are the Patriots pass defense ranks: 32nd in pass yards allowed per game, 32nd in passing yards per attempt, 32nd in passing touchdowns allowed, 32nd in RB rating (116.5, amazing only .1 fewer than Tom Brady's current godly mark of 116.6) and 28th (yay!) in completion percentage. Oh and they allowed 32 points per game, second to last just in front of the Indianapolis Colts. In summation, this defense sucks. Now Bill Belichick still knows how to coach and is the best coach and game planner in the history of sports, so expect Bill Belichick to turn Mike Evans into a non-factor this Thursday night. But if Evans is target 0, then who will be scorching this maligned secondary? Enter Adam Humphries. Ranking second in targets, receptions and yards this year, Humphries has locked down the WR2 in the Buccaneers impressive passing offense led by breakout start Jameis Winston. In the past two weeks, Humphries has caught 12 of 17 targets for 138 yards, amassing 9.80 and 10.0 fantasy points in week's 3 and 4, respectively. Once again, consistency and high floor's can help build a strong base for the beginnings of a great fantasy week. With the Patriots defense struggling mightily and playing on its heels every second of every game, look for Humphries to exploit the most exploitable of matchups in what could be a monster day for this third year pro.
Tight End
TE: Evan Engram, TE, New York Giants (46% Yahoo ownership)
Evan Engram's Week 5 matchup does not necessarily excited me. As mentioned above, the Los Angeles Chargers couldn't stop a snail from scoring from 20 yards out this season. But sometimes consistency and reliable productivity is all you need to win your matchup. And that is exactly what Engram provides on a weekly basis. His consistency (at least 44 yards, 4 receptions and 5 targets) assured owners that he will not bust you out with a 3 point week. Also, his productivity is trend upward having seen a steady incline in targets, basically, each week: 5-7-7-11. With no true lead back to take advantage of the Chargers putrid run defense and the Chargers to focus on explosive playmaker Odell Beckham Jr., look for Eli Manning to focus once again on getting the ball to his rookie tight end, providing you with a safe 7/8 point floor, and 13/14 point ceiling.
Flex
Flex: Aaron Jones, RB, Green Bay Packers (11% Yahoo ownership)
There are more than a handful of good candidates for the flex spot this week, all of which (oddly enough) feature the running back positions. But they each have significant downside. Alex Collins showed explosiveness these past two weeks, but a case of the drops, fumbilitis and a crowded backfield make him a risky investment. Eddie Lacy showed us what staying away from the dinner table could do for all of us, showing some agility Sunday, replacing Chris Carson with 52 yards on 11 carries. But with Thomas Rawls  and C.J. Prosise looming, Lacy might be locked in a committee for now. Wayne Gallman gets an easy matchup Week 5 against a horrific Chargers run defense, but Paul Perkins and Orleans Darkwa should vulture carries away. So that leads me to my choice. Does Aaron Jones have his share of risk factors this week? Absolutely. Ty Montgomery appears to have missed a serious rib injury last week and could play with the extra rest having played Thursday night. Also, Jones is still just a rookie, getting his first taste of the NFL and touches last week. However, he did very well in an emergency situation, carrying the ball 13 times for 49 yards and a touchdown. Also, the Packers, given the near miss with the Montgomery injury, would be wise to give their star running back a week off. Jamaal Williams is also expected to be sidelined Week 5, further handcuffing Mike McCarthy. We all know what the Green Bay lead running back can do in fantasy, and how valuable that player can be, especially in a one week streaming dilemma. As the only truly healthy back Week 5, look for Jones to lead all Packers in touches and to produce a solid floor of points, with the potential for RB1.5 numbers if he is the true bell cow back due to injuries.
Kicker
K: Graham Gano, K, Carolina Panthers (34% Yahoo ownership)
Kickers in domes. Gotta love 'em. This week Graham Gano travels to the climate controlled dome in Ford Field where the Panthers face off agains the mediocre Lions defense in what should be a tightly contested affair (currently a 3 point spread). In these types of close games, the kickers tend to be the deciding factor, so expect Gano to be involved and heavily relied on when Cam Newton leads his offense past mid field, but the drive inevitably dies out. Averaging a respectable 9.5 fantasy points on the year (with a low of 8 points) and nailing all 10 of his attempts this year, look for Gano to be a main source of offense and scoring this week for a Carolina team that struggles putting points on the board (notwithstanding last week's debacle in New England).
Defense
D: Buffalo Bills DST (12% Yahoo ownership)
Leading the NFL in points allowed per game at 13.5. Check. Top five in the NFL in turnovers forced. Check. Double digit sacks recorded on the year. Check. At least 8 defensive fantasy points scored in each game this year. Check. Then why on earth are the Buffalo Bills DST only 12% owned? Sure their competition aren't exactly making to the 1999 St. Louis Rams, but neither are this week's opponent, the Cincinnati Bengals. The Bengals offense ranks bottom 6 in the NFL in points scored per game and yards per game, and the only thing preventing their quarterback from ranking bottom 6 in the league was a near perfect rating last week against a hapless Cleveland Browns team. Ranking in the bottom third of the league in sacks allowed so far this season, look for the Bills to create chaos all day and get to Andy Dalton, with a couple turnovers in play as well.
And that's a wrap for Week 5 of the Fantasy Football Streamers. Be sure to check back every Thursday to see where to turn to next and get the early leg up on your opponent. Until next time, good luck and godspeed, and may the fantasy football gods forever be in your favor.
To contact me with any questions or general fantasy football discussion, please email me at [email protected] or tweet me ‪@AJGamballer‪.