Player Stock Ticker
Fantasy Football Strategy: Buy Low, Sell High Week 5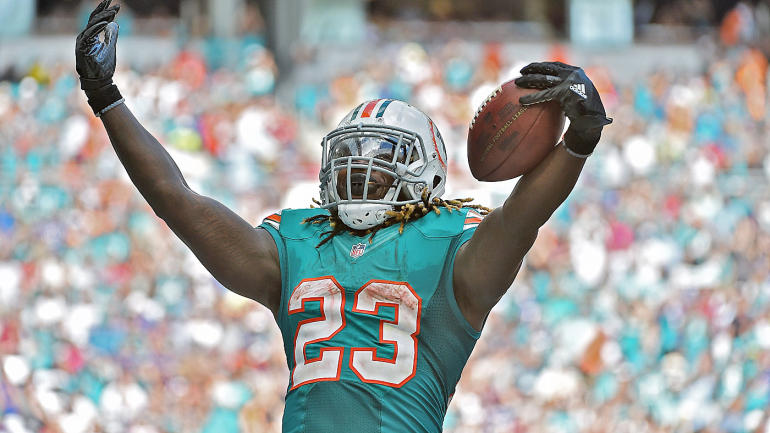 Hi everybody, welcome back to Buy Low, Sell High for Week 5 of the fantasy season. We're a month into the season and this is the point when we can really start to determine what we have on our rosters. It may be time to admit a struggling player may just not be who we thought they were or that a hot player is, in fact, a rising stud. This also creates a buying and selling opportunity! We'll highlight some options based on this past week's performances.
Players to Sell
Ameer Abdullah has been monopolizing the carries over the past few weeks in Detroit. Many owners have noticed that and are ready to roll with him but I'm still cautious. Abdullah constantly finds ways to get hurt and I just think he isn't suited to be a workhorse type of back. The Lions are essentially using Abdullah as their bell cow right now and I think that could lead to him breaking down. He had to leave this week's game late because of a minor injury. I still think Theo Riddick will eventually break back into the equation when Detroit starts falling behind in games (which they haven't really done yet, but you know they will) and that combined with the injury history make me want to sell on Abdullah if you can find a buyer. Especially with all of the under performing or injured RB this week, you should be able to shop Abdullah, ideally in a 2 for 1 for a better RB.
Cam Newton is probably a tough sell at this point (for those of you that still even have him on your rosters). New England has shown that they can't stop anybody this year but Newton has been otherwise dreadful. Maybe the Derek Carr or Marcus Mariota owner in your league saw Newton score the rushing TD and think he'll go back to his old running ways (which I doubt by the way). If you can get anything of value for Newton, you should strike now, you never know when or if the opportunity will come again.
Bilal Powell finally had the explosive game we were waiting for and against a solid D too! Great, time to sell him. Matt Forte was out this week and Powell did what everybody (except for the Jets apparently) knew he could and should do. Powell has great talent and he has shown that he is capable of playing at a high level. However, Powell still shared carries with Elijah McGuire who also busted out a huge run and Forte should be back rather soon. For some inexplicable reason, this is going to remain a 3 way committee, and as such, you are going to get more of the 30 yard games from Powell with the occasional huge game sprinkled in. There's no reliability here or stability so if you can get somebody with a more guaranteed weekly role for Powell, you should probably do it.
I've said this before and I'll say it again — sell Lamar Miller. Miller had a huge game but it was also a complete blowout by the Texans. While the Texans offense is looking up with Deshaun Watson at the helm, I still buy into D'Onta Foreman's talent and Miller's lack of ability to maintain workhorse status ever in his past. A great time to sell after what I expect will be Miller's best game of the season. A quick note on Watson here too – if you have him and can sell him, you should. Watson is going to be good and I expect him to be a reasonable top 10 QB the rest of the way but he isn't going to throw for 5 TD every game. If you can get good value for him don't hesitate. Even better, if you have Watson as your backup to somebody like Drew Brees, don't be afraid to trade Brees for high end RB or WR help while rolling with Watson the rest of the way.
Players to Buy
By now everybody has seen the vicious Davante Adams hit from last Thursday's game. It looks like Adams is dealing with a concussion. Concussions are tough because they could take anywhere from one week to months to fully recover from. However, it's been suggested that the hit looked worse than the actual result. As such, if you're okay with taking on a bit of risk, you might be able to get Adams on the cheap from an owner who expects a lengthy absence. Just be aware that Adams may not suit up for a few weeks when making a deal for him.
I mentioned Jay Ajayi last week and I'm still on board with acquiring him now. He didn't quite have the huge game everyone was hoping for in his return to London. However, he was used a bit better in this week's blowout than he had been the previous week. We also knew coming into the season that Ajayi is the kind of guy to put up a bunch of 60 yard games with the 200 yard blowup games mixed in. I have faith that Adam Gase will make the necessary personnel moves to turn his offense around soon enough and Ajayi should at least work himself into low end RB1/high end RB2 status.
The Broncos are rolling right now and intelligently using their running game to win games. However, DeMaryius Thomas has too much talent not to get going. They just didn't throw that much this week and Thomas had a huge stinker. He has one or two games like this every year but every year he ends up over 1,000 yards with 6 or more TD. He'll be fine. Grab him at a discount.
It's easy to ask what the hell happened to the Raiders. They've been atrocious the past two weeks. I still think this can be an elite offense though (assuming Derek Carr only misses a week or two). In particular, you should be looking to acquire Amari Cooper if somebody is ready to give up after the past two weeks. He's been a killer for sure and I think some people were unrealistic in their expectations for him coming into the season. That being said, he can still be a low end WR1/high end WR2 and the owner in your league may be willing to take pennies for him at this point. Marshawn Lynch may also be a small buy. I think Lynch comes with quite a bit of risk because of his age and his role but when the Oakland offense gets rolling (and it should eventually), Lynch is still going to be useful at the goal line. If you can get Lynch for cheap, do it, but don't go overboard trying to get him.
Julio Jones may never come cheaper. He killed his owners with a hip issue this week and hasn't had that explosion yet this year that we all know will eventually come. He's also on bye this week. I generally don't advocate for acquiring a player who you can't even use that week, but Jones is an exceptional talent and you are getting him at his low point. Also, it is believed that the injury shouldn't cost him any games, but don't be afraid to play it up in negotiations.
Everybody was riding high with Brandin Cooks last week. I was hearing a lot of Randy Moss part 2 talks from the locals. Obviously he came crashing down this week. I still think Cooks will be great more often than not and the market to acquire him should be much softer this week after his stinker.
I still think you have another week or two on this but it might be smart to buy into TY Hilton now if you have a 3rd or 4th WR you can move in a deal for him. Andrew Luck is theoretically coming back in a few weeks and I'd expect Hilton to regain some old form when he has Luck tossing him the ball. There's definitely risk here as you are counting on not just Hilton but more importantly Luck. Hilton should be dirt cheap right now though, so if you can give up a non-essential piece and let Hilton ride the bench until Luck's return, this could pay dividends down the road.
Trade Analysis
Last week I told you all to buy low on Jay Ajayi (and again this week) and I put my money where my mouth was – acquiring Ajayi in two of my leagues this week. Here were the deals I made:
CJ Anderson for Jay Ajayi
This deal was made in a standard 10 team league. I know I identified both Anderson and Ajayi as buy low candidates last week but ultimately I like the fact that Ajayi is still considered the workhorse back in Miami while Anderson shares with Jamaal Charles and now Devontae Booker. Anderson is still clearly the man in Denver and I like the player, I just like the upside for Ajayi more.
Zach Ertz and Dalvin Cook for Jay Ajayi and DeMaryius Thomas
Obviously I look pretty good in this trade now with the ACL injury to Dalvin Cook. Even before the injury, however, I liked the trade. It was done in an ppr league where I already have Rob Gronkowski. I like Ertz and he's obviously been a top tight end, especially in ppr this year, but he was just sitting on my bench. You can obviously never feel too comfortable without backup for Gronk, but I love DeMaryius and I got a usable ppr starting WR for my bench tight end while also grabbing Jay Ajayi at low value. It's certainly possible that Cook would have outproduced Ajayi over the course of the season, but I felt pretty good about the swap.
That's all for this week! Get out there and take advantage of some big performances and injuries to other owners. Somebody in your league is 0-4 or 1-3 and desperate, see if there's a deal you can make! As always, holler at me in the comments below!