Player Stock Ticker
Fantasy Baseball Waiver Wire Adds Week 20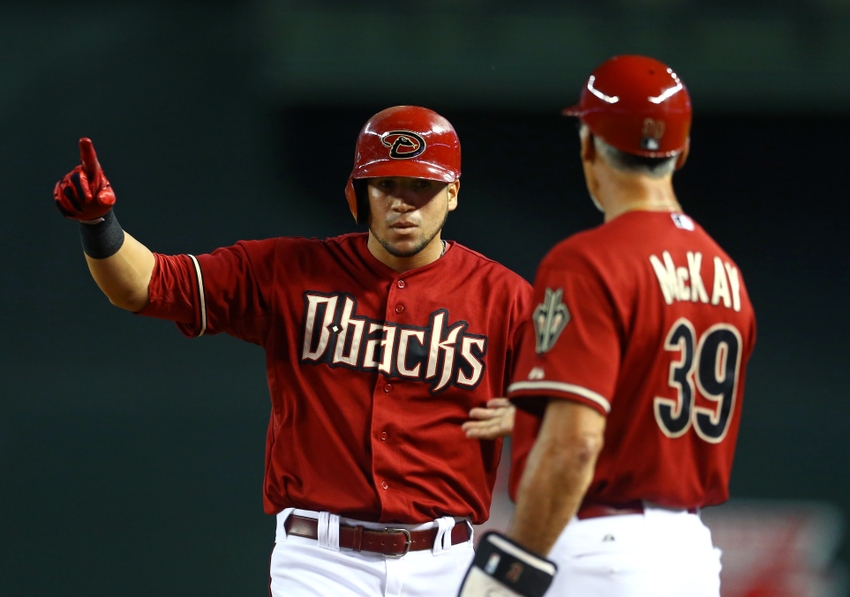 Hello everybody and welcome back to another exciting week of Waiver Wire Adds. We had a few injuries this week to some big name pitchers (Max Scherzer and Yu Darvish) but both sound like they should be very short DL stints so we don't need to immediately rush for a replacement on them. We also had some more minor movement in the outfield with Joc Pederson being sent to the minors, Curtis Granderson being traded to the Dodgers and Carlos Gomez hitting the DL. I will address your outfield needs this week along with the requisite relief pitching changes. On to the adds!
Seung Hwan Oh, RP, St. Louis Cardinals (78% Owned On Yahoo):
I have a general but unwritten rule that I don't like to recommend players who are significantly above 50% ownership. It seems rather cheap and obvious and only applies to a select number of folks. That being said, I am making an exception this week for Seung Hwan Oh. Oh entered the season as the incumbent closer for the Cardinals and because of lackluster play, Oh lost that job to Trevor Rosenthal (mostly). However, Rosenthal finds himself injured and Oh has been the beneficiary since the injury. As the original first choice at closer for the Cardinals and with a pedigree, it is not entirely out of the realm of possibility that Oh hangs on to the job even upon Rosenthal's return. For most of you, Oh is already owned, but in 22% of eligible leagues, it appears that Oh is still available. If you are lucky enough to be in one of those leagues, run to add Oh to your roster.
David Peralta, OF, Arizona Diamondbacks (51% Owned On Yahoo):
Okay, I have a confession, David Peralta realistically should have appeared in this article weeks (if not months) ago. I was asleep at the wheel and mistakenly assumed that Peralta was owned more heavily than he is. There is no reason why Peralta should not be owned in just about every league, and certainly in many more than half. He's hitting .307 with 13 home runs and 7 stolen bases on the year and getting a player who can hit for a high average while also contributing moderate numbers across every other category is become more rare as the game shifts towards high power/low average hitters. Peralta has shown in the past that these abilities are real and he's the kind of player that can just help you enough everywhere to really bolster your lineup. He's a must add if you have the need or the space.
Hunter Pence, OF, San Francisco Giants (39% Owned On Yahoo):
Hunter Pence is an all star of yesteryear who has fallen on tough injury luck the past couple of years. He was always reliable for a solid batting average with decent power numbers and moderate speed and runs. This year has been a very down year by his normal standards and as such, it appears he's been dropped without a second thought in many leagues. However, it is likely that owners have not been noticing his .303 average with 5 home runs over the past month. It's a strong enough sample size combined with his past performance to think that maybe Pence still has a bit to offer for the stretch run. If you can only add one of Pence and Peralta, I like Peralta more because of the team context, but Pence is more widely available and still very useful.
Byron Buxton, OF, Minnesota Twins (38% Owned On Yahoo):
The last of my three outfield suggestions for the week is Byron Buxton. To be fair, I have shouted from the rooftops for years that I am not a Buxton believer and that I think he's extremely overrated. My opinion of Buxton has not changed. Any time I see a minor league player who is highly regarded – I like to look at why. If a minor leaguer is hitting like a fiend and showing real baseball ability, then I tend to pay extra attention. If the minor leaguer isn't tearing it up in the minors but everybody is enamored with their "tools" then I usually avoid the hype. You can have all of the tools you want, if you can't hit in the minors, you probably won't be able to hit in the majors either, no matter how fast you run or how much you bench press. That all being said, Buxton has always been highly touted as the next big prospect because of his tools and I've always been skeptical and uninterested. However, a lot of the shine has worn off on Buxton as evidenced by his 38% ownership. While I still don't love Buxton and you shouldn't expect much from his batting average, he has 21 stolen bases which is 13th in the majors this season. Stolen bases are very difficult to come by this year so you have to take them where you can get them, for that reason alone, I'm advocating for a Buxton pick up.
Juan Minaya, RP, Chicago White Sox (6% Owned On Yahoo):
As the closer carousel continues… The Chicago White Sox went from a stable closer in David Robertson to an unstable effort with Tyler Clippard as their main guy and promptly traded off Clippard as well. For now it appears that Juan Minaya is the next man up. The White Sox relief corps is pretty well depleted and there's no reason why Minaya can't hang on to it for the remainder of the year. The White Sox are obviously playing for the future and I'm not convinced that there are going to be many more save chances coming, but Minaya seems a reasonable bet to help you in the category for the next 6 weeks.
That's it for today my friends! Pay extra close attention to the categories where you're closely behind others as you really want to focus on those areas for your final push towards the money. If you're dominating a category, it's fine to sit players who contribute in that area for worse players who contribute in a category that you're more tightly contesting. It's not about the names of the players at this point in the season but rather the categories. As always, don't be afraid to holler at me in the comments below!