Player Stock Ticker
Fantasy Baseball 2017: Closer Depth Chart Week 18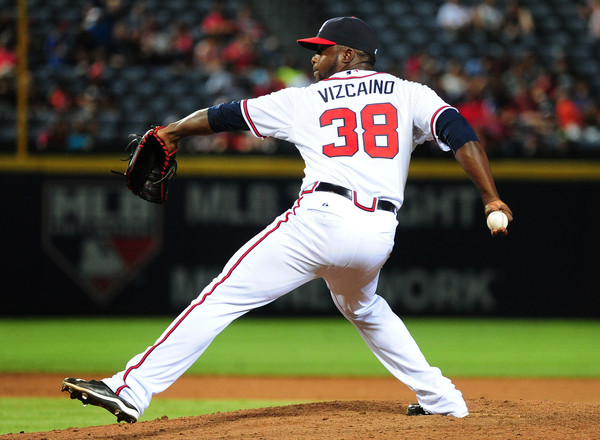 Welcome back to the Wednesday Weekly Closer Report where I will break down and rate each team's bullpen situation. Bullpens are finally coming into form as the stretch run approaches, but plenty of situations still seem very unclear. One new face finally emerged from a bullpen which I clamored for over two and a half months ago. Nice to see the Braves moving the franchise in the right direction. As always, do not forget to check out the rankings of the 'Immediate Waiver Pickups' at the end of the article to see who has the most upside going forward for his team's closer job.
American League East
| RSJ Rating | Team | Current Closer | Handcuff | Immediate Waiver Pickup |
| --- | --- | --- | --- | --- |
| Confident | BOS | Craig Kimbrel | Addison Reed | |
| Confident | NYY | Aroldis Chapman | Dellin Betances | |
| Confident | BAL | Zach Britton | Brad Brach | |
| Confident | TOR | Roberto Osuna | Ryan Tepera | |
| Confident | TB | Alexander Colome | Tommy Hunter | |
People wondered if an injury issue still lingered for Aroldis Chapman as he came out of the All Star break with an ERA near 4.00. Well we can put that to rest. Since his first appearance after the break, Chapman has pitched 10.2 innings, allowing one run on five hits with 11 strikeouts. Even Dellin Betances found his stride recently (as I predicted he would) allowing just seven hits over his last 13.2 innings pitched, striking out a whopping 23 batters. Couple that with the 17.2 innings pitched combined between David Robertson and Tommy Kahnle and their combined 4 runs and 24 strikeouts allowed since the Yankees acquired both stud relievers and you have the makings of the best bullpen in the game.
American League Central
| RSJ Rating | Team | Current Closer | Handcuff | Immediate Waiver Pickup |
| --- | --- | --- | --- | --- |
| Unstable | CWS | Tyler Clippard | Chris Beck | Tyler Clippard, Chris Beck |
| Confident | KC | Kelvin Herrera | Brandon Maurer | |
| Unstable | MIN | Matt Belisle | Taylor Rogers | Matt Belisle, Taylor Rogers, Trevor Hildenberger |
| Comfortable | DET | Shane Greene | Alex Wilson | Shane Greene |
| Confident | CLE | Cody Allen | Bryan Shaw | |
To understand the current state of the Chicago White Sox bullpen situation, I think it would be helpful to go over a few stats (and reality checks) for those "pitchers" manning the ship. Tyler Clippard, suspected frontrunner, owns a 4.53 ERA this year. Potential backup, Chris Beck, owns a 4.80 ERA and 1.49 WIHP. White Sox lifer Jake Petricka maintains a lofty 7.47 ERA, 1.85 WHIP and .333 batting average against. David Holmberg sports a respectable 3.65 ERA, but a 4.74 BB/9 and 4.93 K/9 ruin any value he my have. And Gregory Infante boasts a 1.64 WHIP and .293 batting average against. There are more arms in the back of this house of horrors bullpen, but I do not want to beat this dead horse any further. In sum, your guess is as good as mine. Rick Renteria originally promised Clippard the job even though the first opportunities went to Anthony Swarzak. But since the White Sox traded Swarzak logic would assume Clippard as the lead. In the end, however, we need our closers to get saves, and the 41-68 bottom feeding White Sox don't figure to get too many wins or save opportunities going forward.
American League West
| RSJ Rating | Team | Current Closer | Handcuff | Immediate Waiver Pickup |
| --- | --- | --- | --- | --- |
| Comfortable | LAA | Bud Norris | Blake Parker | Blake Parker |
| Confident | SEA | Edwin Diaz | Nick Vincent | |
| Unstable | TEX | Alex Claudio | Matt Bush | Alex Claudio, Matt Bush, Jose Leclerc |
| Unstable | OAK | Blake Treinen | Ryan Dull | Blake Treinen, Ryan Dull, Santiago Casilla |
| Confident | HOU | Ken Giles | Chris Devenski | |
I pumped his tires until his shoulder exploded. Keone Kela just cannot seem to avoid the disabled list, which is unfortunate considering his 2.36 ERA, 12.06 K/9 and .128 batting average against this year. And while I did not expect Alex Claudio to hold onto the job for long, Kela's most recent shoulder issue may prolong Claudio's stay atop the heap. But do not be surprised to see a familiar face reclaim the throne and supplant the lefty Claudio, who seems much better served in a Chris Devenski type long man, high leverage, innings eating role. Matt Bush has allowed only one earned run while striking gout 18 batters since the calendar turned July, spanning 14 appearances and 12.1IP. Walks continue to be somewhat problematic for Bush (seven during that timeframe), but his recent string of successful outings is the type of pitching that led to Bush landing the Texas closer's job in the first place. With a few more solid appearances coupled with some late inning struggles from Claudio, I expect the Rangers to once again give Bush a long look in the ninth inning role.
National League East
| RSJ Rating | Team | Current Closer | Handcuff | Immediate Waiver Pickup |
| --- | --- | --- | --- | --- |
| Comfortable | WSH | Sean Doolittle | Brandon Kintzler | Ryan Madson |
| Comfortable | PHI | Hector Neris | Luis Garcia | Hector Neris |
| Comfortable | ATL | Arodys Vizcaino | Jim Johnson | Arodys Vizcaino |
| Comfortable | MIA | Brad Ziegler | Jarlin Garcia | Brad Ziegler, Jarlin Garcia, Junichi Tazawa |
| Comfortable | NYM | A.J. Ramos | Jerry Blevins | |
I began looking into this young stud in 2015 when he recorded a 1.60 ERA and near 10 K/9. Injuries plagued Arodys Vicaino in his 2016 follow-up season, but he certainly seems back to 2015 form, boasting a 2.45 ERA, 9.37 K/9  and .212 batting average against. Veteran Jim Johnson no longer presents a legitimate threat to the closer of the future for the Atlanta Braves, so consider this Vizcaino's audition for permanent closer duties for 2018 and beyond. It looks like we have the answer to the $1,000,000 question of who would win the Washington Nationals ninth inning job. And this is nothing to sneeze at as this job projects to be one of the top jobs to own for the fantasy playoffs stretch run. With Sean Doolittle going a perfect 6/6 in save opportunities since Washington acquired him from Oakland, we can put the crown on his head for the time being. Sure Ryan Madson  has pitched 7 scoreless innings with four holds and a win and Brandon Kintzler has appeared four times for the Nationals, earning one hold and two wins. But none of that matters in fantasy baseball land. All we care about is who the Nationals turn to in the ninth inning for saves. And right now, Doolittle undoubtedly has the upper hand on his competition.
National League Central
| RSJ Rating | Team | Current Closer | Handcuff | Immediate Waiver Pickup |
| --- | --- | --- | --- | --- |
| Confident | CHC | Wade Davis | Justin Wilson | |
| Confident | CIN | Rasiel Iglesias | Michael Lorenzen | |
| Confident | MIL | Corey Knebel | Anthony Swarzak | |
| Confident | STL | Trevor Rosenthal | Seung-Hwan Oh | |
| Confident | PIT | Felipe Rivero | Juan Nicasio | |
It looked obvious to me a few weeks prior. And now we can all but confirm it's truth. Trevor Rosenthal owns the St. Louis Cardinals ninth inning duties, and he worked hard to receive that honor. Sure, it helped that Seung-Hwan Oh kept the door open every time he pitched this season (he maintains a .274 average against and 1.35 WHP on the year) but Mike Matheney could not ignore Rosenthal's 71 strikeouts across 44.1 innings pitched. A career flamethrower, Rosenthal is experiencing the best strikeout rate of his career, as well as improved home run and walk rates. Still only 27 years old and the owner of two 45+ save seasons so far in his bright career, this young stud may have finally found his stride that made him one of fantasy's top relief assets a few years ago.
National League West
| RSJ Rating | Team | Current Closer | Handcuff | Immediate Waiver Pickup |
| --- | --- | --- | --- | --- |
| Confident | LAD | Kenley Jansen | Pedro Baez | |
| Comfortable | SF | Sam Dyson | Hunter Strickland | Sam Dyson |
| Confident | SD | Brad Hand | Kirby Yates | |
| Comfortable | ARI | Fernando Rodney | Archie Bradley | Archie Bradley |
| Confident | COL | Greg Holland | Pat Neshek | |
Mark Melancon is expected to make another rehab appearance this week, and all signs point towards Melancon returning to the Giants shortly. And while Sam Dyson filled in admirably in Melancon's stead (6/7 in save opportunities, 1.20 ERA since the calendar turned July when Dyson took over the job), Melancon will assuredly retake the closer's job almost immediately. Will Fernando Rodney end the year as the Arizona Diamondbacks closer? At the beginning of the year when Rodney owned a 12.60 ERA after the month of April, the odds for betting "Yes" on that question might have been placed at +2,500. But since April Rodney has allowed only 5 earned runs over 26.2 innings pitched (all five of which came in back-to-back games in July, and four of which came in one outing). The facts are the facts. Rodney is 19/22 in save opportunities over that stretch with an 11.14 K/9 and 1.69 ERA. Couple that with his 3.06 FIP this year and the Diamondbacks proclivity to put up runs and win games and Rodney becomes one of the better fantasy closer options down the stretch. I cannot believe I just typed that sentence.
Ranking of the Immediate Waiver Pickups
Arodys Vizcaino (ATL, 41% Yahoo ownership)
Hector Neris (PHI, 45% Yahoo ownership)
Shane Greene (DET, 57% Yahoo ownership)
Brad Ziegler (MIA, 25% Yahoo ownership)
Alex Claudio (TEX, 32% Yahoo ownership)
Matt Belisle (MIN, 16% Yahoo ownership)
Blake Treinen (OAK, 27% Yahoo ownership)
Sam Dyson (SF, 49% Yahoo ownership)
Tyler Clippard (CWS, 13% Yahoo ownership)
Ryan Dull (OAK, 2% Yahoo ownership)
Santiago Casilla (OAK, 43% Yahoo ownership)
Ryan Madson (WSH, 47% Yahoo ownership)
Archie Bradley (ARI, 29% Yahoo ownership)
Taylor Rogers (MIN, 12% Yahoo ownership)
Trevor Hildenberger (MIN, 0% Yahoo ownership)
Blake Parker (LAA, 7% Yahoo ownership)
Matt Bush (TEX, 32% Yahoo ownership)
Jarlin Garcia (MIA, 0% Yahoo ownership)
Jose Leclerc (TEX, 4% Yahoo ownership)
Chris Beck (CWS, 0% Yahoo ownership)
Junichi Tazawa (MIA, 1% Yahoo ownership)
And that's a wrap for the Closer Depth Chart Week 18. Be sure to scour the waiver wire for all these relievers and check back every Wednesday for the latest updates regarding the closer jobs around the league. Until we meet again, keep your eyes open and your nose to the ground.
To contact me with any questions or general fantasy baseball discussion, please email me at [email protected] or tweet me ‪@AJGamballer‪.