Player Stock Ticker
Fantasy Baseball Waiver Wire Adds Week 16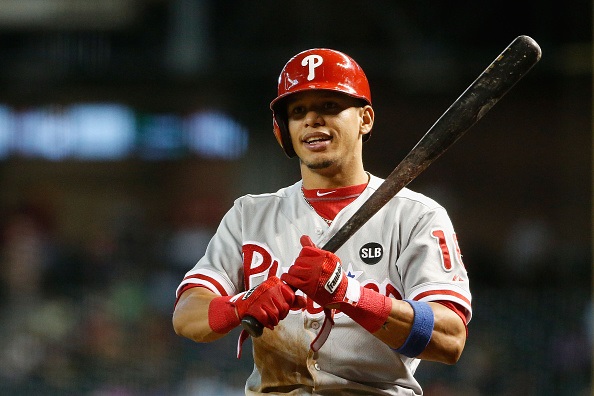 Hello everybody and welcome back to a new week of Waiver Wire Adds. It was a bit of a slow week since the majority of the week was taken up with the All Star break, but there are definitely a few players that I would suggest you jump on now for the start of the second half. The player movement is going to be fast and furious over the next couple of weeks with teams trading players and replacing those players in their lineups. Of course, closer is the position always most likely to be disrupted at the trade deadline so pay extra attention to that. This is the heart of the season but also the time when people start drifting away from their fantasy baseball teams and spend all of their time thinking about football. As long as you stay on the ball, you may surprised to see how far you can climb up the standings throughout the rest of July and August. Never rest!
Matt Grace, RP, Washington Nationals (1% Owned on Yahoo):
So obviously nobody seems to know or care about Matt Grace based on his 1% ownership. However, he procured two straight saves for the Nationals coming out of the All Star break. The Nationals inevitable trade for a closer is about as well kept a secret as Jon Snow's return from the dead (seriously, did anybody think the dude was really dead for good?), however, until the Nationals do trade for a closer, somebody has to get the shot in the 9th inning. It appears that the somebody is going to be Matt Grace. This isn't a long-term add but if Grace can get you another handful of saves before the Nationals pull a trigger on a trade, those few saves can make a difference in a tight category. If you have a free spot and need a few saves, he's worth streaming for now.
Alex Claudio, RP, Texas Rangers (13% Owned on Yahoo):
The Rangers have kind of been a mess at closer lately since Matt Bush failed to run with the job. It was initially thought (and may still come to pass) that Keone Kela was going to step in as the closer but he got injured. Alex Claudio has jumped into two saves over the past week and as long as he's getting results, there doesn't seem to be a good reason to make a change. Keep an eye on this one because his leash is super short (and as I said, I like Kela to eventually get his shot) but saves are saves and there is no reason not to take advantage of Claudio for as long as he's producing saves.
Cesar Hernandez, 2B, Philadelphia Phillies (17% Owned on Yahoo):
There is a phenomena that occurs in fantasy baseball (especially this year with the overextended DL) where a guy gets injured and dropped and then people forget that the player exists. Cesar Hernandez is such a player. About a month or so ago, he was likely owned in at least 35-40% of leagues but he's clearly been dropped in a good portion of those. He is expected to be back from the DL today and he was hitting pretty well before the injury. He has 5 home runs and 6 stolen bases for the year and he's definitely capable of ending up with double digits in both categories by the end of the season. He's not going to win a championship on his own, but he's the kind of bit player that can play steady ball and not really hurt you anywhere when you desperately just need to plug in a Middle Infielder slot with some consistency. Along the same lines, keep an eye on guys who are sitting in the free agent pool because of long-term injuries, they are often worth picking up about 2-3 weeks before their expected return date. One such example would be Jeurys Familia who is expected back in early August. He's only owned in about 40% of leagues and is widely known as a top notch closer when healthy. Addison Reed has been great this year and there's the chance that Familia doesn't reclaim his spot but Reed may still get traded and the upside with Familia is high enough that he's worth a stash.
Orlando Arcia, SS, Milwaukee Brewers (26% Owned on Yahoo):
Orlando Arcia is an under the radar type of player so most people forget how hyped he was just a year ago coming up from the minors. He's quietly put up .283 with 8 home runs and 5 stolen bases over the first half. He has a real chance to double those numbers and I don't think many people would argue with a shortstop who hits 16 homers with 10 stolen bases and a solid batting average as their Middle Infielder. If you are in a position where you need some infield help, make Arcia a priority. He's much better than his brother Oswaldo was, I promise!
Yoan Moncada, 3B, Chicago White Sox (39% Owned on Yahoo):
At this point it appears that Todd Frazier to the Red Sox is just a formality. If that does indeed occur, the next logical move for the rebuilding White Sox is to give their young stud an extended look at the majors. Yoan Moncada floundered a bit in his first taste of the majors last season, but that isn't uncommon for many young stars (take a look at A-Rod's first try in the majors). Moncada still has some contact issues to address but otherwise he's ready to roll in the majors and should offer a blend of power and speed with unlimited upside. There was also an "accidental" change to the White Sox website which seemed to indicate that Moncada was being called up, it has been shot down by White Sox brass, but they have been known to lie before. Look for Moncada to be up soon and expect him to hit once he's here.
That's it for this week my friends. Second half baseball can be some of the most exciting and it's never too late to turn your season around (okay maybe by late August you're screwed). Consider grabbing some of these great options for your squad and don't forget to holler at me in the comments below!