Player Stock Ticker
Fantasy Baseball Waiver Wire Adds Week 15; Home Run Derby Picks Edition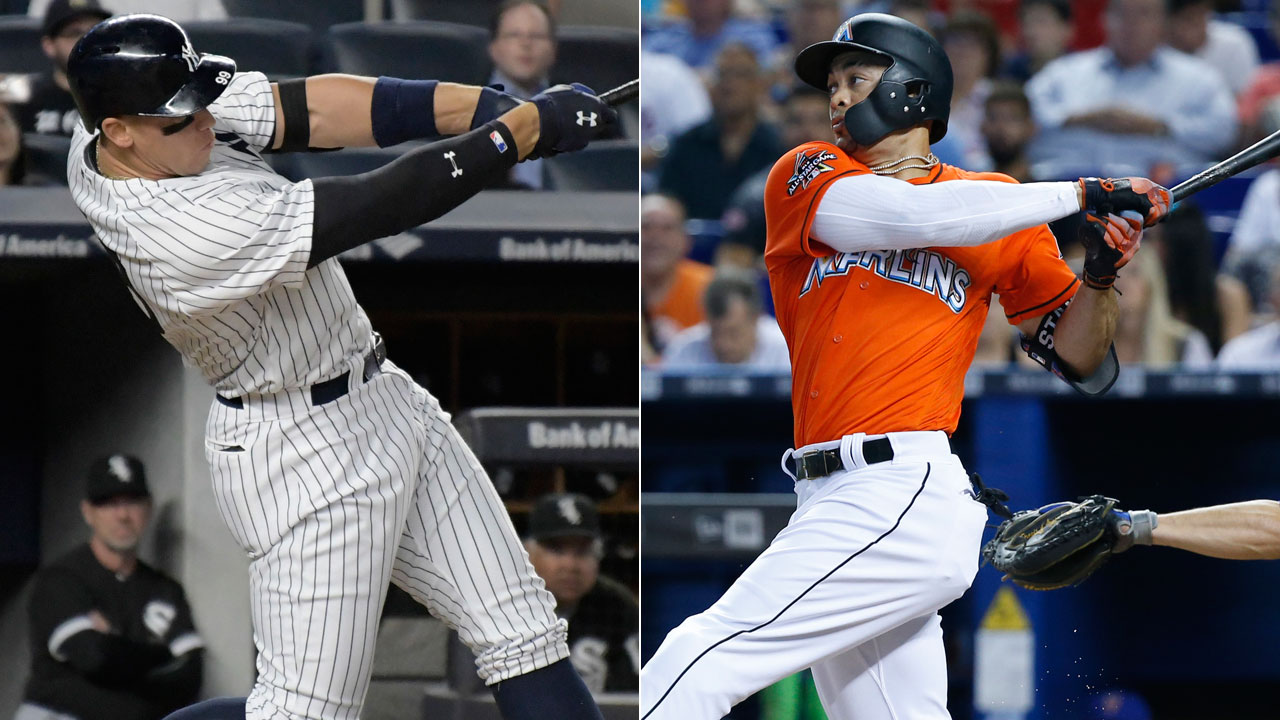 Hello everybody and welcome back to another week of Waiver Wire Adds. This week is the All Star Break and as such, there isn't as much going on for daily add/drops as there would be during a normal week. I am going to throw a few names at you here (without going into the usual detail) so that I can present you with a draft order for the Home Run Derby participants. If you've never done a HR Derby draft, the basic premise is that you do a snake draft for HR Derby participants (usually 4 people works best for this) and everybody throws in a few bucks. You can either pay out the person who had the winner of the derby or pay out the person who had the most total HR on his drafted team (there are 8 HR Derby hitters so everybody should have 2 hitters per team if you're doing a 4 person draft).
For the promised pickups I have a few names to either grab now or keep your eye on. I would suggest picking up Paul DeJong of the St. Louis Cardinals if you are need of infield help. DeJong qualifies at 2B, 3B, and SS in Yahoo leagues and is only 17% owned. He has hit .306 with 8 home runs in limited time this season and he can help you out, especially as a middle infielder. Beyond DeJong, it's time to think about how MLB trades will affect rosters. Most importantly, there are going to be some current closers traded which means some setup men are going to become closers in their stead. You should be looking at Tommy Kahnle, Joakim Soria, Alex Wilson and Drew Storen in that order as players who have a good chance to ascend to the closer role when, and if, the current closers on their teams get traded. Otherwise, relax and enjoy the All Star Game festivities.
Home Run Derby Picks
1a. Giancarlo Stanton
Giancarlo Stanton won the Home Run Derby last year and has extra motivation to keep it going this year as it is in Miami in front of the hometown crowd. Stanton is a monster of a man and has such raw power that he has to be considered a favorite going into the contest. I labeled him as 1a because there is another competitor who might just be his equal or better in the power department, but I give Stanton the nod because of his experience and hometown.
1b. Aaron Judge
Aaron Judge is a big man with big power. He is the hands down MVP of the league right now and has been scorching the ball all season with ridiculous home run numbers and distances. As I said above, you could very well make the case that Judge belongs as the #1 guy (and I think many will draft him that way) but because this is his first derby, sometimes guys get overly excited and don't have a huge performance until their second derby. Judge has such raw power that I don't expect him to flame out but I can't put him over Stanton based on his lack of experience.
3. Miguel Sano
I have Miguel Sano as a distant 3 behind the other boppers. Sano is a capable hitter and all through the minors he was known to have 40 homer potential. He has shown through his first few seasons that he is very able to hit long bombs and I think he's an overlooked hitter going into the derby. Sometimes a guy like this surprises everybody and makes his name at the contest and I'm betting that Sano does so this year.
4. Cody Bellinger
Cody Bellinger is another youngster who has been showing off great power this season. In general I tend to lean more towards guys who hit long bombs for this event because it does take more natural power to hit the slower pitches out of the park, but Bellinger has a sweet swing that allows him to go yard even when he doesn't get the best contact on the ball so I think his bat will play well for this event.
5. Gary Sanchez
Logan Morrison is a douche bag. If you missed it, he was talking shit about how he should be in the derby this year and that Gary Sanchez doesn't belong there. His basis was that he has more home runs than Sanchez this year so he should be there instead. Here's the thing, Morrison has been a scrub for essentially his entire career, prior to this year. For perspective, Morrison hit a combined 48 home runs over his previous 4 years before this year which amounts to 12 per year on average. While Sanchez only has 13 home runs this year (which is admittedly less than Morrison), he hit 20 home runs over his first 200 at bats as a rookie last year. So Sanchez has 33 home runs in roughly 400 at bats as a major league (which is not even a full season) and Morrison had 48 over 4 full seasons. Sanchez was also injured for about 3 weeks earlier in the season so it's reasonable to expect his home run total would have been higher. Bottom line, Sanchez is a solid power hitter and has proven that in his limited career while it takes a known scrub like Morrison longer than a few months to prove he doesn't suck.
6. Justin Bour
Justin Bour is going to be very overlooked by just about everybody because he's in Stanton's shadow in Miami and he's a lesser known name. I like Bour here because again we have a home town guy and because he's a pretty big guy with surprising power. Mostly, I like Bour as option 6 because I really just don't like the other two options that are left.
7. Mike Moustakas
Mike Moustakas is the kind of hitter who generally just doesn't do much in the home run derby. He's a mostly line drive type of home run hitter who is not abnormally large like some of the other contestants. On occasion a player like this will get on a run (see Bobby Abreu's home run derby run in 2005) but usually they are just the fillers for the real boppers that everybody wants to watch like Stanton and Judge.
8. Charlie Blackmon
Charlie Blackmon is one of the best players in the NL this year. He was expected to be good and he's exceeded the expectations of most. However, as a home run derby participant, I expect Blackmon to be the worst. He's a great gamer and hits timely home runs in the actual games that count but he just isn't the right type of hitter for a contest of this nature. Much like Moustakas, he doesn't have the proper build and skill set to excel in this competition.
That'll do it for this week my friends. Enjoy the Home Run Derby and take a nice rest from competitive fantasy baseball. We'll get back to fast and furious pickups in a week! As always, don't be afraid to share some of your favorite derby moments in the comments below!