Player Stock Ticker
Fantasy Baseball Waiver Wire Adds Week 14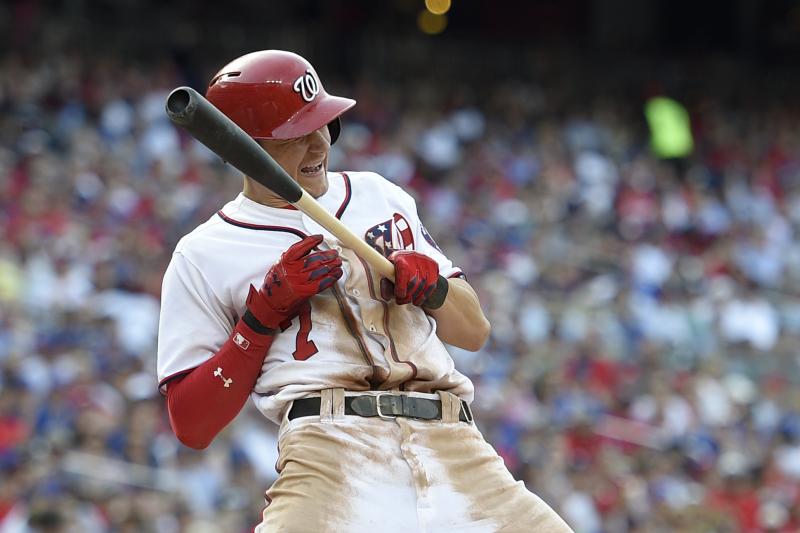 Hello everybody and welcome back to another week of Waiver Wire Adds. Let's address the big news of the week, the demise of Trea Turner. While Turner is a player that I generally suggested to avoid this year because he was being drafted too early for his abilities, he has still been quite a producer for those that took him. His batting average hasn't been where you'd want it to be but otherwise he's flashed okay power and huge speed with 35 stolen bases this season. He broke his wrist so the natural timeline should be similar to the two months that Freddie Freeman has been out which means you may get about 3 weeks of production out of him in September although the Nationals will likely take their time with his return to ensure his health for their playoff push. As I said with Freeman and Mike Trout before, you just cannot replace the production of a guy like Turner, all you can hope to do is ride out the storm. This week I have two potential saves sources, a young stud and two replacement middle infielders to help you manage if you had Turner. For Turner owners it's easy to give up and feel like the old lady who has "fallen and can't get up" but take my advice here and you'll find that you can stay competitive even without Turner.
Clint Frazier, OF, New York Yankees (30% Owned On Yahoo):
I've followed Clint Frazier quite a bit on his rise through the minors (I'm an Indians fan so he's always been of particular interest to me). Frazier has always been expected to be a 20-20 type guy at the major league level with the potential to grow into a little more power while hitting for a solid average and driving in runs. This year has been one of his tougher minor league runs statistically with only a .256 average in the minors. He has, however, flashed the power-speed combo with 12 HR and 9 SB. As seems to be the case for every rookie this year, he started off with a home run in his first game for the Yankees. Based on the amount of injuries that have hit the Yankees this year and the innate ability that Frazier has, it wouldn't be surprising to see him stick and be productive all year. He's definitely worth an add in any league where you have the room for an outfielder as he provides the kind of production that can be helpful to any team.
Trevor Rosenthal, RP, St. Louis Cardinals (29% Owned On Yahoo):
The St. Louis Cardinals closing role has been assumed to belong to Seung Hwan Oh and for the most part, it has been his job all season. However, Oh has been lackluster for a large enough portion of the season that it looks like there is going to be some movement in that area. Based on past history, Trevor Rosenthal finds himself in a position to potentially grab some of Oh's lost saves. Unfortunately, Rosenthal hasn't been all that great himself this year and after recording a save (and letting up a run) on June 28th, Rosenthal came on in the 9th on July 1st and was pulled after letting up another run, one out shy of recording the save. Bottom line, I don't know how much of an opportunity Rosenthal really has here, but it would appear that the manager is at least willing to give him some chances in the 9th and he's worth a speculative add for that reason alone.
Marcus Semien, SS, Oakland Athletics (17% Owned On Yahoo):
The first of the promised middle infielders, Marcus Semien is capable of putting up really solid numbers for a shortstop. He put up 27 home runs and 10 stolen bases last year and it appeared he was running a bit more in the 11 games that he played earlier this season accumulating 4 stolen bases over the small sample size. If nothing else, Semien should provide great power and some speed out of a middle infield position. He should be returning to a fairly regular role this coming week and has low ownership because he has been on the DL for essentially the whole first half. Now is the time to grab him before his impending return from the DL (as of last update, it should be this coming Thursday). Also, his name is Semien so if you can't come up with a clever team name involving that, you just suck as an owner.
Whit Merrifield, 2B/OF, Kansas City Royals (17% Owned On Yahoo):
I'm not a huge proponent of Whit Merrifield but I can't deny what he's been doing this year. He is playing every day and has put up 6 home runs with 8 stolen bases. Certainly not Earth shattering numbers but a middle infielder who's on pace for about 15 home runs and 20 stolen bases over a full season of at bats is worth consideration, especially when those numbers are accompanied by a .280 batting average. He won't be a huge help in RBI or Runs because the Royals are not a great scoring offense and there's still a decent chance that they'll be selling off some of their bigger hitters at the trade deadline further limiting his upside. However, if you were hit hard by the Turner loss and you need somebody who can provide moderate numbers without hurting you anywhere then Merrifield is worth the look.
Keone Kela, RP, Texas Rangers (14% Owned On Yahoo):
Note: And as always seems to be the case – Keone Kela hit the DL today. Obviously disregard the pickup advice for Kela – my best guess at the next guy up is Jason Grilli, although that is far from a guarantee.
As seems to be the case across baseball this year (and every year actually), we have yet another closer faltering in their role. Matt Bush in Texas started out the season strong and wrested the closer role away from Sam Dyson, since then, however, Bush has sucked sour frog ass. Seriously, Bush has a 9.64 ERA and 2.79 Whip over the past month (9.1 innings) and has lost enough leads that the Rangers have now announced a closer committee. At the head of the pack for talent is Keone Kela who has always had great peripherals and just has needed an opportunity. This year Kela has a 2.64 ERA and .88 Whip with 42 Ks in 30 innings pitched. Basically, this is top flight closer stuff if Kela can grab the role and run with it. He has to be a logical choice for Bush's spot and he can end the committee talk if he gets his chance and keeps pitching like this. As always, it's possible that Kela doesn't get the closer role but unlike many of the other "potential closer" stiffs that I've had to tell you about before, Kela is the kind of reliever who offers value even out of the closer role and offers massive top of the line closer value if he has the role. This is as safe of a reliever pickup as I have ever been able to recommend.
That's all for this week my friends. If you had Trea Turner I feel for you, but as I said, don't give up (and don't be afraid to look back at last week's waiver wire adds if you don't love Semien and Merrifield as I still love Franklin Barreto despite a tepid start to his run in the majors)! I have something a little different and special for you guys for next week as it's All Star Break week and the normal format just doesn't make sense with 4 days of baseball off. As usual, don't be afraid to holler at me in the comments section below!