Player Stock Ticker
Fantasy Baseball 2017: Closer Depth Chart Week 12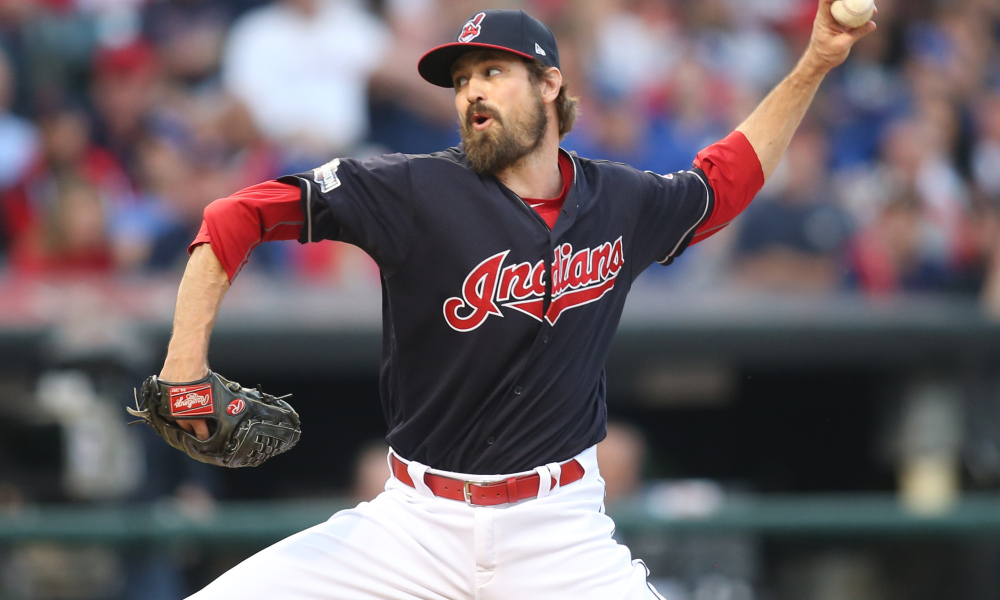 Welcome back to the Wednesday Weekly Closer Report where I will break down and rate each team's bullpen situation. With the return of an RSJ favorite in Oakland, I expect a changing of the guard coming soon. Also, you will note a few teams with multiple "Immediate Waiver Pickups". These situations will be key to monitor going forward, but as usual I will do my best to provide the requisite analysis. As always, do not forget to check out the rankings of the 'Immediate Waiver Pickups' at the end of the article to see who has the most upside going forward for his team's closer job.
American League East
| RSJ Rating | Team | Current Closer | Handcuff | Immediate Waiver Pickup |
| --- | --- | --- | --- | --- |
| Confident | BOS | Craig Kimbrel | Joe Kelly | |
| Confident | NYY | Aroldis Chapman | Dellin Betances | |
| Confident | BAL | Brad Brach | Michael Givens | |
| Confident | TOR | Roberto Osuna | Ryan Tepera | |
| Confident | TB | Alexander Colome | Jumbo Diaz | |
Finally we have some concrete (and promising) news regarding Baltimore Orioles closer Zach Britton. Britton pitched in Low-A ball on Tuesday and, in true Zach Britton form, he struck out one batter and induced a ground ball double play for the other two outs. He should return when first eligible on July 4th, so that will bring some steadiness and depth back to their bullpen. Also, unlike last week where I suggested holding onto Yankees backup Dellin Betances, I suggest dropping Brad Brach. Sure, he has been a great filler during his time as the Orioles stop-gap closer, but he really does not have the talent, upside or strikeouts numbers like Betances to warrant holding onto him (unless you are in a league counting "Holds"). I might hang onto him for a very short while as last time Britton returned from a shorter 10 day DL stint in May the Orioles quickly thereafter placed him on the 60 day disabled list. But once Britton checks out OK, there is absolutely zero competition in that bullpen for the closer's job.
American League Central
| RSJ Rating | Team | Current Closer | Handcuff | Immediate Waiver Pickup |
| --- | --- | --- | --- | --- |
| Confident | CWS | David Robertson | Tommy Kahnle | |
| Confident | KC | Kelvin Herrera | Joakim Soria | |
| Confident | MIN | Brandon Kintzler | Taylor Rogers | |
| Confident | DET | Justin Wilson | Alex Wilson | |
| Unknown | CLE | Andrew Miller | Cody Allen | |
So what in the world is happening in the Cleveland Indians bullpen. Just when you thought it was OK to safely rely on Cody Allen Terry Francona does something very Terry Francona like and announces a switch in mid June to Andrew Miller roughly 40% of the way through the season. I am befuddled, but not in the least bit surprised as I thought this could happen since the beginning of the season. On the year, Allen is 15/16 in saves with a 2.00 ERA and 12.33 K/9. His walks remain somewhat of an achilles heel but his FIP (2.57) still points to a solid reliever. Miller, one of the most dominant setup men in recent history, obviously profiles as the better pitcher with a higher K/9, lower walk rate and better ERA, WHIP and FIP. But still, the change seems peculiar. This dominant duo is used to their routine and I am unsure why commenting on and affirming a change in job titles is necessary. Sure, Francona does not want to overuse Miller (currently on pace for 83.2IP, which would be the second highest total of his career to 2008 when he started 20 games). However, there are other ways to protect your reliever from eating innings besides announcing such a change. And lets be honest, how does pitching Miller in just the ninth inning, specifically in save opportunities, protect Miller when he currently averages roughly one inning per appearance? Throw in the fact that Francona did not put a time limit on the change and I cannot make heads or tails of this situation going forward.
American League West
| RSJ Rating | Team | Current Closer | Handcuff | Immediate Waiver Pickup |
| --- | --- | --- | --- | --- |
| Comfortable | LAA | Cam Bedrosian | Blake Parker | Cam Bedrosian, Blake Parker |
| Confident | SEA | Edwin Diaz | James Pazos | |
| Comfortable | TEX | Matt Bush | Keone Kela | |
| Unknown | OAK | Sean Doolittle | Santiago Casilla | Sean Doolittle, Santiago Casilla, Ryan Madson |
| Confident | HOU | Ken Giles | Will Harris | |
If I've said it once, I've said it a thousand times: Sean Doolittle is the best pitcher in the Oakland Athletics bullpen. Since the Athletics activated Doolittle from the disabled list on June 10th, Doolittle has appeared in 4 games, going four innings and striking out 7 batters, allowing 1 hit, 0 walks and, most importantly for us, he recorded 2 saves. Excuse me? You read that right. On June 17th and 18th, Athletics Manager Bob Melvin gave Doolittle back to back save opportunities, and Ryan Madson backed him up in the eight inning in both chances. So where does that leave veteran offseason acquisition Santiago Casilla? I do not know actually. A few times this year I called for a change from Casilla, but the A's neglected my advice and continued trotting him out. And while he has been somewhat ineffective this year (4.07 ERA and 1.23 WHIP) he did nothing recently so dastardly that the Athletics needed to remove him. And the reason for the back-to-back chances for Doolittle was not rest either as Casilla only pitched on the 15th and 16th, so he would have been available (assumedly) on the 18th, Doolittle's second save. In summation, I am going out on a limb once again and predicting Doolittle to reign supreme over the Athletics bullpen sometime in the very near future. With right knee inflammation landing Bud Norris on the disabled list, Cam Bedrosian will likely find himself back in the ninth inning role for the Los Angeles Angels. But the real question (for me at least) is not who takes over now but who ends the year as the closer, especially once Norris comes back. While Scioscia is rightfully labelled a veteran-leaning manager, if Bedrosian continues his dominance no rational manager could ever deny his talents, abilities and performance. I know, Bedrosian has appeared in only 8 games this year, but he is now at 8.2 scoreless innings with 12 strikeouts. Also, do not just look at this year. Instead, lets trace his stats back from the start of last year. Over his past 48 innings, Bedrosian has a minuscule 0.94 ERA, 1.04 WHIP and 11.44 K/9, allowing just one home run. Gimme the guy with age on his side and upside over the journeyman long man every day of the week.
National League East
| RSJ Rating | Team | Current Closer | Handcuff | Immediate Waiver Pickup |
| --- | --- | --- | --- | --- |
| Unknown | WSH | Enny Romero | Matt Albers | Enny Romero, Matt Albers |
| Unknown | PHI | Hector Neris | Pat Neshek | Hector Neris, Pat Neshek |
| Comfortable | ATL | Jim Johnson | Arodys Vizcaino | Arodys Vizcaino |
| Comfortable | MIA | A.J. Ramos | David Phelps | |
| Confident | NYM | Addison Reed | Jerry Blevins | |
Just when you think the Washington Nationals might have figured it out at the closer positions, you are reminded of the wasteland that spot has been all year for that unfortunate team. No recap necessary this time, that can be found here…or really in any of these articles as it has been an ongoing, live comedic performance this year. The latest tragic hero of this story is Enny Romero. He earned a save on the 17th, a feat not so easy if you ask others who tried in that bullpen. But then came the predictable fall. On the 19th the Nationals called upon Romero in a high-leverage situation, a tie game in the eighth. And while he began the night with scoreless eight, an error in the ninth cost Romero dearly and led to another Nationals bullpen loss and another poor night of sleep for Manager Dusty Baker. Honestly though, he threw 37 pitches in this one. Dusty, take the man out! Anyway, I do not think this derails his chances for the next save opportunity and, for my money, Romero is the guy to own in this bullpen for now until the earlier of (i) Koda Glover's return or (ii) a trade. Either way, the Washington Nationals closer position is more cursed than the Annabelle doll from the Conjuring movie series. And I personally do not want any part of either.
National League Central
| RSJ Rating | Team | Current Closer | Handcuff | Immediate Waiver Pickup |
| --- | --- | --- | --- | --- |
| Confident | CHC | Wade Davis | Carl Edwards Jr. | |
| Confident | CIN | Rasiel Iglesias | Drew Storen | |
| Confident | MIL | Corey Knebel | Jacob Barnes | |
| Comfortable | STL | Seung-Hwan Oh | Trevor Rosenthal | |
| Comfortable | PITT | Felipe Rivero | Juan Nicasio | |
Oh man do we have a quite the problem on our hands (pun definitely intended). Seung-Hwan Oh does not appear to be half the pitcher he looked like last year with a decreased strikeout rate, increased walk rate and no real bad luck to point to as the culprit. This year it appears as though Oh is just pitching poorly. Which is bad news for those of us who confidently spent an early round draft pick on him (myself included). The silver lining is that Cardinals Manager Mike Matheny seems reluctant to give Trevor Rosenthal the job he once lost. But with a 15.08 K/9 and better (yet still below average) command, Rosenthal should be giving Oh owners nightmares right about this juncture. Fortunately every time the pressure seems highest Oh responds favorably, going on an extended run of scoreless innings. And trust me, me and my doctor both think that would be best for my mental and physical health right now.
National League West
| RSJ Rating | Team | Current Closer | Handcuff | Immediate Waiver Pickup |
| --- | --- | --- | --- | --- |
| Confident | LAD | Kenley Jansen | Pedro Baez | |
| Confident | SF | Mark Melancon | Hunter Strickland | |
| Unstable | SD | Brandon Maurer | Brad Hand | Brandon Maurer, Brad Hand |
| Comfortable | ARI | Fernando Rodney | Archie Bradley | Archie Bradley |
| Confident | COL | Greg Holland | Adam Ottavino | |
I am with you, guys. I hear you loud and clear. Mark Melancon gives me migraines too. The San Fransisco Giants may be baseball's biggest disappointment this year as they currently own the second worst record in baseball. I know Madison Bumgarner is a crucial component to that team, but for them to completely fall apart it took a complete team effort. And trust me, you do not have to look much further than an offense ranked last in home runs and OPS and third to last in batting average and runs scored to find where things went wrong. But I digress. We all paid pretty close to top dollar for Melancon and his closing services, and rightfully so given his durability (at last 72 appearances and 71 innings in each of the last 4 years) and excellence (98 saves over the last two seasons, four more than second-best Jeryus Familia). So we are certainly left scratching our heads seeing a 5.09 ERA and 1.47 WHIP going into the fourth weekend of June. So let's do a stat dive. He is not falling off the table as his K/9 and BB/9 are roughly equal to his 2016 ratios. But his BABIP (.382) is over .100 points higher than his career average and his HR/9 is roughly triple his career average. I think I found the outlying stats. And his FIP (3.86) and xFIP (3.38) tell that story as well. I expect regression with respect to those stats, so he will pitch much better going forward. Also, the Giants will want to protect their $62 million investment, so no changes will be made here. The only issue is can the Giants score the occasional run to give Melancon a save opportunity. Manager Bruce Bochy is partially to blame here as well considering Melancon has pitched in just 4 games in June. Once again, it is June 21st my friends. Most recently he went a whole 9 days between appearances from June 8th to June 18th, both of which resulted in blown saves. More steady and predictable appearances and some better luck will yield the results we all expected this year.
Ranking of the Immediate Waiver Pickups
Cam Bedrosian (LAA, 49% Yahoo ownership)
Brandon Maurer (SD, 60% Yahoo ownership)
Hector Neris (PHI, 43% Yahoo ownership)
Sean Doolittle (OAK, 21% Yahoo ownership)
Santiago Casilla (OAK, 56% Yahoo ownership)
Enny Romero (WSH, 12% Yahoo ownership)
Brad Hand (SD, 16% Yahoo ownership)
Archie Bradley (ARI, 28% Yahoo ownership)
Matt Albers (WSH, 23% Yahoo ownership)
Arodys Vizcaino (ATL, 14% Yahoo ownership)
Ryan Madson (OAK, 35% Yahoo ownership)
Blake Parker (LAA, 7% Yahoo ownership)
Pat Neshek (PHI, 21% Yahoo ownership)
And that's a wrap for the Closer Depth Chart Week 12. Be sure to scour the waiver wire for all these relievers and check back every Wednesday for the latest updates regarding the closer jobs around the league. Until we meet again, keep your eyes open and your nose to the ground.
To contact me with any questions or general fantasy baseball discussion, please email me at [email protected] or tweet me ‪@AJGamballer‪.