Player Stock Ticker
Fantasy Baseball 2017: Closer Depth Chart Week 8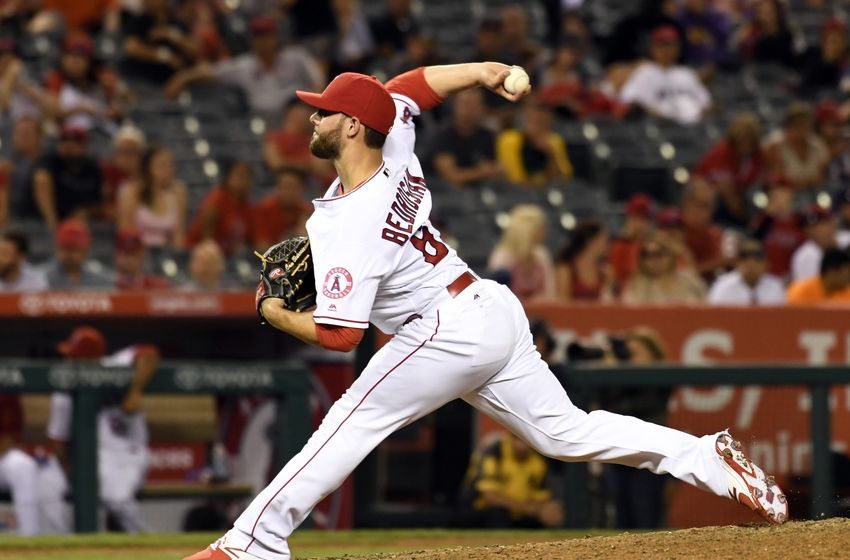 Welcome back to the Wednesday Weekly Closer Report where I will break down and rate each team's bullpen situation. I'm the RotoDragon and I will be filling in as guest writer for today as your intrepid leader RedSocker is taking the week off to travel the high seas and slam more tail than Wilt Chamberlain (or he's just on vacation in Italy, it's definitely one of the two). I will do the best I can to follow closely to your normal expected format but just be aware that while RedSocker and I both use advanced metrics to inform our opinions, he's much better at articulating those numbers, while I tend to just give the advice and ask you to trust me. Fortunately, this week has been a rare steady week at the closer position with no major turnover from injury or ineffectiveness.
As always, do not forget to check out the rankings of the 'Immediate Waiver Pickups' at the end of the article to see who has the most upside going forward for his team's closer job. To the Closer Depth Chart Week 8:
American League East
| RSJ Rating | Team | Current Closer | Handcuff | Immediate Waiver Pickup |
| --- | --- | --- | --- | --- |
| Confident | BOS | Craig Kimbrel | Joe Kelly | |
| Confident | NYY | Dellin Betances | Tyler Clippard | |
| Comfortable | BAL | Brad Brach | Darren O' Day | |
| Confident | TOR | Roberto Osuna | Joe Smith | |
| Confident | TB | Alexander Colome | Danny Farquhar | |
There really isn't too much to say about the AL East this week. Dellin Betances has been racking up saves in Aroldis Chapman's absence as expected, and he is a good bet for great production for at least the next 3 weeks or so while Chapman is out. There is no sign of Zach Britton returning anytime soon and Brad Brach has been steady enough to not really worry about him losing the job. Darren O'Day is the clear backup to Brach so keep an eye on him if Brach starts struggling again (he had a minor hiccup last week) but I feel pretty certain that Brach has a bit of leash here.
American League Central
| RSJ Rating | Team | Current Closer | Handcuff | Immediate Waiver Pickup |
| --- | --- | --- | --- | --- |
| Comfortable | CWS | David Robertson | Nate Jones (inj.) | |
| Comfortable | KC | Kelvin Herrera | Joakim Soria | |
| Confident | MIN | Brandon Kintzler | Taylor Rogers | |
| Comfortable | DET | Justin Wilson | Alex Wilson | Alex Wilson |
| Confident | CLE | Cody Allen | Andrew Miller | |
Justin Wilson has been settling in as the new closer in Detroit and K-Rod still sucks so there should be some room for him to run with it. That being said, Alex Wilson is definitely the backup here and he's worth a speculative add in deeper leagues if you are looking to take a shot on some possible future saves. David Robertson and Kelvin Herrera are both deserving of a confident rating but I am rating them both at the comfortable level instead because we are getting closer to the time when one or both are likely to be traded to a contender. I imagine both would maintain their positions as closers for a contender, but since there is a little uncertainty there, I can't say I'm 100% confident in either for the whole season. That being said, if Herrera goes from a team like the Royals to the Nationals, it could be great for his fantasy value.
American League West
| RSJ Rating | Team | Current Closer | Handcuff | Immediate Waiver Pickup |
| --- | --- | --- | --- | --- |
| Comfortable | LAA | Bud Norris | Blake Parker | Cam Bedrosian |
| Unstable | SEA | Edwin Diaz | James Pazos | James Pazos |
| Comfortable | TEX | Matt Bush | Keone Kela | Keone Kela |
| Unstable | OAK | Santiago Casilla | Ryan Madson | |
| Confident | HOU | Ken Giles | Will Harris | |
Bud Norris has been on a very solid run as the Angels closer and I'm starting to think he may be able to run with it for the rest of the year. That being said, Cam Bedrosian never officially lost the job and he's starting to throw bullpen sessions on the side. We don't completely know what will happen when Bedrosian returns and as such, I would suggest picking up Bedrosian in any leagues where he's been dropped since he may well be in line to take his job back upon his return in a few weeks. The Edwin Diaz debacle in Seattle hasn't gotten too much clearer other than his manager has said he looks just about ready to return to the closer role and his GM has said that James Pazos would be first in line for saves while Diaz is faltering. I would add Pazos in case Diaz struggles more, but otherwise, it looks like Diaz is (or shortly will be) the closer again. Also of note in the AL West is that Keone Kela came on to earn a save while Matt Bush was resting which suggests that Kela not Jeffress would be next in line if something were to happen to Bush. Kela is a bit up and down but he's shown enough skill in the past that he's worth a speculative add in deeper leagues.
National League East
| RSJ Rating | Team | Current Closer | Handcuff | Immediate Waiver Pickup |
| --- | --- | --- | --- | --- |
| Unknown | WSH | Koda Glover | Shawn Kelley | |
| Unstable | PHI | Hector Neris | Joaquin Benoit | |
| Comfortable | ATL | Jim Johnson | Arodys Vizcaino | |
| Comfortable | MIA | A.J. Ramos | Kyle Barraclough | |
| Comfortable | NYM | Addison Reed | Josh Edgin | |
It appears that Koda Glover is the main option in Washington now with Shawn Kelley as the backup, but there weren't enough save chances for the Nationals over the past week to really know for sure. This appears to be a timeshare at best with Dusty Baker not actually knowing what the hell he wants from day to day. I still think the Nationals make a deal for a closer and neither of these guys has value in a month but roster both now if you can and ride it. Jim Johnson continues to look great in Atlanta but I still think he's just being showcased for a contender and it will eventually be Arodys Vizcaino getting the saves in Atlanta come July. Johnson is very steady in the meantime though and there's no guarantee he gets moved.
National League Central
| RSJ Rating | Team | Current Closer | Handcuff | Immediate Waiver Pickup |
| --- | --- | --- | --- | --- |
| Confident | CHC | Wade Davis | Koji Uehara | Koji Uehara |
| Comfortable | CIN | Rasiel Iglesias | Drew Storen | |
| Comfortable | MIL | Corey Knebel | Carlos Torres | Carlos Torres |
| Confident | STL | Seung-Hwan Oh | Trevor Rosenthal | |
| Confident | PIT | Tony Watson | Felipe Rivero | |
The only items of note in the NL Central this week seem to be the backup options in Chicago and Milwaukee. Koji Uehara was called upon to pick up a save in Wade Davis's absence so Uehara appears to be next in line for saves if Davis were to go down. This makes sense based on Uehara's past save experience (although I think Hector Rondon would factor in too if Davis were to go down with a long-term injury). Carlos Torres was given a save opportunity in Milwaukee and Neftali Feliz has technically not been permanently banished from the job. However, Corey Knebel is a guy who really should have been given the closer job from the outset this offseason and he has the skills to comfortably keep that job all season if he's afforded a little room.
National League West
| RSJ Rating | Team | Current Closer | Handcuff | Immediate Waiver Pickup |
| --- | --- | --- | --- | --- |
| Confident | LAD | Kenley Jansen | Pedro Baez | |
| Confident | SF | Mark Melancon | Derek Law | |
| Comfortable | SD | Brandon Maurer | Ryan Buchter | |
| Unstable | ARI | Fernando Rodney | JJ Hoover | JJ Hoover |
| Confident | COL | Greg Holland | Adam Ottavino | |
Mark Melancon is back and looking fine at closer for San Francisco so barring any health changes, it's probably okay to drop Derek Law and Hunter Strickland at this time. Brandon Maurer has not been good his last few outings but the Padres don't really have much of a better option at the moment so I think he's still got some more latitude before we have to panic about him losing his job. If Carter Capps were healthy I would be concerned of a change, but who the hell really knows when Capps will be back. For those of you who focus on fantasy football first and do baseball as a secondary sport, I'm going to try to explain Fernando Rodney. In football, a guy can be a stud one week and cut from the team the next (think Christine Michael on the Seahawks last year). Football moves very fast and veterans fall off the face of the Earth quickly. Baseball is very much the opposite. Guys like Fernando Rodney (and K-Rod before him) get an amazing amount of leash from their managers because they were good 5 years ago while rookies have to pull teeth to get a shot. Fernando Rodney sucks. Anybody who has watched him pitch over the past three years knows that to be true. However, the Diamondbacks paid him to be their closer this year and they seem content to keep rolling him out there. In all truth, there are only so many games that Rodney can blow before he gets pulled from the job and he can't be too far from that point right now. The big question is who gets the saves once Rodney is ousted? RedSocker has pegged Archie Bradley as the guy, and based on skills, he should be. However, I'm not convinced that Lovullo wouldn't prefer to keep using Bradley as a super reliever in the vein of Andrew Miller. I think that JJ Hoover or Tom Wilhelmsen get the first chances for saves after the impending Rodney collapse. Both have previous closing experience and neither is so great or valuable that they would be missed in earlier inning pressure situations like Bradley would be.
Ranking of the Immediate Waiver Pickups
Cam Bedrosian (LAA, 53% Yahoo Ownership)
James Pazos (Sea, 16% Yahoo Ownership)
Alex Wilson (Det, 7% Yahoo Ownership)
JJ Hoover (Ari, 2% Yahoo Ownership)
Keone Kela (Tex, 3% Yahoo Ownership)
Carlos Torres (Mil, 2% Yahoo Ownership)
Koji Uehara (ChiCubs, 8% Yahoo Ownership)
And that's a wrap for the Closer Depth Chart Week 8. Be sure to scour the waiver wire for all these relievers and check back every Wednesday for the latest updates regarding the closer jobs around the league. Until we meet again, keep your eyes open and your nose to the ground.
It's been fun filling in for RedSocker this week, don't be shy with the love (or the hate if you must) in the comments below. I will return you to RedSocker's very capable hands for the next one!