Player Stock Ticker
Fantasy Baseball 2017: Two Start Pitchers Week 3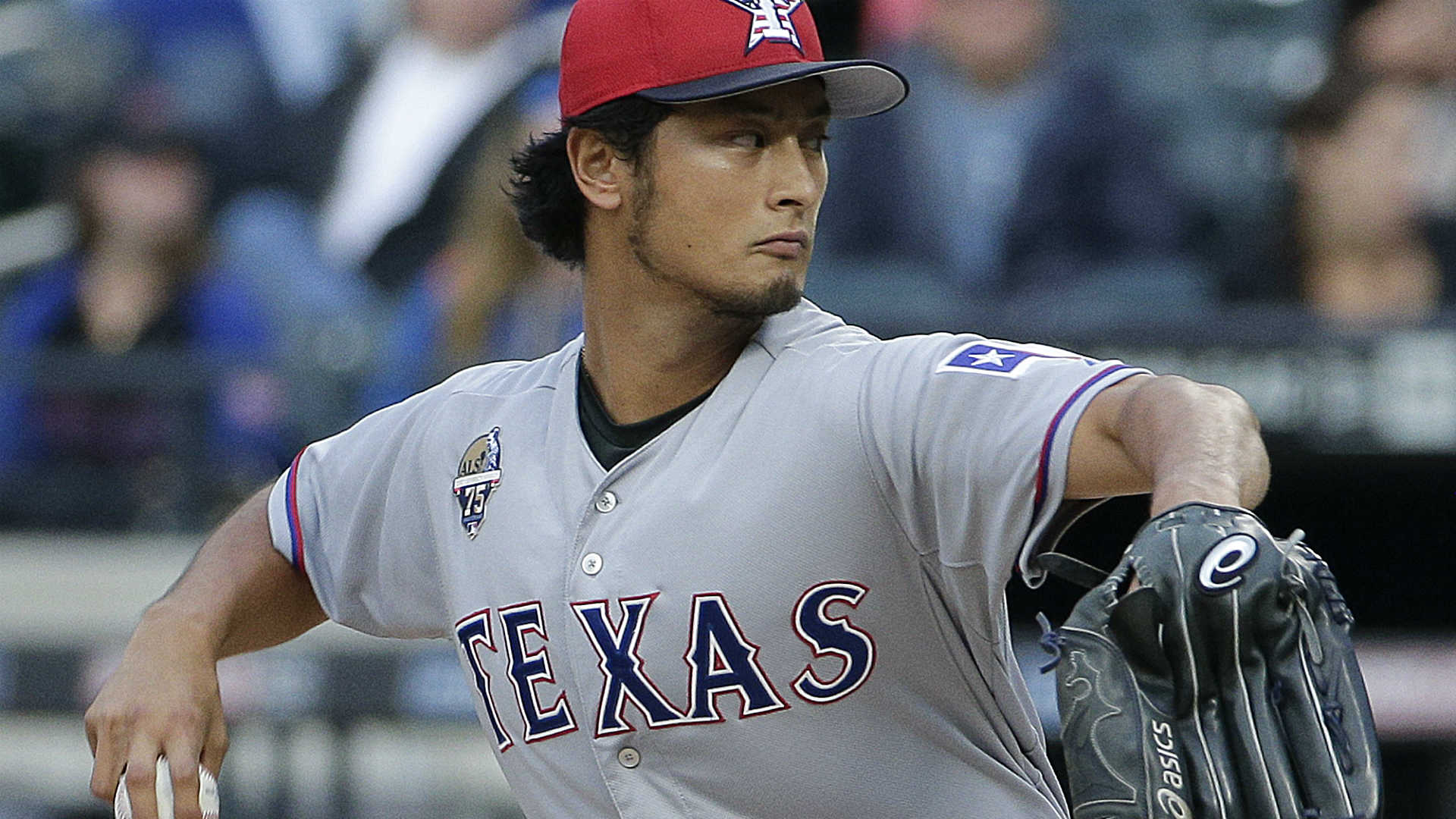 Welcome to Two Start Pitchers Week 3, where we breakdown the two start pitchers from April 17th-April 23rd. With the rotations beginning to lock in, we can confidently start predicting two start pitchers moving forward (although the Phillies have an issue on their hand with the recent, and annual, injury of Clay Buchholz). Not a lot of options reside at the top tier this week, so it will be important to make the right decisions this week regarding your two start streamers. So be wise, and let's analyze the best two starters for the upcoming week.
Never a Doubt
Yu Darvish, TEX (@OAK, vs. KC)
Max Scherzer, WSH (@ATL, @NYM)
You read that right, I am going with my boy Yu Darvish over Max Scherzer. They both have massive strikeout potential on two start weeks and their individual talents are matched by very few in the league. Granted, Scherzer is, in my opinion, the better pitcher, but I am not here to evaluate the better talent. I am here to evaluate their weekly situation, and this week, in my opinion, Darvish gets the ever so slight advantage. Scherzer struggles somewhat against the Atlanta Braves and the Mets are absolutely pulverizing pitchers right now. Buy one Home Run, get one free. Also, he gets two road starts, and everyone likes their own home cooking. Darvish, on the other hand, gets two weak lineups, one at home and the other in the Grand Canyon called the Oakland Coliseum. I will face the jury at the end of next week, but I will go against the grain and stick to my first instincts.
Borderline Aces
Danny Salazar, CLE (@MIN, @CWS)
Michael Fulmer, DET (@TB, @MIN)
John Lackey, CHC (vs. MIL, @CIN)
Mike Fiers, HOU (vs. LAA, @TB)
Mike Fiers does not normally inspire a ton confidence in me really, which seems like a strange admission for someone in the Borderline Ace designation. But, he has two mouth-watering matchups against weak offenses. His stuff is electric and he can pile up the strikeouts and wins this week, so I'd grab him and start him with confidence. Danny Salazar might belong in that top tier as he plays on arguably the best team in the American League and strikes out hitters by the bundle, but the Twins offense is not as bad as you think and he has two road starts, so he will have to accept leading the second-tier charge. Sorry Danny Boy, but not really.
Very Good
Joe Musgrove, HOU (vs. LAA, @TB)
Bartolo Colon, ATL (vs. SD, @PHI)
Steven Wright, BOS (vs. TB, @BAL)
Ivan Nova, PIT (@STL, vs.NYY)
Marcus Stroman, TOR (vs. BOS, @LAA)
I could copy and paste what I said about Fiers and apply it to Joe Musgrove. The matchups are great and I believe people undervalue Musgrove. Also, if you could not tell, I am all in on the Astros hype train for this 2017 MLB Season. A name I target in all my leagues, Ivan Nova, faces his old team and a scuffling Cardinals lineup in a juicy two start week. Since moving to Pittsburgh, Nova has blossomed into a Number 2 type starter and this year has begun with a bang. Now, that Pirates offense limits his wins and value, but at this point we should not turn our heads to this 13 start stretch with Pittsburgh.
Some Upside Here
Ariel Miranda, SEA (vs. MIA, @OAK)
Brandon McCarthy, LAD (vs. ARI, @ARI)
Robbie Ray, ARI (@LAD, vs. LAD)
Tom Koehler, MIA (@SEA, @SD)
Mike Leake, STL (vs. PIT, @MIL)
A.J. Griffin, TEX (@OAK, vs. KC)
Josh Tomlin, CLE (@MIN, @CWS)
Jimmy Nelson, MIL (@CHC, vs. STL)
Lance Lynn, STL (vs. PIT, @ MIL)
Zack Wheeler, NYM (vs. PHI, vs. WSH)
Yovani Gallardo, SEA (vs. MIA, @OAK)
Jaime Garcia, ATL (vs. WSH, @PHI)
Eduardo Rodriguez, BOS (@TOR, @BAL)
Jordan Montgomery, NYY (vs. CWS, @PIT)
Shelby Miller, ARI (@SD, vs. LAD)
Amir Garrett, CIN (vs. BAL, vs. CHC)
Chase Anderson, MIL (@CHC, vs. STL)
Derek Holland, CWS (@NYY, vs. CLE)
Jered Weaver, SD (@ATL, vs. MIA)
Andrew Triggs, OAK (vs. TEX, vs. SEA)
Phil Hughes, MIN (vs. CLE, vs. DET)
Jesse Hahn, OAK (vs. TEX, vs. SEA)
Ariel Miranda would probably be just as shocked by this rating as you are, but lets delve a little deeper. Two starts at Safeco and the aforementioned Grand Canyon, check. Two scuffling offenses, check. Plays for a good team…check? The Marines have stumbled out of the gates but they are a good all around team and should be turning it around shortly. Another sneaky name makes an appearance high on my list. Tom Koehler pitched well in two no decisions in Washington and against Atlanta. Now, he travel to two pitcher parks and get to play the aforementioned Miranda and spot starter Zach Lee. I know the superhero creator Stan Lee, but Zach ain't no Hulk or Iron Man. Jordan Montgomery made his much anticipated debut ANNNNNND…did OK. The strikeouts are lovely and he gets two juicy matchups. Keep your eyes peeled on this potential rocket. Let's group the next three together as they all have similar profiles this week. Amir Garrett, Chase Anderson and Derek Holland are pitching very well right now, but we still cannot fully trust them. Also, each has one, if not two, difficult matchups. This week should clarify the murky futures of each of these pitchers. As a note of preference, I truly believe Holland has staying power for the rest of the season. I always liked him on Texas and cannot forget that solid stretch he had through multiple injuries.
Cross Your Fingers and Pray
Blake Snell, TB (@BOS, vs. HOU)
Jason Hammel, KC (vs. SF, @TEX)
Kyle Gibson, MIN (vs. CLE, vs. DET)
Jesse Chavez, LAA (@HOU, vs. TOR)
Ubaldo Jiminez, BAL (@CIN, vs. BOS)
Blake Snell has the ability to strikeout your entire team, but also has the ability to walk your entire team. With Boston and Houston on the slate, you can find better options. Ubaldo Jiminez intrigues me. He gets one layup in Cincinnati but then a toughy at home against the Red Sox. As a Boston fan, however, I know he has the potential to shut down their lineup. However, it is much more likely he will last 4.1 innings, walk 4 and allow 3 runs.
Please No
Tyler Skaggs, LAA (@HOU, vs. TOR)
Matt Andriese, TB (@BOS, vs. HOU)
Zach Lee, SD (vs. ARI, vs. MIA)
Unfortunately, I had some hope for Tyler Skaggs to break out this year but woof is he off to a miserable start. Visiting Houston and then hosting Toronto does not sound like the medicine a sane doctor would order to cure his current travails.
Come back to Roto Street Journal every Friday to see the two start ranks and how to best build your rotation for success. Good luck navigating the week, and happy streaming!
To contact me with any questions or general fantasy baseball discussion, please email me at [email protected] or tweet me ‪@AJGamballer‪.