Player Stock Ticker
Fantasy Baseball 2017: Closer Depth Chart Week 2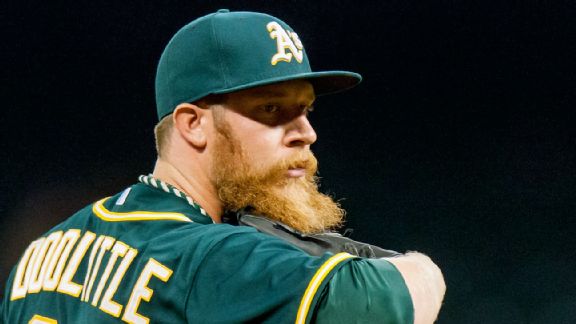 Everyone knows I am a relief guy. I love drafting good, high-quality relievers that not only get you saves but also lower your ERA and WHIP. With enough closers, in reality, you could be adding two full starts (approximately 12-13 innings pitched) per week, innings which should (hopefully) produce roughly a 3.00 ERA and 1.10 WHIP. That actually sounds quite useful to me, and not just helpful for saves. Just as useful as that fact would be a weekly update regarding the ever-fluid closing situations for each team.
Welcome to the weekly Closer Report, where I will give you the latest updates and best advice on who to target and what to expect going forward. For a quick synopsis, I will break down each team's situation into one of four categories: Confident (closer should have no problem keeping the job through the year), Comfortable (closer is either a good closer or does not have a viable backup), Unstable (closer is trending downward with rumblings of a change) and Unknown (like the Loch Ness Monster or Bigfoot, you have no idea what to believe and its best to stay away). As a tip, ALWAYS keep your eyes peeled for updates. Things happen fast out there on the waiver wire, and if you snooze you could lose big time.
Update @ 3:00pm on April 12: Matt Bush will receive an injection is his shoulder for his AC joint but is NOT expected to be placed on the DL and should only miss a few days of action. While this news is encouraging, I still believes it is troublesome and worth monitoring. Third-stringer Jeremy Jeffress would be next in line for opportunities if Bush misses time once Dyson inevitably gets pulled from the job, but even he has struggled mightily to begin this season. Given the current chaotic and absolutely miserable state of the Rangers bullpen right now, the Closer situation seems more Unknown than Unstable, unless doctors clear Bush for activity and he returns to 100%.
Here's your Closer Depth Chart Week 2 Edition:
American League East
| RSJ Rating | Team | Current Closer | Handcuff | Immediate Waiver Pickup |
| --- | --- | --- | --- | --- |
| Confident | BOS | Craig Kimbrel | Joe Kelly | |
| Confident | NYY | Dellin Betances | Tyler Clippard | |
| Comfortable | BAL | Brad Brach | Darren O' Day | |
| Confident | TOR | Roberto Osuna | Joe Smith | |
| Confident | TB | Alexander Colome | Danny Farquhar | |
The AL East sports the best, most stable group of closer situations of any division in baseball. Aroldis Chapman and Zach Britton are unquestionably two of the best relievers in the game. Although off to a rocky start (he NEVER seems to pitch a clean inning), I really love Craig Kimbrel on a Red Sox team bound to win 88+ games and compete for the division title this year. Alexander Colome has been lights out so far this year, just like 2016, and any talk of Brad Boxberger supplanting him should have subsided already. I am the least confident in Roberto Osuna, but that is only because of his injury situation. Once he comes back and gets a few innings under his belt he will vault his way up to the Confident designation where he should remain for the remainder of the year.
American League Central
| RSJ Rating | Team | Current Closer | Handcuff | Immediate Waiver Pickup |
| --- | --- | --- | --- | --- |
| Comfortable | CWS | David Robertson | Nate Jones (inj.) | |
| Comfortable | KC | Kelvin Herrera | Joakim Soria | |
| Confident | MIN | Brandon Kintzler | Taylor Rogers | |
| Comfortable | DET | Justin Wilson | Alex Wilson | Alex Wilson |
| Confident | CLE | Cody Allen | Andrew Miller | |
Brandon Kintzler has stormed out of the gate for Minnesota, going a perfect 3/3 on save opportunities and allowing only 1 hit in 4.1IP. Arguably he should be labeled as Confident given the lack of competition behind him and his torrid start, but I am going to temper expectations for now…but I would be buying into him for the rest of the season. The Indians situation still befuddles me. Andrew Miller backed up Cody Allen in each of Allen's appearances, so maybe I should promote Allen to Confident. But after seeing how Terry Francona used his bullpen in the palyoffs last year, I cannot help but think Francona will play the matchups at times, meaning Allen's save opportunities will not be as guaranteed as the top tier closers.
American League West
| RSJ Rating | Team | Current Closer | Handcuff | Immediate Waiver Pickup |
| --- | --- | --- | --- | --- |
| Comfortable | LAA | Bud Norris | Blake Parker | Cam Bedrosian |
| Unstable | SEA | Edwin Diaz | James Pazos | James Pazos |
| Comfortable | TEX | Matt Bush | Keone Kela | Keone Kela |
| Unstable | OAK | Santiago Casilla | Ryan Madson | |
| Confident | HOU | Ken Giles | Will Harris | |
Two situations here are more than worth monitoring every second of every day. Texas Rangers Manager Jeff Banister recently gave Sam Dyson a vote of confidence, claiming he would not remove him from his role as the team's closer. Ummmm, Jeff…may I call you Jerrfrey?…have you seen Dyson's stat line this year? Dyson currently sports a cool 36.00 ERA, 5.00 WHIP, 0-2 record, 1 Blown Save, 0 Saves and has given up 8 runs and 10 walk/hits in 2 innings. I am sorry, but I do not believe you Mr. Banister. There is no way Dyson makes it to the end of the year as the Texas Closer and I would grab Matt Bush as the Robin to Dyson's poor-man's Batman. By far the most confusing situation in baseball, the Oakland Athletics appear to be using a pure closer-by-committee strategy. Santiago Casilla appears to have the edge, having pitched 4 clean innings so far this year with one save in one opportunity. But Sean Doolittle also has one save in one opportunity and has 7 Ks in 2.2IP, looking more and more like the dominant closer from years' past. Given Casilla's recent ownership surge, I will suggest picking up Doolittle. He has the most talent among the myriad Oakland relievers, the highest upside and, as of now, has been the most impressive.
National League East
| RSJ Rating | Team | Current Closer | Handcuff | Immediate Waiver Pickup |
| --- | --- | --- | --- | --- |
| Unknown | WSH | Koda Glover | Shawn Kelley | |
| Unstable | PHI | Hector Neris | Joaquin Benoit | |
| Comfortable | ATL | Jim Johnson | Arodys Vizcaino | |
| Comfortable | MIA | A.J. Ramos | Kyle Barraclough | |
| Comfortable | NYM | Addison Reed | Josh Edgin | |
When you convert 3 of 4 opportunities Week 1 you figure you would get more respect. However, Blake Treinen's Comfortable rating is the weakest of all my rankings, and he is bordering on being part of an Unstable situation. Treinen gave up runs in two of his four appearances and has not looked comfortable since his first appearance. Had Shawn Kelley put up strong opening week numbers, I would predict a takeover, but Kelley allowed runs in both his appearances. Treinen is safe…for now. The Phillies situation moved from Unknown to Unstable with the removal of Jeanmar Gomez and the promotion of Joaquin Benoit. I think we can all agree that Hector Neris will end with the closing job eventually, but for now lets roll with Benoit who has impressed and always seems to lock down available closing jobs perennially.
National League Central
| RSJ Rating | Team | Current Closer | Handcuff | Immediate Waiver Pickup |
| --- | --- | --- | --- | --- |
| Confident | CHC | Wade Davis | Koji Uehara | Koji Uehara |
| Comfortable | CIN | Rasiel Iglesias | Drew Storen | |
| Comfortable | MIL | Corey Knebel | Carlos Torres | Carlos Torres |
| Confident | STL | Seung-Hwan Oh | Trevor Rosenthal | |
| Confident | PIT | Tony Watson | Felipe Rivero | |
Rasiel Iglesias has looked great as the Cincinnati Reds closer, allowing only one hit in four innings. What looked like another committee to begin the season, Iglesias has proved early on that he can handle the late innings and, as an extra benefit, he can go more than just one inning at a time. With unproven relievers behind him, look for Iglesias to comfortably hold on to this job for a while. As a Seung-Hwan Oh owner and his unspoken (and un-appointed) cheerleader, his early season struggles are causing me quite a bit of pain, discomfort and the occasional nausea. Oh blew his only save on Opening Day April 2nd and has not had a save chance since then (although he appeared in one other game, and of course gave up a run). Given that St. Louis has not provided Oh with chances yet, I am still confident this stellar reliever will return to form once given the chance, but a clean Week 1 would have helped my blood pressure.
National League West
| RSJ Rating | Team | Current Closer | Handcuff | Immediate Waiver Pickup |
| --- | --- | --- | --- | --- |
| Confident | LAD | Kenley Jansen | Pedro Baez | |
| Confident | SF | Mark Melancon | Derek Law | |
| Comfortable | SD | Brandon Maurer | Ryan Buchter | |
| Unstable | ARI | Fernando Rodney | JJ Hoover | JJ Hoover |
| Confident | COL | Greg Holland | Adam Ottavino | |
I am sorry, but I cannot give any closing job that stars Fernando Rodney anything more than an Unstable rating. I understand Randall Delgado is not a world beater, but Rodney's performance fluctuates more than Pablo Sandoval's weight. Ultimately it is only a matter of time before he pitches his way out of the job. Like a hawk circling its prey, Carter Capps will pounce as soon as he gets the green light from doctors to take over the San Diego closing role. His stuff is electric, just like his pro-hop, and the Padres would be foolish to let a talent like that waste in an eight-inning role. Brandon Maurer actually posted decent numbers last year as the closer and is 1/1 this year, so there will surely be competition, but the hype (and strikeout ability) of Capps is real. So watch out or else he will jump out of the TV at you like a Velociraptor from Jurassic Park.
And that's a wrap for the Closer Depth Chart Week 2. Be sure to scour the waiver wire for all these relievers and check back every Wednesday for the latest updates regarding the closer jobs around the league. Until we meet again, keep your eyes open and your nose to the ground.
To contact me with any questions or general fantasy baseball discussion, please email me at [email protected] or tweet me ‪@AJGamballer‪.