Player Stock Ticker
Fantasy Baseball 2017: Top MLB Sleeper Hitters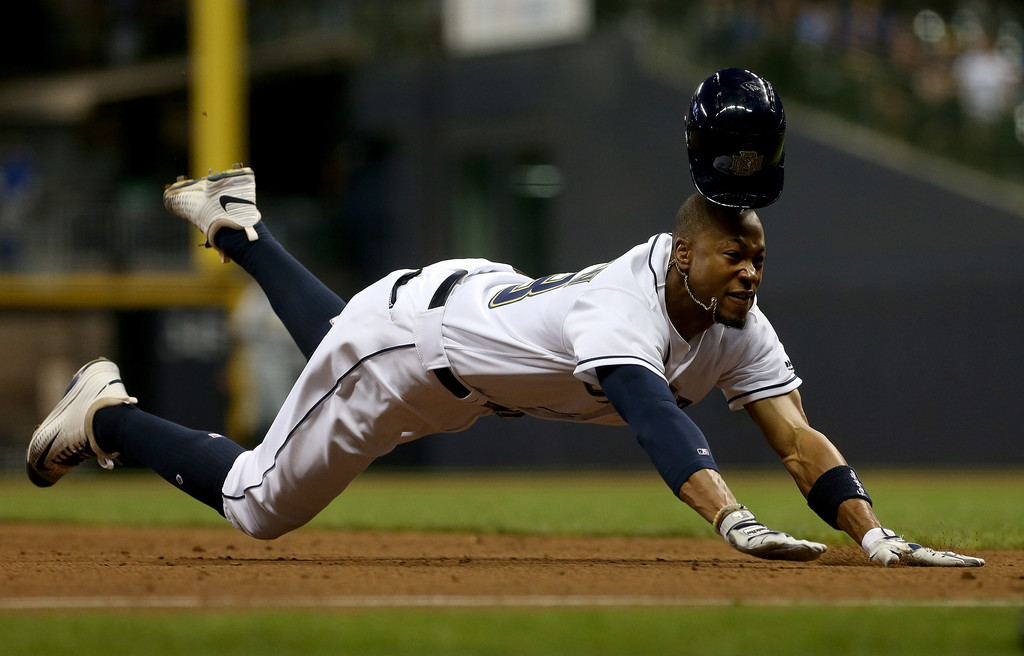 Hello everybody and welcome to my first fantasy baseball article of the season. I am The Roto Dragon and I will be sharing with you some of the roto wisdom that I have previously hoarded to myself like gold. With the season fast approaching, we will be looking at the top MLB sleeper hitters today who could help you win a championship this year.
This is designed for the average, casual 10 team mixed-leaguer and as the title may have hinted, you might wonder "who the hell" these guys are. I promise these are all players who have the ability to make a real impact in your leagues this year.
I will rate each player on a scale from ? to ????? for potential impact. ? is on the level of a bitch ass dragon like Puff and ????? is on the level of the bad ass Drogon from Game of Thrones — just rampaging and pillaging and shit.
Jose Peraza, 2B, Cincinnati Reds (ADP 150)
Peraza is likely the most recognizable name on this list (so if you don't know him, you really won't know the rest of these guys). Peraza got his first real action last year for the Reds producing a .324 average and 21 stolen bases in only 241 at bats. This off-season, the Reds traded Brandon Phillips to the Braves specifically to open up a spot for Peraza at 2B. Peraza will hit at the top of the order and rack up runs and stolen bases in bushels. The .324 line will be near impossible to duplicate but he is a guy who has a line drive percent that is 6% higher than average while he also produces a solid ground ball rate (which isn't always good but when coupled with lightning speed it means more hits) so he should at a minimum hit for a decent average if not better. Peraza is a guy you can get in the middle rounds of the draft who has the potential to put up similar numbers to Dee Gordon who will go 10 or more rounds earlier.?????
Keon Broxton, OF, Milwaukee Brewers (ADP of 217)
Broxton had a tough start to the season last year and ultimately flamed out in the first half, getting sent to AAA to work some things out. Upon his return, Broxton starting mashing and stealing bases like a G. In only 207 at bats, Broxton put up 23 stolen bases and 9 home runs last year albeit with a weak .242 average. Broxton whiffs… a lot, but you won't mind the Ks when he hits 15 home runs and steals 35 bases. Broxton profiles as being able to put up similar numbers to Carlos Gomez back when Gomez didn't suck. As a later round pick, this is the guy I am most confident could end up being a top 3 rounder next year. I will have this player on every single one of my teams this year and you should too. ?????
Max Kepler, OF, Minnesota Twins (ADP 257)
Kepler came close to 400 at bats last year and socked 17 home runs with 6 stolen bases and .235 average. He also produced 63 RBI. Based on minor league production, I expect Kepler to improve on that batting average with more experience under his belt and he should be hitting in the heart of the Twins lineup. It is not unreasonable to envision Kepler getting close to 90 RBI this year and he should clear 20 home runs with 10 stolen bases. If you can get numbers like these from your #4 outfielder, that's how you win leagues. ????
Tommy Joseph, 1B, Philadelphia Phillies (ADP 269)
Joseph showed off decent power with 21 home runs in 315 at bats last year while also hitting a respectable .257. Now that Ryan Howard is out of the way, Joseph should be able to up his at bat total significantly from last year. 30 home runs are not out of the question with at least 75-80 RBI. I would generally avoid the Phillies in most cases but these are great numbers that can be had in the final round or two of your draft. If you need cheap power, Joseph is definitely worth the look. ???
Eric Thames, 1B, Milwaukee Brewers (ADP 218)
Two Brewers? Really? Don't the Brewers suck? Yes, the Brewers do suck, but that's because their pitchers have water noodles for arms – they have some real hitters in their lineup and they play in a ballpark with very favorable dimensions for hitters. I'm not as sold on Eric Thames as I am on Broxton. Thames last played in the MLB in 2012 and he was a total scrub. He went to Korea and mashed and now he's back. Although he hit over 40 homers last year in Korea, that was in smaller parks against pitchers who don't throw high heat and try to pitch to contact. Against major league pitching he is likely to strike out a ton and his power won't be close to what it was in Korea. So why am I suggesting here that you should give Thames a look? He is hitting in the middle of what I expect to be a solid lineup and while his numbers won't be where they were across the seas, he is likely capable of getting somewhere around 20 homeruns and potential double digit steals. His average may not end up being great but 20/10 out of a late pick with even more possible upside is at least worth considering. ??
Be sure to check out our 2017 Fantasy Baseball Player Rankings and our five MLB sleeper pitchers that you can target in late rounds.