Player Stock Ticker
The Rotos 2016: Fantasy Football's Most Overhyped Player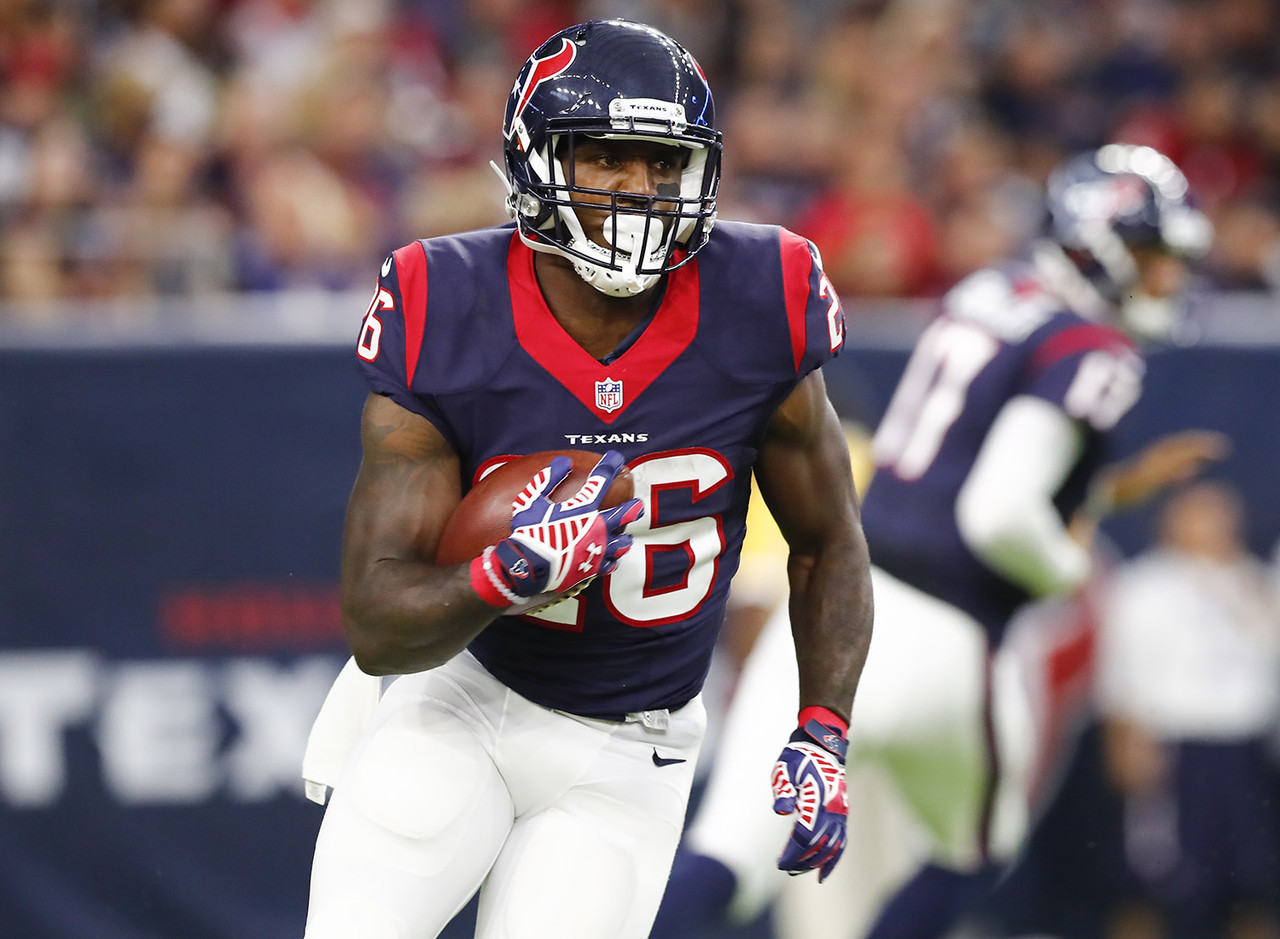 The Nobel Prize. Academy Awards. Pulitzers, ESPYs, and Golden Globes. While prestigious in their own rights, these honors pale in comparison to The Rotos.  In our first ever Rotos Award Show, the distinguished "Big Dick" prizes will be awarded to players with the most glorious performances in 2016, while the dreaded "Tiny Puds" will disgrace the season's most dubious players. Grab the popcorn, place your bets, and settle in for a week of recapping the highs and lows from a wild fantasy season. 
Previous Awards:
Most Overhyped Player
And we continue the 2016 Rotos with this year's Most Overhyped Player. Different than a bust, a player is overhyped if he was widely assumed to be on track for a breakout season and was even praised at times throughout the season, but ultimately failed to live up to lofty expectations. This is a guy who you seem to always be coupling with "Yeah he wasn't great, but wait till next week," yet next week never seemed to come.
2016 Nominees
Blake Bortles, Quarterback, Jacksonville Jaguars – Almost every summer since Jacksonville took Bortles 3rd overall out of Central Florida in 2014 we've heard about what a tremendous upside this kid has. His draft report was littered with implications that he'd be great; after all, when you see a guy in college that throws like Brees, moves like Rodgers, and wins like Brady, who wouldn't be excited?
And all offseason we heard reports of the upcoming magical third season, especially with further development from Allen Robinson and an "unstoppable red zone rapport" with Julius Thomas.  Bortles' decision making and pre snap reads have taken the next step! With the mental game now matching his physical prowess, Bortles was set to explode into the elite tier by reducing his turnovers and maintaining his massive TD upside.
So much for that, as Bortles regressed heavily in his mechanics and showed not even the slightest improvement on his decision-making. "Mr. Pick Six", as I like to call him since he's got the most pick sixes (11) through 3 seasons by any NFL QB ever, struggled on a mediocre offense and finished the year with 23 TDs, 16 INTs, and under 4,000 passing yards (3,905). Jacksonville won just 3 games, fired head coach Gus Bradley, and finds themselves back at square one entering 2017. Bortles did salvage a decent fantasy season, finishing with higher per game point averages than QBs like Russell Wilson and Ben Roethlisburger, but he's failed to live up to lofty draft-day expectations.
Eddie Lacy, Running Back, Green Bay Packers – This guy seems to be a mainstay on awards like this. Lacy was the Pablo Sandoval of the 2015 NFL season, showing up to camp noticeably overweight and having to deal with that weight issue for the remainder of the season. The result was career-lows (at the time) in rushing yards (758) and TDs (3), and a whole bunch of pissed off owners.
Heading into this year, however, we were assured that Lacy was back. Like, every other RotoWorld Blurb assured. Shredded Eddie! P90X! Tony Horton is ripping off pounds of fat right before our eyes! Lacy is slim and the explosion is back! Monster 2016 steamrolling straight ahead….
Only he was still fat. The massive tub of lard squeaked out just 360 yards in 5 games before his brittle ankles succumbed to the humongous person he'd become.  Entering his first round of free agency, we'll surely hear about how motivated he is and how many pounds he truly has shed… when he shows up looking like a blimp full of jello, don't buy it.
Devin Funchess, Wide Receiver, Carolina Panthers – A tight end at the University of Michigan, Funchess made the transition to wide receiver when Carolina selected him in the 2nd round (41st overall) in 2015. Funchess had a strong rookie year, especially after the team's #1 WR Kelvin Benjamin was lost to a torn ACL in training camp. He got a lot more defensive attention than he originally planned for, but managed a solid season of 473 yards and 5 TDs, including a 120 yard, 1 TD performance in Week 17. He also caught 5 balls for 73 yards and a touchdown in Carolina's 3-game playoff run, and things were looking up for Funchess in 2016, especially with Benjamin returning.
Soon came the hype train. Funchess is set to overtake Benjamin as the #1 WR! He's mastered the receiver position and is looking far more explosive! Leaping grabs all over the place! Instead, Funchess finished with just 371 yards and 4 TDs in 2016, and failed to surpass 60 yards in any one game. Blame a bad team or an off-year for Cam Newton or whatever you want, but bottom line Devin Funchess had himself a horrible season. After appearing on Matthew Berry's preseason fantasy rankings as the #46 WR, he finished 84th among receivers with about 3.6 points per game (standard scoring) and was placed on IR with a knee injury before Week 17. A disappointing season for sure for Devin Funchess, despite the immense, and clearly unjustified, hype entering the year.
Lamar Miller, Running Back, Houston Texans – Ahh, Lamar Miller. After his first 1,000-yard season in 2014 with the Dolphins, Miller followed it up with an 872-yard, 8 TD campaign in 2015 that eventually netted him a 4 year, $26 million ($14 guaranteed) contract with the Texans as a part of the craziest day of NFL Free Agency ever. Houston also locked down Brock Osweiler for 4 years, and combined with rising star DeAndre Hopkins (see the Roto for "biggest bust" next week, I assure you he'll be on it) and a star-studded defense, the Texans were supposed to be a force in the AFC.
More importantly, this new "explosive" trio was supposed to yield "a season for the ages" for Lamar Miller. "A perfect fit for the inside / outside scheme!" "Bill O'Brien will feed him nonstop!"  I wouldn't dub just over 1,000 yards and a 16th RB finish a season for the ages, by any means.  Many, unfortunately us included, dubbed him a top-5 RB based on this hype trail, making him a mega overhyped candidate, despite a servicable year.  The worst part of Miller's season, however, was how it ended; after battling through nagging ankle injuries for the 2nd half of the year, Miller finally seemed to find a groove…. before he was forced to sit the team's last 2 games to rest for the playoffs, therefore missing the far more important fantasy playoffs. He sent a lot of owners to the waiver wire late in the season, ending his year for the ages with a whimper.
Arian Foster, Running Back, Miami Dolphins (retired) – Obviously, when a guy starts the season as a solid RB2 option and ends up retiring after 4 games, we may have believed the hype a bit too much. And that's the case for Arian Foster, who was brought in to replace Lamar Miller in Miami but instead retired to the beaches after 55 yards and no touchdowns in 4 games. At 30 years old, Foster had reached an age where many running backs begin to think about hanging them up, but the announcement came as a shock to many nonetheless. All early reports out of training camp indicated Foster was on his way to fully overtake Jay Ajayi and land atop Miami's depth chart, but he also hadn't played a full season since 2012 and the Dolphins knew what they were getting into with him injury-wise. Foster was going as high as the 5th round in many drafts this year, especially after reports of regained explosion and a perfect system fit began saturating the RotoWorld blurbs, but the end result was an early trip to the waiver wire for his owners.
And the award goes to…
Eddie Lacy, Running Back, Green Bay Packers
Acceptance Speech
"Wow, I really can't say I was expecting this. Y'know, after winning 3 National Championships at 'Bama and coming here to Green Bay, I know a thing or two about what it takes to win. You need heart, you need talent, and you gotta be hungry. I've been especially good at that last part, and it's helped me become the man I am today, both on and off the field.
First off I wanna thank everyone who drafted me this year. It's great that you guys had so much faith in me, even though it made absolutely no sense. Sorry about the ankle, but c'mon man, you really think my legs are gonna support all this? All year? No way. Next, I want to thank my coach, Mike McCarthy. Mikey, we've had our ups and downs, like that time you called me overweight or that other time that you called me overweight or… bottom line, if you'd been a little stricter on me directly and a little less passive-aggressive through the media, I may have gotten my shit together and never even gotten this award. Thanks, man, and hopefully we can do it again next year.
Finally, I want to give a quick shoutout to my man Ty Montgomery. Ty, it's one thing to have all this hype surrounding me and have a shit season, but it takes it to a whole 'nother level when a wide receiver takes my job and performs way  better than I ever did. You brought national attention to my issues, and I'll always be grateful.
My contract's up now that the season's over, so I have no clue if I'll be able to convince Green Bay to take me back or if my agent and I have to find some new sucker, but America, don't you worry, I'll never change. You all just keep drafting me and defending me with your buddies and dissecting pictures of me seeing if I've been working out, and I'll take care of the rest. Thank y'all."
Way-too-early 2017 winner: RB Thomas Rawls, Seattle Seahawks