Player Stock Ticker
Daario Naharis is Tom Brady's Clone in GoT Fantasy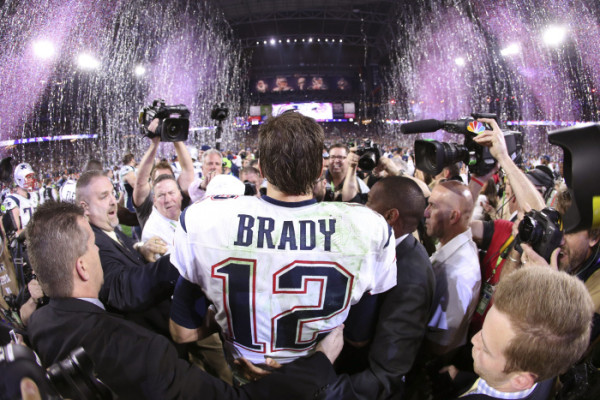 In our recent Fantasy Game of Thrones Expert Mock Draft, no selection was a greater crowd pleaser than Daario Naharis.  This is unsurprising, given this stud's humble self-assessment: "I only have two talents in this world: war and women" With our GoT Fantasy Scoring System's  placing heavy emphasis on Murder and Sex, Naharis is dripping in upside.
A stone-cold stud who's earned his way to elite status, Daario most closely resembles the NFL's GOAT, Tom Brady. Both simply dominate whenever they take the battlefield. That they both slay the most beautiful queens in their respective lands only furthers this comparison. Let's dive deeper.
Daario's Fantasy Game of Thrones Stock Profile
Murder:
Daario's arguably the most proven killer in all of Westeros. The tone is immediately set with his incredible introduction in Season 3. In the ultimate BSD sign of loyalty to Daenerys, the sellsword dumps the heads of his previous two  commanders at her feet. While he's not one to kill his own, Daario was ordered by his superiors to kill Daeny. Daario, however, had a greater desire to fill the lovely Queen instead. When his commanders foolishly did not listen to his wishes…Daario did what he does best:
From here, the slaying never ends:
Fighting off huge numbers of guards alongside Jorah and Greyworm in the streets of Yunkai.
Killing the Champion of Meereen in single combat with ease.
Protecting Daenerys, Tyrion, and Missandei from hundreds of Sons of the Harpy along with Ser Jorah.
The examples are limitless.
Regardless of the season or arena, the tape proves Daario's an absolute killing machine:
This elite skillset is not by accident.
Similar to Brady, nothing was handed to Naharis. After being sold into slavery by a mother overwhelmed with his aggressive, unruly behavior among the other boys, Daario was appropriately trained as a pit fighter. From age 16 on, Naharis cemented a legacy  in the pits and sky rocketed to fame, eventually earning his freedom because of his impressive performances. He then pursued a fitting career as a Sellsword, where he flashed his immense talent and rose to lieutenant of the Second Sons.
This rapid ascension surprised no one, nor stopped there. Nowadays, the talented sellsword is a sworn, loyal defender & primary bed warmer of Daenerys. Tireless work ethic and sheer domination led both Brady and Naharis into the beds of Queens.
Naharis and Brady are set to slay their respective battlefields to the fullest in 2016. With Brady's weapon cabinet fully stocked after the Martellus Bennett trade, Chris Hogan's signing, and Dion Lewis' expected return to health, the GOAT is set for another 40+ TD season. Meanwhile, countless Dothraki are bound to shed blood on Daario's custom-made arakh as he hunts alongside Jorah Mormunt to save his Queen.
Sex:
Though his upside in Murder is obviously highest, Sex is a close second with Daario. Unlike most sellswords, Daario avoids prostitutes, which would appear to limit his ceiling. His philosophy:
"The Gods gave men two things to entertain themselves with before they die: the thrill of having sex with a woman who earnestly wants it, and the thrill of killing a man who is trying to kill you first."
Yet, when you're as studly as Naharis, finding women "who earnestly want it" is not too difficult. Females line up and toss themselves at his feet, thus keeping his upside sky-high should he chooses to bachelor it up before returning to Daeny.
This remains unlikely, however, as Daario is one to side for quality over quantity. Daario is currently committed to only one: Daenerys.
She certainly recognizes his talents under the sheets, as seen in the clip below. Thirsty as all hell for this hunk of man meat, a normally prude Daenarys commands Daario to "Do what you do best. Take off your clothes…" (Giselle also surely says this to Tom before each post-game lay.)
All in one scene we see Daario's massive upside. He's one of the few prospects with actual +3 point, dong hanging potential. True, he needs a reunion with his Queen to maximize this upside. But we envision him slaying through countless Dothraki en route to delivering his other sword to his Queen in an ultimate slay scene.
Drinking:  
Here's the one area Daario leaves a bit to be desired. Given he spends 96% of his time killing or banging, Daario doesn't generally have time to fit in cold ones. On the bright side, if he is to partake in boozing, it's near guaranteed to be a +3 post-slaying bonus. Thus, his opportunity may be low, but each point will be maximized.
Tom Terrific profiles similarly in the alcohol department. Though his dedication to his craft and longevity keeps his drinking reserved, Tom will go ham when necessary:
Summary:
Opponent-murdering, Queen-slaying studs, Tom Brady and  Daario dominate their respective games. The sellsword infamously advised Daenarys: "All rulers are either butchers or meat." Be a butcher and don't let this multi-category,  Tier 1 talent escape Round 1. He's the self-proclaimed King of killing and banging, which makes him the most worthy contender for Tyrion's crown.